Google Translate taltioi pian vieraskieliset puheet käännetyiksi dokumenteiksi
Toivottu uudistus luennoille ja konferensseihin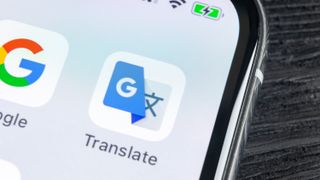 (Image credit: Shutterstock)
Google Translate on saamassa mullistavan uutuusominaisuuden. Käännössovelluksen uudistus mahdollistaa pian vieraskielisen puheen litteroinnin ja kääntämisen suoraan tekstitiedostoon.
Reaaliaikainen puheenkääntäjä on vasta kehitysvaiheessa, mutta Google kertoo sovelluksen tekevän tuloaan Android-puhelimille vielä tämän vuoden aikana.
The Vergen tietojen mukaan sovellus vaatii julkaisussa verkkoyhteyden käytön, sillä vieraskielisen käännöksen tekeminen ja taltioiminen tarvitsee toimiakseen ylimääräistä tehoa. Applikaatio tulkitsee puhenopeuden sekä mahdollisten hiljaisuuksien avulla myös mahdolliset pisteet ja pilkutukset kuntoon.
Mikäli tieto pitää paikkansa, kannattaa uutuusominaisuutta testatessa pitää laite tukevasti langattomassa verkossa kiinni. Mahdollinen verkkoliikenne saattaa nimittäin ylittää datasiirron käyttörajoitukset yllättävänkin nopeasti.
Puheet talteen
Alkuun Google Translaten uutuusominaisuuden on määrä toimia tilanteissa, joissa puheet taltioituvat suoraan mikrofoniin. Mahdollisuus aiemmin nauhoitettujen keskustelujen nauhoittamiseen on toivottavasti luvassa myöhemmin.
Tekniikan monimutkaisuuden takia on selvää, ettei käännöspalvelu alkuun välttämättä toimi täydellisesti. Asian tiedostanut Google kertoo uskovansa, että käännöslaatu paranee ajan kuluessa palautteen sekä algoritmien hiomisen myötä.
Joka tapauksessa uutuus kuulostaa mielenkiintoiselta. Jäämmekin innolla odottamaan mahdollisuutta sovelluksen testaamiseen. Julkaisuaikataulu on vielä toistaiseksi hyvin epämääräinen, mutta kerromme tietysti heti kunhan vain saamme lisätarkennusta saapumisajankohdalle.
Sign up to receive daily breaking news, reviews, opinion, analysis, deals and more from the world of tech.
Markus Mesiä on teknologia- ja pelitoimittaja, joka on viimeisen vuosikymmenen aikana kirjoittanut useisiin kotimaisiin medioihin. Sydämen asioita ovat pelien lisäksi ennen kaikkea musiikki ja urheilu. Viimeksi mainittu tosin lähinnä kotisohvalta katsottuna ja analysoituna.