Apple Watch 5 får måske en længe savnet funktion
Endelig: Søvntracker på vej til Apple Watch 5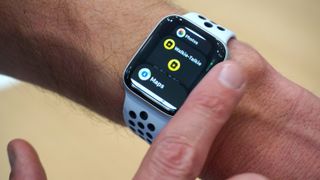 (Image credit: Future)
Det ser ud til, at Apples kommende smartur, Apple Watch 5, som vi forventer bliver lanceret den 10. september, kan blive det første Apple ur med en funktion, som er vigtig i alle wearables - søvntracking.
Det skriver 9to5Mac, som fra deres kilder har hørt om funktionen "Time in Bed Tracking" (TiBT),. Det er åbenbart det navn, Apple har givet den app, der kandukke op til Apple Watch 5. Det er værd at nævne, at 9to5Macs kilder generelt er troværdige, hvilket også er grunden til, at vi tager dette rygte alvorligt.
Ifølge kilderne bruger TiBT sensorer til at overvåge søvnkvaliteten. Den indsamler informationer om hjerterytmen og de bevægelser og lyde, du laver om natten. Appen kan mærke, hvis du står op, inden din alarm går af, og så slukker den for alarmen. Man kan også sætte en alarm til kun at lyde på Apple Watch 5, hvis man ikke vil vække andre i nærheden.
Søvntracking er brugbare funktioner i et smartwatch, der har fokus på sundhed, for en god nattesøvn har en gavnlig effekt på det overordnede fysiske og psykiske helbred.
Hvis de her funktioner ikke ligefrem lyder banebrydende, så skyldes det at de fleste andre wearables på markedet i dag allerede har søvntrackere i en eller anden form. Det gælder alt fra det lidt billigere Xiaomi Mi Band 4 til Apples nærmeste konkurrent, Samsung Galaxy Watch.
Tidligere har det været muligt at hente apps til søvntracking til Apple Watch, men det har ikke været en funktion, der var indbygget i Apples ure. Det ser ud til at ændre sig nu.
Hvis søvntracking bliver en indbygget funktion på Apple Watch 5, og hvis funktionen fungerer direkte med Health appen, så får brugerne sandsynligvis en mere strømlinet måde at overvåge søvn på end med apps fra andre udviklere.
Vi må vente indtil Apple Watch 5 bliver lanceret for at finde ud af, om søvntracking bliver indbygget. Heldigvis behøver vi efter al sandsynlighed ikke vente længe – vi forventer at se uret dukke op sammen med den kommende iPhone 11, der bliver lanceret den 10. september.
Følg med hos Techradar, når vi følger op på Apples annonceringer og hjælper dig med at holde styr på, hvad du kan forvente af deres telefoner og andre produkter som Apple Watch 5 og iOS 13.
Sign up to receive daily breaking news, reviews, opinion, analysis, deals and more from the world of tech.
Redaktør TechRadar Danmark
Peter er journalist og har arbejdet som tech-journalist på forskellige tech-medier. Samlet set har han beskæftiget sig professionelt med tech og forbrugerelektronik siden 2008. Peter interesserer sig for mange forskellige områder inden for forbrugerelektronik. Han er vild med lyd – både høretelefoner og højttalere i alle mulige afskygninger. Men han kan også bruge rigtig langt tid på at teste mobiltelefoner og computere. Samtidig er han altid på udkig efter sære og skæve produkter, der kan være interessante at kigge nærmere på, selv om de måske ikke passer ind i de traditionelle produktgrupper.