There's a lot to bear in mind when choosing the best phone for you. Mobiles are one of the most important gadgets you can buy in this day and age, and you need to make sure that what you're getting is the most ideal one for you.
Since we test nearly every new smartphone that's launched, from both massive brands like Apple and Samsung and small up-and-comers, we're here to help. We wrote this list of the best smartphones up based on this testing, and it's our definitive rank of the handsets you should consider buying.
So, whether you've got all the money in the world or are on a budget, there's something for you in this guide – though our list of the best phones under AED 1,000 and best phones under AED 2,000 might help if you're in that latter camp.
Included are the specs of each phone, and what we liked and didn't like about it - this is to help you if you have a certain spec or feature you're looking for, like top cameras or a great-looking display. It's worth thinking about your wants and needs before you start shopping around.
If you've got more specific tastes, we've got some other guides too: maybe you want one of the best iPhones on the market, or instead think one of the best Android phones might be more your cup of joe.
Obviously, we can't cover every single good smartphone in this list - it's just the top of the top. Keep checking back though, because every time we give a smartphone a positive review, we make it a contender for this list - that means the ranking can change often.
Below, you'll find the best phones that are available to buy right now in the UAE, Saudi Arabia, Qatar, Kuwait, Bahrain, Oman and Egypt. But keep checking back to see the updated order whenever new devices launch.
Best phone 2022: which smartphone is for you?
The iPhone 13 Pro and iPhone 13 Pro Max are the top picks at the time of writing, offering more power than ever before, improved cameras, 120Hz refresh rates and surprisingly good battery life.
Why: While the iPhone 13 Pro and Pro Max are the best iPhones and are the obvious choice for not just iPhone fans but anyone looking to get a high-end phone. With a higher refresh rate than the iPhone 12 range, a new macro mode and a smaller notch, they aren't the biggest upgrades but they're undeniably great.
Screen: Whether you choose the 6.1-inch iPhone 13 Pro or 6.7-inch iPhone 13 Pro Max you're getting a sharp OLED screen with a 120Hz variable refresh rate. The continued presence of the notch is annoying, but it's slightly smaller this time and easy to ignore, especially once you see the overall quality of the display.
Battery life: Apple has outdone itself with the battery life on the iPhone 13 Pro Max, which is genuinely great, rather than just being great for an iPhone. The iPhone 13 Pro's isn't quite as good, but it's still decent and an upgrade on the iPhone 12 Pro's life.
Camera: The iPhone 13 Pro range includes the same lens types as last year, but with larger pixels and new modes, including an impressive macro mode, and a slightly less significant Cinematic mode. Between all this and their improved low light performance, these cameras are ace.
Read more: iPhone 13 Pro review | iPhone 13 Pro Max review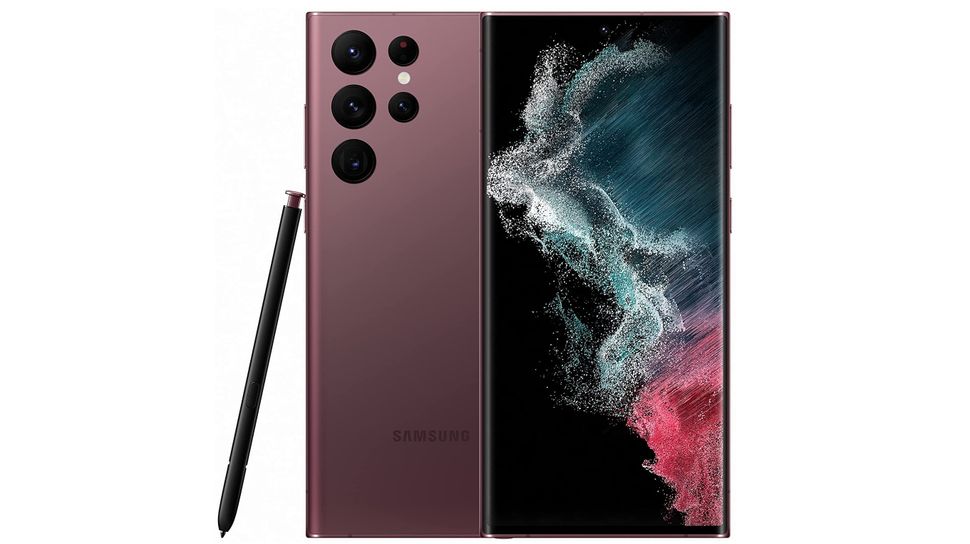 The Samsung Galaxy S22 Ultra is a strong phone in almost all aspects - its camera are fantastic, its screen looks incredible, it's got loads of processing power, our list could go on (and does, in our full review).
While many phones have one strong element, the Galaxy S22 Ultra is an all-arounder, and that's why it's listed as our best phone. No matter if you're a passionate photographer or frequent gamer, you'll find the device great.
The camera is great for its versatility. If you want you can take great-looking ultrawide shots, or zoom all the way in with 10x optical and 100x digital limits to get close to your subject. There are also loads of useful modes, like a Portrait mode that takes wonderful pictures of people or Single Take which uses AI to pick the best picture from a selection of them.
Thanks to its wide range of cameras and modes, the Galaxy is the best camera phone right now, beating even Apple's latest iPhones, so it's great for mobile photographers.
The battery lasts for about a day - as long as you're using it normally, and not for non-stop video recording or something equally draining - which is surprising given how some top-end phones have bad battery lives.
The phone also has an S Pen stylus, which is a useful extra for note-takers and doodlers, and you won't find many mobiles on the market nowadays with styli, as well as slots to store them like the Ultra has. This is the main upgrade over the S21 Ultra, which is otherwise pretty similar.
In our benchmark tests the Samsung Galaxy S22 Ultra scored incredibly highly, sitting in the top few products in our lists, and so it's great for gaming or video editing, or any other intensive process like that.
There are one or two reasons that you might want to read further into this list: the Galaxy charges slowly, is very large and costs a lot, so depending on what you're looking for it might get a red 'X' mark for that. But for most people, the handset's strength across the board makes it the best smartphone to consider.
Read more: Samsung Galaxy S22 Ultra review
The OnePlus 10 Pro has 'Pro' in the name, and its features rival some of the other handsets on this list that tout that suffix, but in terms of price it's actually more affordable - which is why it's found its way into this high position on our list.
This is a great Android cho