DriverFix is a driver update manager for Windows that aims to keep all of your computer's driver software up to date. Your computer's drivers are the software that link between its operating system and its hardware, so it's important to update them when manufacturers release new features or bug fixes.
In our DriverFix review, we tested the software on a Windows 10 machine that hasn't seen driver updates in years to see how many outdated drivers it could find. We also discuss how DriverFix fares in pricing, user-friendliness, and support when compared to the competition.
Plans and pricing
DriverFix is free to download. You can use the free version to scan your computer for old drivers and even download the latest driver files to your computer. But the manual installation of these driver files is a pain, requiring you to find each device individually in the Windows System menu.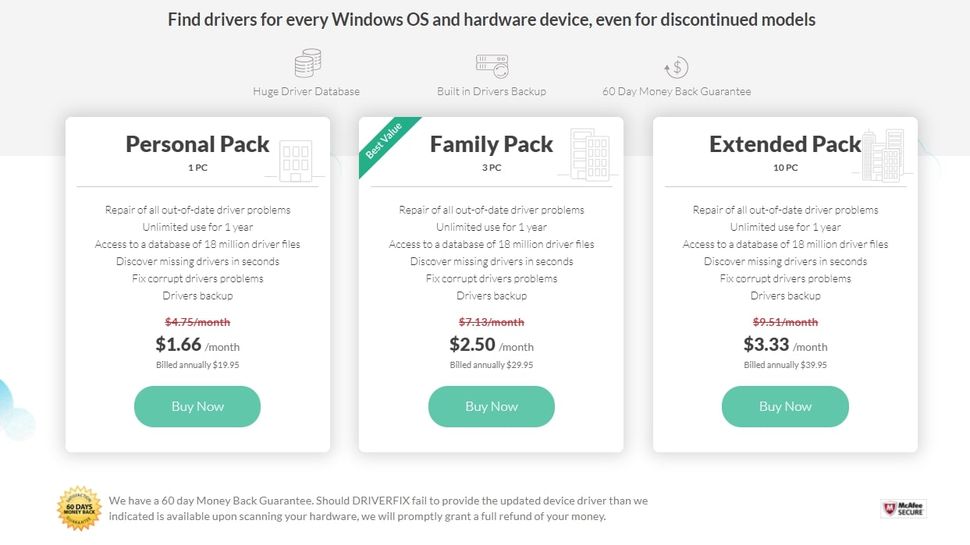 DriverFix is banking on you upgrading to a paid version, which includes the convenience of one-click automatic driver updates. For one computer, this costs $19.95/year. For three computers, the price is $29.95/year, and for 10 PCs, it's $39.95/year. As far as paid driver update software goes, this is relatively cheap, particularly if you have several computers.
There's a 60-day money-back guarantee. However, to get a refund, you must show that you've removed the software from your computer and returned the PC to its previous state, which could be very difficult to do.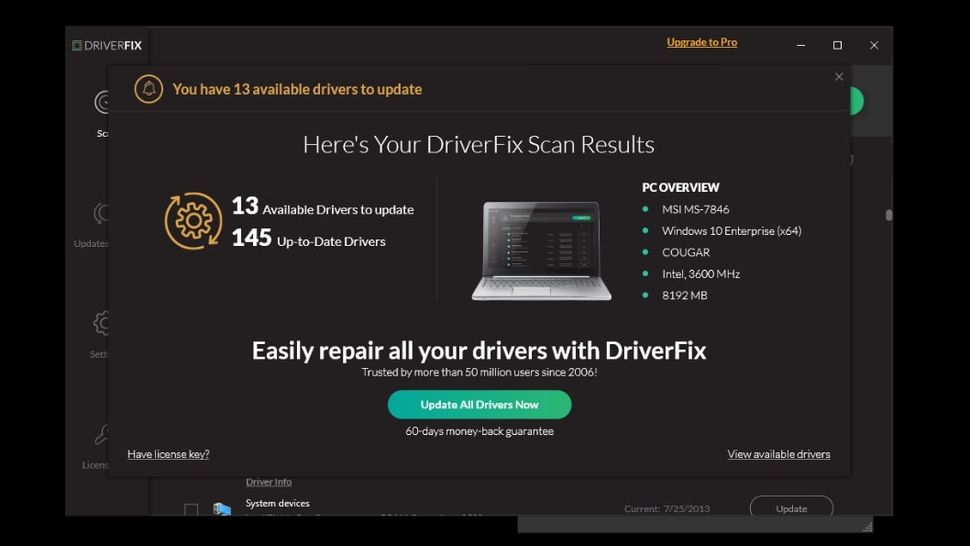 Features
DriverFix's primary function is scanning for old drivers and updating them. In our testing, it did a good job of finding most of the outdated drivers on our system, almost matching the results of the best driver update software we've tested.
Beyond driver updates, DriverFix also has a driver backup feature. You can use this to make a copy of your drivers if you're worried a new driver update won't work.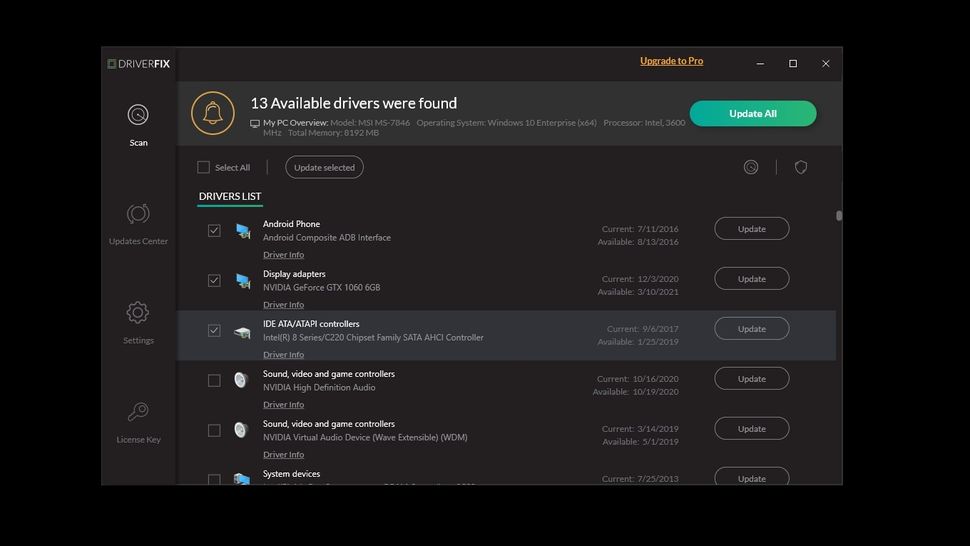 Interface and in use
To get started with DriverFix, you download a small installation program from the DriverFix website. If you use content filtering software in your browser such as uBlock Origin, you may find it blocks the DriverFix website completely for being "badware" This makes for a decidedly poor first impression.
The DriverFix website was categorized as badware in 2018 because of suspicious virus results returned from the installation program. Scanning the latest install file shows no virus is present, so the original virus results may have been a false positive.
DriverFix's interface is modern and simple. When the program starts up, it runs a quick scan of your computer's drivers and checks whether updated versions are available. Missing or old drivers are shown in a list. If you have a paid version of DriverFix, you simply click Update All, and all your drivers will be updated automatically.
Leave the free version of DriverFix running for a while, though, and you'll get pop-ups in the middle of your screen nagging you to update your drivers.
Support
DriverFix support is relatively poor. Click on the FAQ link on the website, and you'll be brought to a contact form instead. There are only two articles that could be considered guides—one that shows you how to install drivers manually, and another detailing how to uninstall DriverFix. Thankfully, the uninstall process is straightforward.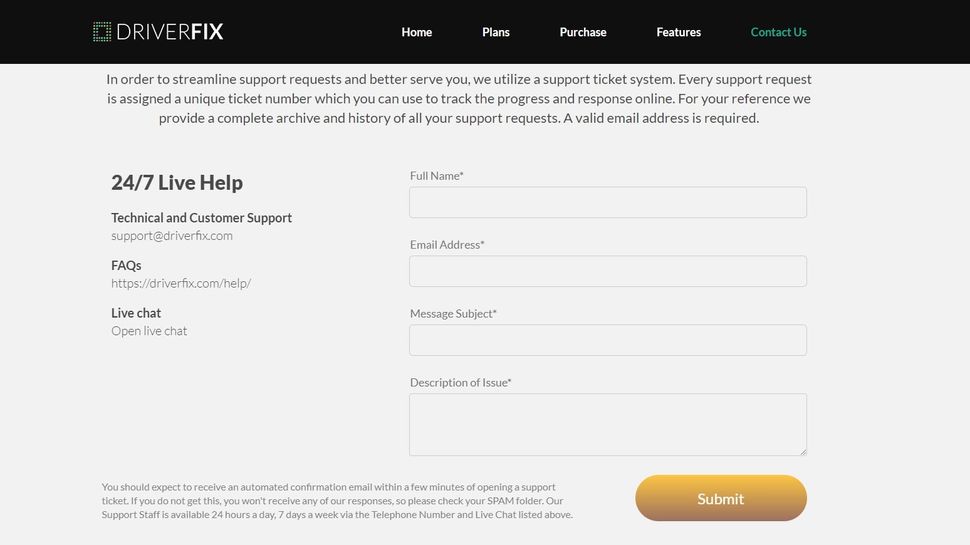 The DriverFix website also specifies 24/7 live help is available via ticket, live chat, and "the phone number above", but no phone number is listed. We were able to talk to customer support via the live chat, and on each occasion, there was someone available immediately, though they needed quite some time to research the answers to some of our basic queries.
The competition
DriverFix is one of many driver update software choices. In our testing, IObit Driver Booster 8 found more missing drivers than DriverFix, and it's cheaper too. At $22.95/year, you can use it on up to three PCs and it includes additional features for speeding up game performance.
Driver Reviver is another driver management tool that fared better than DriverFix in our testing. Like DriverFix, the free version of Driver Reviver lets you download and install drivers manually. We found Driver Reviver's manual driver installation easier to use than DriverFix's process, so if you're looking for a free driver update tool, Driver Reviver is a better choice.
Final verdict
DriverFix is a relatively simple driver update program. It doesn't offer any utility besides keeping your drivers up to date and making driver backups, but some users prefer straightforward, focused tools like this.
DriverFix's presentation lacks polish. The website has factual errors, there's very little online support, and many users will be greeted with a warning telling them DriverFix.com is a dangerous website. This hardly inspires confidence in a product asking you to hand over your credit card details so you can be charged an ongoing, recurring fee.
Installing the free version also means recurring, ongoing pop-ups right in the center of your screen, reminding you to buy the software because your drivers are out of date.
DriverFix makes more sense the more computers you have. Where some of its competition, like Driver Reviver, charge $29.99/computer/year, DriverFix is equivalent to just $3.99/computer/year if you have 10 computers. That's a significant saving, and if you can look past DriverFix's flaws, this might mean it's the right choice for you.