Our favorite free Android apps for having fun on your phone or tablet, through watching videos, reading, socializing and more.
eko - You Control The Story
eko - You Control The Story sits somewhere between the ill-fated Quibi with its selection of short shows, and a game. The app offers a selection of shows - including scripted comedies and dramas - and lets you make decisions about what characters do at key points, changing how they play out.
Each episode of these shows is short – usually under 10 minutes, but since you're making decisions there's plenty of replay/rewatch value. And it's not limited to fiction – there's also for example a travel show that lets you choose what to see.
Impressively, eko is also free, though it's not devoid of advertising within the content – Walmart is quite heavily pushed in some of its shows, for example.
Still, it's good fun, and while the quality of the content is variable there should be some that's worth your time. The bigger problem is that there's just not all that much content on there at the moment, but its library should continue to grow, if it avoids Quibi's fate.
RBdigital
RBdigital aims to bring libraries into the modern age, by letting you borrow ebooks, audiobooks, magazines, comics, videos, and more on your phone or tablet.
While these are digital copies, you're still borrowing them from your local library, which means you need to be signed up there to register here. There's a chance then that your library won't support RBdigital, but if not it probably works with a similar service.
The availability of content will also vary by library, just like it would if you were actually borrowing physical copies of things, and just like a real library you can only borrow things for a certain amount of time. But this way you can borrow and return things without ever setting foot in the physical building.
Co-Star Personalized Astrology
Astrology isn't for everyone, but if it's an interest of yours – or something you're curious about exploring – then Co-Star Personalized Astrology is the free Android app for you.
The app provides predictions based on a map of the sky at the precise time of your birth (down to the minute), and that's used alongside NASA data to track the movement of the planets. Using that data, Co-Star's AI is then able to craft you personalized, precise horoscopes, so it's surprisingly scientific.
The app is pleasant to use too, with a stylish black and white design that puts your latest horoscope front and center – but with tabs to delve around into different dates and sections too.
It's unlikely to convert the skeptical, but it's an impressively detailed and well-designed app for those with an astrology interest.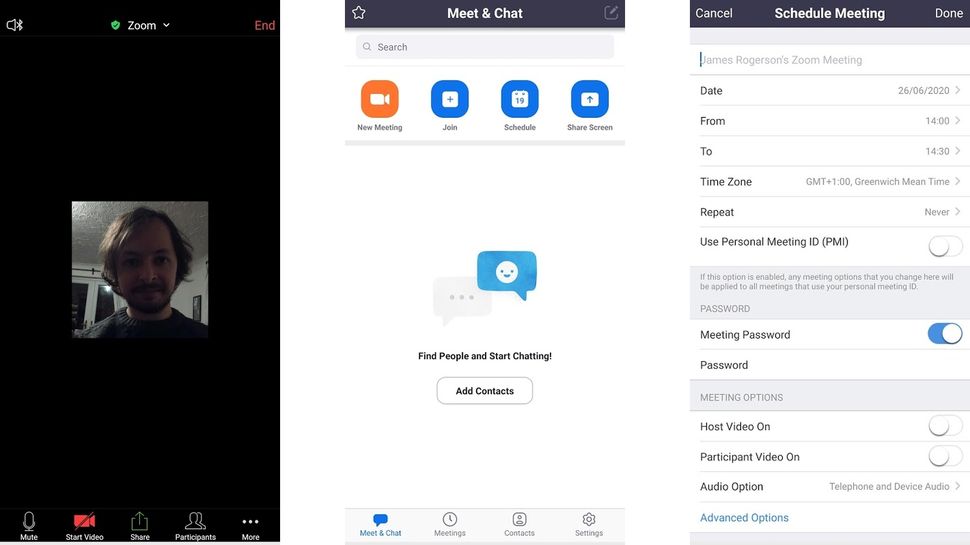 Zoom Cloud Meetings
Zoom is an app that probably needs no introduction, with millions turning to it in place of in-person meetings during the Covid-19 pandemic.
But, if somehow you haven't yet come across it, it's worth highlighting, as it's the video call app of choice for so many for a reason.
For one thing, it's feature-packed, offering things like meetings with up to 100 participants, custom backgrounds, screen sharing (with audio), a safe driving mode, and plenty more besides.
It's also very easy to use, and available across most devices, including Android, iOS, Windows, and Mac. It's mostly free to use as well, with one-to-one meetings being unlimited for free, and group meetings being limited to 40 minutes. For more than that you can opt for a monthly subscription – but even then, only the host needs to pay.
Byte
Byte is basically a successor to Vine (it was even developed by one of Vine's co-founders), and it's a very similar idea – you can shoot a looping six-second video and then share it with the world.
If you're not feeling very creative then you can also simply watch other people's content, and it's easy to find things as there are numerous categories you can choose from, such as 'comedy', 'pets', 'art', 'food', and loads more, along with a section that highlights new and trending videos.
If you find content you like then you can easily follow the user to help you keep up with all their future videos, and you can comment on and like videos too.
The actual video creation tools are very limited at the time of writing – you can shoot one in-app or import one from your phone, but there's not much in the way of filters, effects or editing tools. We suspect some of that will be added over time though, and even in its current state, Byte does a decent job of filling the hole left by Vine.
Ablo
For a long time the internet has ensured distance is no longer a barrier to making friends and connections, and now Ablo aims to ensure language isn't either.
The app in many ways is like so many other apps and services – it puts you in a text conversation with a random other person. Where it differs is that you can type in your own language and it will automatically (and more or less instantly) translate the message to the language of the person you're talking to.
It seems to do a very good job of this as well. The interactions we've had in the app generally read as if the person speaks English well albeit not as their first language, but in fact they weren't typing in English at all (you can be sure of this because you can also tap to see the message in the language it was sent in).
Impressively you can even switch to video chat and get live translated subtitles. Ablo also lets you create a profile, add friends, and once you've used it a bit you unlock the ability to choose which country you want to connect to. It's a great app – so good in fact that it was awarded 'Best app of 2019' by Google.
Xbox Game Pass
Xbox Game Pass is the best thing to happen to Xbox in a long time. It provides you with a large and ever-growing library of games – including brand new Xbox exclusives - for a reasonable monthly subscription. And it's not limited just to Xbox – there's also a version for PC, which confusingly has the same name.
As for the Android app, that gives you a convenient way to browse through all the games from your phone. You can see new arrivals or filter games based on genre and platform (Xbox One or PC). You can also get alerts when new games are added, and even set games to download from your phone, so they'll be ready to play when you get home.
You can also purchase included games at a discount, if you don't want to risk losing access to them, and add games to a 'Play later' screen, which helps you keep track of things you're interested in, but don't necessarily want to download or play right now. All in all, the Xbox Game Pass Android app is a nicely laid out way to interact with a great service whenever you're away from your PC or console.
It's only really useful if you're subscribed to Xbox Game Pass of course, but if you have an Xbox or a gaming PC then you really probably should be.
Threads from Instagram
Threads from Instagram is a way to focus just on your close Instagram friends. It's a separate Android app that prompts you to sign into using your Instagram account, then select close friends and groups with whom you'll share photos and videos, rather than sharing them with the whole of Instagram.
The app isn't just built for relative privacy though, it's also built for speed, allowing you to share snaps straight from the viewfinder with two taps.
You can also message close friends using this app (though you can still use the main Instagram app for this as well), and there are optional statuses that you can select from (such as 'studying' or 'at home'). Or you can enable automatic statuses to have the app automatically create and share them periodically based on your location. These too will only be shared with close friends.
There's nothing ground-breaking here, but Threads is a handy way to make your Instagram experience more intimate and less public, whether you use it along with the main app or instead.
Infinity for Reddit
Every now and then a new Reddit app comes along that's seriously worth considering switching to. Infinity for Reddit is one such app.
It's both free and ad-free, supports multiple Reddit accounts, has an optional dark theme, and even comes with a 'Lazy Mode', which automatically scrolls through posts so you can read through them without moving a muscle.
Those things aside, Infinity is a fairly standard Reddit app, but it has all the core features you'd expect, such as the ability to subscribe to subreddits, view your subscriptions, up and down vote, leave comments, save posts and share posts.
YouTube Kids
YouTube Kids has been around for a while, and in that time it's gradually improved to the point where it's potentially the only video app your children will need.
You can create a profile for each of your kids and set what age range of content you want them to be able to access (with a choice of four and under, five to seven, or eight to 12). Alternatively, you can approve which content they can access manually.
You can also block specific videos and channels, choose whether to allow them to cast content to a larger screen, see what content they've previously watched, and set a timer if you want to limit how long they watch things for.
It's a slick app that should make web videos safe and fun for children, though note that not all of the content is manually reviewed by YouTube Kids.
Goodreads
If you're much of a reader then you've probably already come across Goodreads, and if you haven't then you really should.
Goodreads lets you log the books you've read and those you want to read, so you'll never forget about a book.
You can also rate and review books, and read the reviews others have written. There are lots of tools for finding new things to read too, including personalized recommendations based on what you've read previously, genres and 'best of' lists to browse through.
You can follow friends to see what they're reading, and take part in reading challenges where you aim to read a certain number of books in a year. Plus there are handy tools, like the ability to scan a book cover to instantly search for the book on Goodreads. There's a lot here, and it's well worth digging into.
Letterboxd
If you're a movie lover then you might already know about Letterboxd, and if you don't you should. It lets you keep track of movies you've watched, add them to your list with a single tap, review them, give them a star rating, and say when you watched them.
It also lets you keep track of what you want to watch, thanks to a comprehensive film database and the ability to add films to a watch list – again with a single tap.
Letterboxd helps you discover films by highlighting what's currently popular, and offering thousands of lists created by users of the app. These lists all have a theme, and while that's sometimes as simple as someone's favorite movies, usually it's a lot more interesting than that, for example one list is titled "They aren't films, they're experiences".
Of course, you can also make lists of your own, and Letterboxd is a bit of a social network too, letting you follow other users and comment on their lists.