If you're hunting for the best action camera you can buy, you've come to the right place. These days, GoPros are far from your only options in the adventure cam department – there's now a wide range of rugged 4K cameras at all price points, and we've ranked the best ones based on our rigorous, real-world testing.
GoPro remains the biggest name in action cameras, but strong competition from the likes of DJI, Insta360 and Akaso has forced it to up its game recently. While this can make your buying decision more complicated, the benefit is that we've never had more choice.
Whether you're looking for a budget model to be your cycling dash cam, or need a large 1-inch sensor to capture your holiday in the highest quality, you'll find an option for you in our list below. We've also included a couple of the finest 360-degree cameras, like the GoPro Max, for those who want to capture the entire scene around them, rather than having to worry about framing shots.
What kind of features should you look for? The best action cameras all have a few things in common. They all feature electronic image stabilization (of varying quality) to smooth out any bumps or tumbles. And because they're built to be rugged, shock-resistance and waterproofing will mostly come as standard.
Most of the latest action cameras also include smartphone connectivity for editing, sharing and streaming to social media – ideal if you want to create all-action vlogs for friends, family or fans. We've included our thoughts on each camera's companion app in our round-up below, as they're not all created equal. Some modular action cams also allow you to switch up your shooting with useful accessories, such as microphones, to improve the quality of your content.
Our top pick for the title of best action camera is currently the GoPro Hero 9 Black. Easily the most versatile action camera ever made, it can shoot detailed, buttery-smooth 5K footage, while an arsenal of smart filming modes make it easy to capture cool shots. Its front-facing display is also handy for vloggers. That said, its 4K video isn't a huge improvement over the GoPro Hero 8 Black – and many might find better value elsewhere.
Looking for an affordable action cam? One of the very best budget options you can buy right now is the Apeman A100. Its build quality might be no-frills, but the plastic bargain can capture sharp, detailed 4K footage at up to 50fps. Alternatively, it's also worth exploring older models in the GoPro lineup. If you don't mind missing out on some of the latest specs, options such as the GoPro Hero 7 Silver continue to offer great value for money, despite being officially discontinued.
Choosing the best action camera for you will largely depend on what you plan to capture, as well as your budget. We've tested the latest and greatest adventure cameras, and you'll find our recommendations below. So whether you want an affordable option to attach to your handlebars or a high-end solution for top-quality recordings, this list will help you find it.
Best action cameras 2021 at a glance:
GoPro Hero 9 Black
Insta360 One R 1-Inch Edition
GoPro Hero 8 Black
Apeman A100
GoPro Hero 7 Black
DJI Osmo Action
Insta360 One R
Akaso Brave 7 SE
GoPro Max
Insta360 Go 2
Sony RX0 II
Akaso EK7000

Best action cameras in 2021: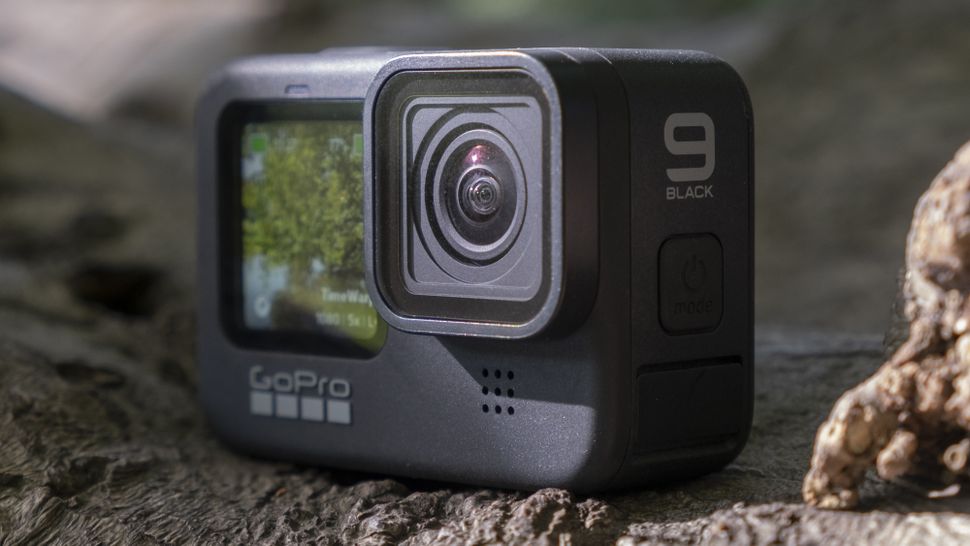 GoPro's latest flagship is the most versatile action camera ever made. It's also one of the few that's capable of shooting 5K video, courtesy of a new 23.MP sensor that captures excellent detail. Like the DJI Osmo Action, it features an additional color display on the front for easy framing, while a bigger battery improves longevity. As you'd expect from GoPro, it's also properly rugged and smart to boot, with fresh software tricks such as HindSight, which lets you to capture action that happened 15-30 seconds before you hit the shutter. The Hero 9 Black is also the first GoPro to offer HyperSmooth Boost – GoPro's strongest stabilization – in all modes. And thanks to a firmware fix, issues with auto-exposure and touchscreen responsiveness have now been greatly improved. Other models might represent better value if you have specific shooting requirements, and it's possible (if far from certain) that we'll see a GoPro Hero 10 model in September. But if you need a capable all-rounder that's clever and accessible right now, the Hero 9 Black is the complete package.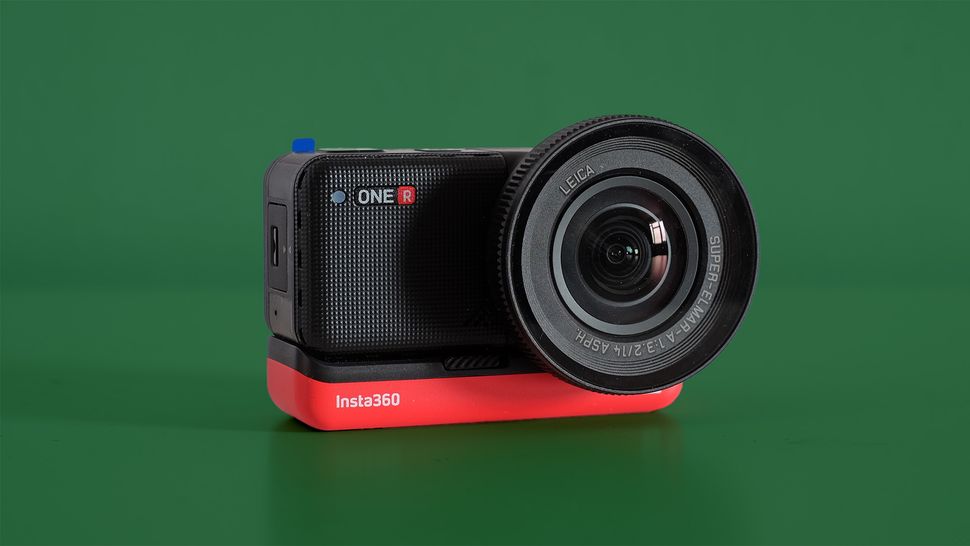 Already a proven rival to GoPro's Hero series, the modular Insta360 One R is now available with a sizable 1-inch sensor. That gives it low-light abilities which are brighter, cleaner and more detailed than the GoPro Hero 9 Black, as well as a native dynamic range better than any other action camera. Raw stills are impressive, while videos are sharp and punchy, in both 5.23K/25p and 4K/60p modes. That said, GoPro's processing powers are more effective overall, with video from the Insta360 One R suffering from shimmer and fizz in detailed areas. The One R also lacks the point-and-shoot simplicity of a GoPro, with more sluggish software when it comes to exporting. All the same, the Insta360 One R produces some of the best stills and video you can get from an action camera. Its 1-inch sensor also handles the crop of image stabilization better than most. A flexible 5K camera with solid low-light skills, the Insta360 One R is one of the best action cams around.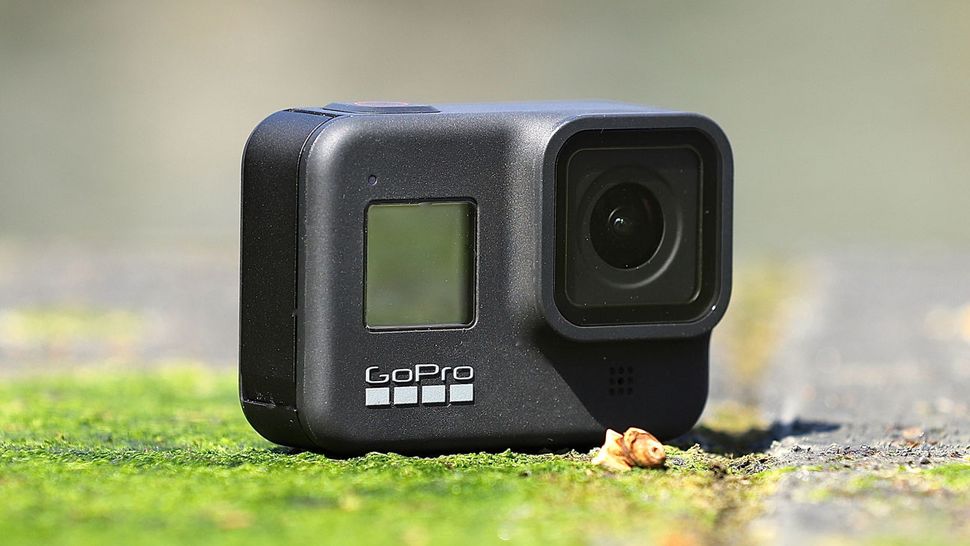 It's now been succeeded by the GoPro Hero 9 Black, but this model could well be the better value choice for you – particularly if you don't need a front-facing screen. What else are you missing out on compared to the GoPro's latest? The Hero 9 Black also brings a slightly better battery life and 5K video mode. But if none of those features are deal-breakers for you, you'll find that the Hero 8 Black shoots equally impressive 4K video, offers almost identical HyperSmooth stabilization and has one less color screen to worry about breaking. Thanks to compatibility with GoPro Labs, which is the manufacturer's new platform for trying out unreleased beta features, it also offers much of the same versatility. With the same folding 'fingers' on the underside for mounting it to accessories without a case, waterproofing down to ten meters and compatibility with GoPro's Mods accessories, the Hero 8 Black is a fantastic all-rounder for its current price.

Don't let its underwhelming shell fool you: the Apeman A100 might be a plastic brick without the finesse of a GoPro, but it's easily the best budget action cam you can buy. In the right conditions, the A100 produces sharp 4K footage at up to 50fps, with detail that's not far off a GoPro Hero 8 Black – albeit without its charming color profile. The A100 also does a reasonable job of shooting in low light, while panned motion is smoother than almost any other affordable action cam. Stills are solid too, especially if you take the time to tweak the color balance in post-production. Image stabilization is not nearly as good as a GoPro, with evident footfall judder, while audio quality is a real let-down, limiting the A100's usefulness for vloggers. All the same, it's a very appealing little package. At 74g it's perfect for pockets, while port covers and soft-click buttons belie its price tag. You simply won't get a better 4K action cam experience in this budget bracket.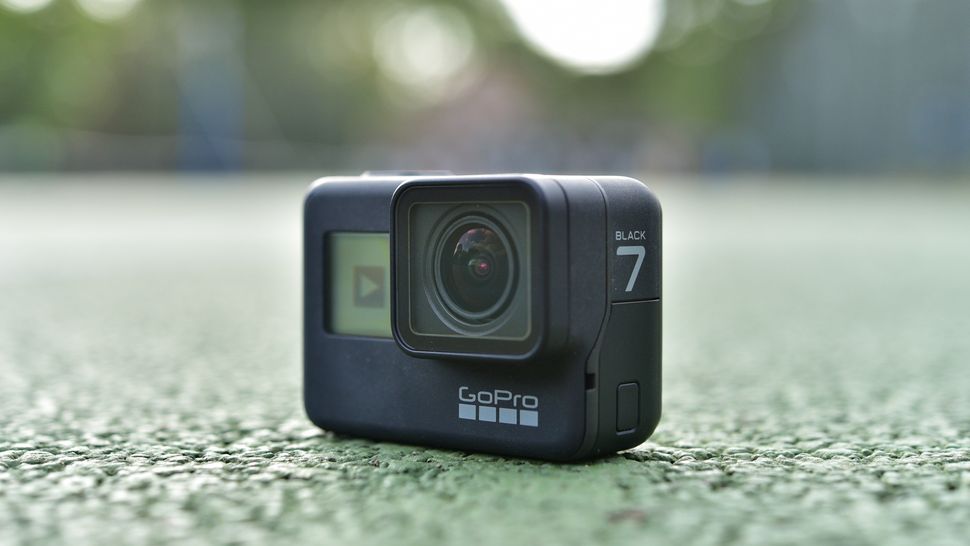 Now the entry-level model in GoPro's revamped line-up, the Hero 7 Black is well worth considering if you need a more basic action camera that nevertheless has GoPro's excellent HyperSmooth stabilization. While it shoots 4K video, the Hero 7 Black doesn't offer this in 'Linear' shooting mode, which corrects the fish-eye distortion you get in wider shooting modes, and there's no high bit-rate 100Mbps mode either. But if you're happy to mainly shoot in 2.7K or 1080p, the Hero 7 Black captures excellent quality video at frame-rates up to 120p, while offering the original versions of TimeWarp (for shooting hyperlapses) and HyperSmooth stabilization for smoothing out any judder. The other main difference from the Hero 8 Black is that this model lacks built-in mounting fingers, which means you'll need the included mounting frame to attach it to objects, but that's not a huge deal and in most other respects (battery life, ruggedness, waterproofing and 12MP SuperPhotos) it's a match for the Hero 8 Black.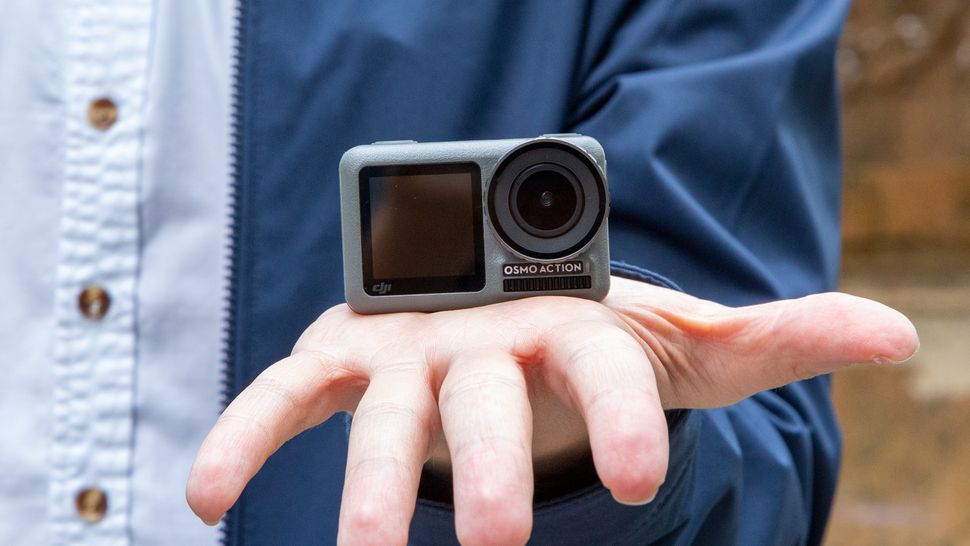 DJI might be better known for its class-leading drones, but the Osmo Action is a compelling GoPro alternative with some nifty tricks and a tempting price tag. The front display and general user-friendliness mean it trumps the Hero 8 Black (if not the new Hero 9 Black) for vloggers who like to shoot a lot to camera, while the video quality is right up there with the best 4K action cams.
The image stabilization, known as RockSteady, might not be quite up to GoPro's HyperSmooth, but it's not far off and the Osmo Action does also offer handy extras like a removable battery and lens cover. If you're a vlogger who shoots in places that are too demanding for most phones or cameras and don't want to pay top dollar for a Hero 9 Black, then this is a great alternative.

The GoPro Hero 9 Black may offer handy add-ons, but the Insta360 One R is a properly modular action camera, comprised of a battery, control and camera block. This means you can switch the latter at will to suit your shooting situation, choosing between a 4K action cam and a 360-degree camera. There's even a 1-inch sensor block (see the Insta360 One R 1-Inch Edition at number 2). But does this base model deliver on its promise of being three cameras in one? In many ways, yes: clipped together, the One R is only slightly larger than the Hero 8 Black and feels surprisingly sturdy – though you need to fit the mounting case to make it water resistant. Image quality is also sharp and relatively stable, with good detail in darker areas.
In other ways, though, it's less successful: the image processing (at least on the 4K module) can't match the Hero 8 Black or Hero 9 Black, while the 1.3-inch touchscreen is too small for framing 16:9 footage. It's worth remembering, though, that the dual-lens bundle costs less than the GoPro Max alone. For that, you get a modular approach that's flexible and well-executed, delivering great 4K video and solid 360-degree footage. Provided software updates can iron out some of the processing issues, the Insta360 One R is well worth a look for those who want to tinker with both 360 video and standard action cam footage.

Image 1 of 2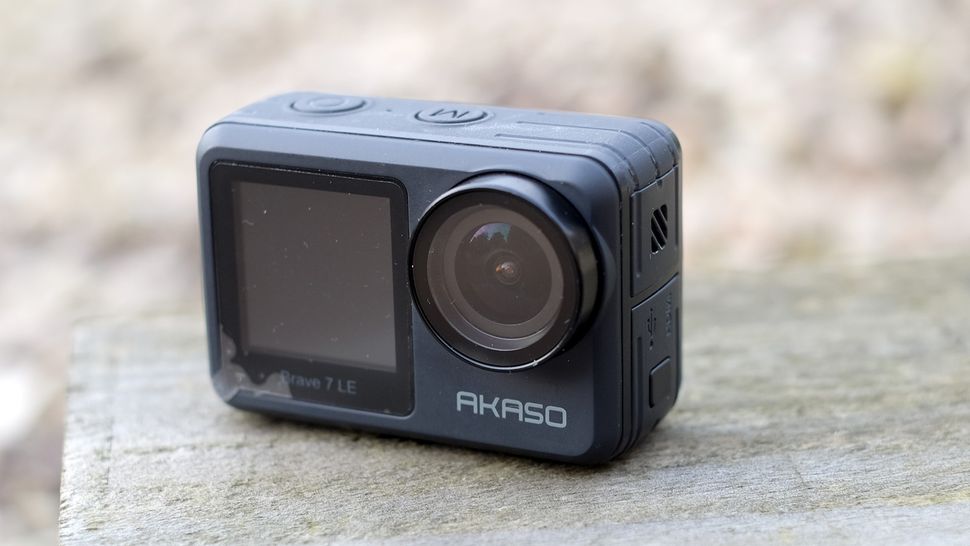 Image 2 of 2
The Brave 7 LE offers an incredible range of features for its price – if a front-facing screen and weather-sealing are more important to you than outright video quality, then it should certainly be high on your shortlist. In our tests, this model's audio quality was better than any other non-GoPro we've reviewed (in quieter environments, anyway) and it has a fantastically intuitive touchscreen interface.
The only slight downer is that the video quality, while decent at 4K resolution, doesn't quite match the rest of the Brave 7 LE's features. It leans heavily on noise reduction in lower light, giving your footage a soft quality, while the electronic image stabilization is decent rather than class-leading. Still, for the price, it's undoubtedly one of the best action cams out there – and unrivaled in terms of the amount of features it packs in for the price.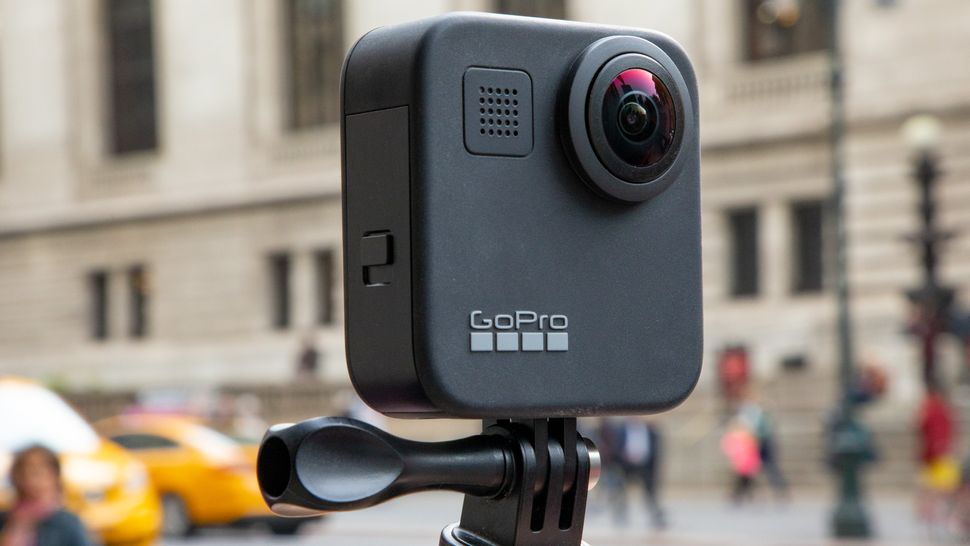 If you only want to shoot traditional action camera footage (that is, non-360 video) at the best possible quality, then the GoPro Hero 8 Black and Hero 9 Black remain better choices. But if you like the sound of being able to reframe your videos after they've been shot, and are looking for great audio quality, then the Max is well worth considering.
GoPro's most expensive action camera uses two fisheye lenses to shoot spherical 5.6K video, which you can later crop into standard 2D video using OverCapture software. It's also packed with features including six-microphone audio (which records excellent audio, if not quite up to the level of GoPro's 'shotgun mic' claims), shooting modes like TimeWarp, and built-in mounting fingers to ensure you don't need a extra mount mount to attach it to anything.
The downsides are the fact that it doesn't offer the best 2D video quality (due to the need to convert it from a fish-eye image, and the max 1440/60p resolution) and that it can't quite match the Hero 8 Black or Hero 9 Black in low light situations. But it remains the best waterproof, 360-degree action camera around.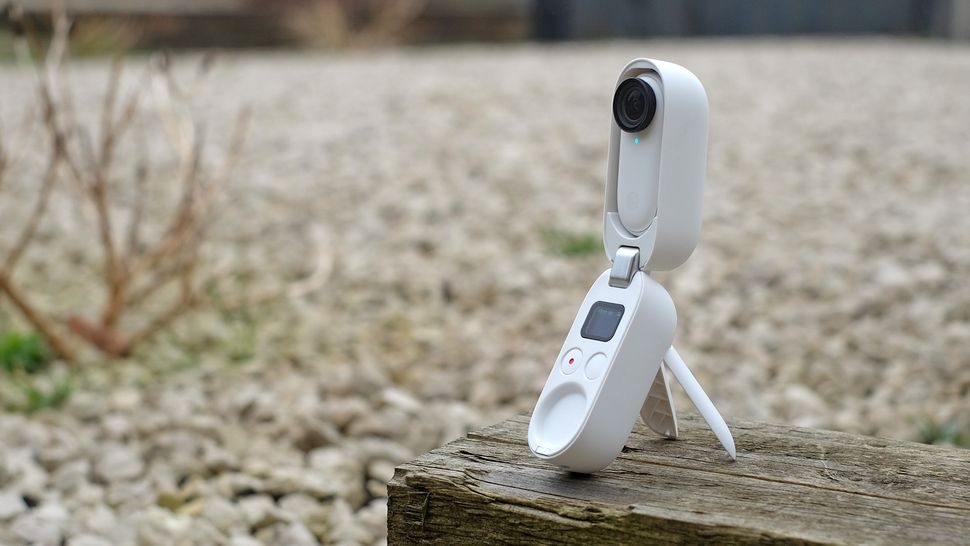 Touted as "the world's smallest action camera", the Insta360 Go 2 is a truly tiny cam that's designed for quick and easy recording. Despite its dinky build, the Go 2 can capture excellent 1440p video at 50fps, with good detail and decent dynamic range. Its image stabilization skills aren't a match for the GoPro Hero 9 Black, but the Go 2's FlowState smarts can still smooth out walking motion reasonably well.
Probably the biggest upgrade over the original Insta360 Go is the updated charging case. Buttons and a mini mode screen transform the user experience, allowing you to deploy the case as a remote control. It can also significantly boost battery life and double up as a tripod for easy self-shooting. Add 4-metre waterproofing to the spec sheet and, while it might not represent total innovation, the Go 2 shapes up as a versatile, accessible and properly portable action camera.

The RX0 II is part action camera, part stills camera. This tiny second-generation camera boasts a large 1-inch sensor (just like Sony's premium compacts) that can shoot 15.3MP still images, while there's a top class Zeiss Tessar T* 24mm f/4 fixed wide-angle lens.
Not only ultra compact, but crushproof and waterproof with it, the RX0 II can shoot 4K footage at 30fps and Full HD footage at 120fps. This second-generation model comes with a Soft Skin Effect mode and advanced Eye AF, while Sony's also managed to squeeze in a tilt-able LCD screen (capable of tilting up to 180° and down by 90°).
It's a bit fiddly to use and expensive, so doesn't lend itself to the casual user, but for those looking for a rugged camera that can shoot great 4K footage, this shouldn't be ignored.

Image 1 of 2
Image 2 of 2
While the Apeman A100 (see no.4) remains our pick for the title of best cheap action camera, the EK7000 could well fit the bill if you need something that's even more affordable and shoots good 1080p footage. The downsides are that there's no stabilization here and you can't change your field of view from the native 'wide' angle. But it is relatively intuitive to use and the 1080p looks surprisingly decent when you consider the EK7000's rock-bottom price.
While it can shoot 4K/25p footage, this is very jerky – so we'd really only consider this to be a 2.7K or 1080p action camera. We did also certainly miss built-in electronic stabilization and audio quality isn't great. Still, if you need a very affordable helmet cam and can live with its limitations, there's no doubt the EK7000 offers incredible value.
Also consider...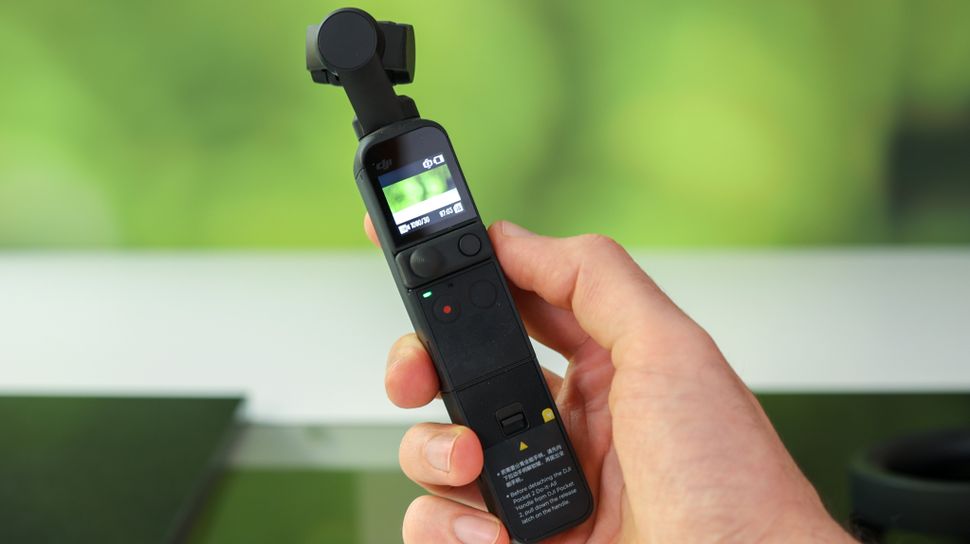 While it's not technically an action camera, the DJI Pocket 2 is well worth considering if you're a solo traveling filmmaker or vlogger. Its built-in three-axis gimbal isn't just useful for stabilizing footage – when combined with the Pocket 2's face-tracking, it allows the camera to automatically follow you left and right as you walk around in front of it.
Unlike the original Osmo Pocket, the Pocket 2 has a larger 1/1.7-inch sensor that can shoot 64MP stills and 4K/60p video at 100Mbps. Your options for capturing high-quality audio are also much-improved, thanks to the inclusion of four microphones and an optional Creator Combo that includes an external wireless mic. And while the Pocket 2 isn't waterproof itself, but you can buy a waterproof case that keeps it protected to depths of up to 60m.
The Pocket 2 isn't as rugged or tough out of the box as a GoPro, but it is a simpler and more versatile vlogging option if you're happy to keep it safely tucked away in between shots.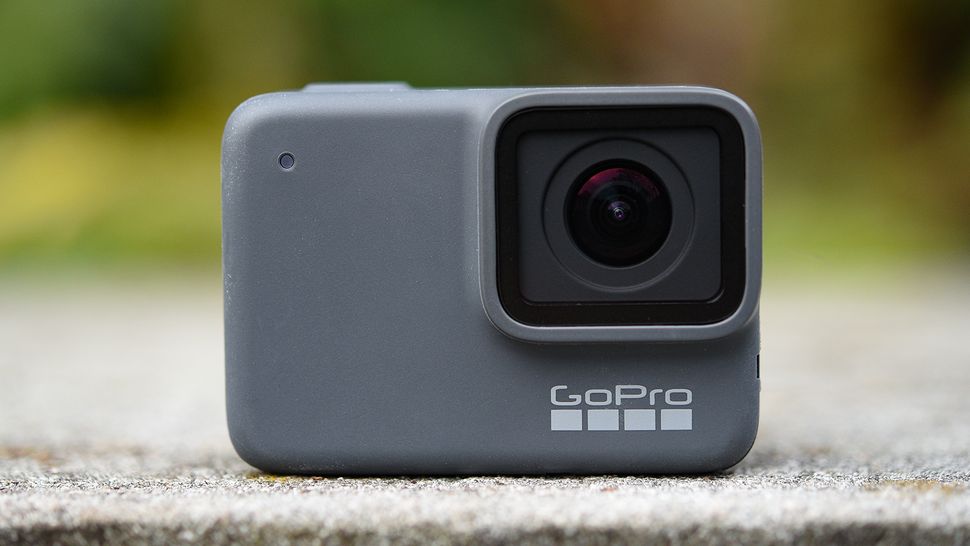 Once GoPro's mid-range action camera when it launched in 2018, the Hero 7 Silver is now officially no longer in its lineup – though you can still buy it at increasingly tempting prices. Should you? If you're mainly looking for a point-and-shoot model with limited manual controls and decent 4K image quality, there's certainly a case for it.
Like more recent GoPros, it's waterproof down to ten meters and offers both a 2-inch touchscreen and voice controls. Its video stabilization isn't quite as powerful as HyperSmooth and you can only shoot 4K/30p, rather than the 60fps offered by models from the Hero 7 Black up. But it remains a good-value option for beginners or those looking for a more basic action camera, if you can find it in stock.
Read our in-depth GoPro Hero 7 Silver review