The best entertainment apps for iPhone
Our favorite iPhone apps for having fun with your iPhone, whether stargazing, reading, watching TV or checking out Twitter.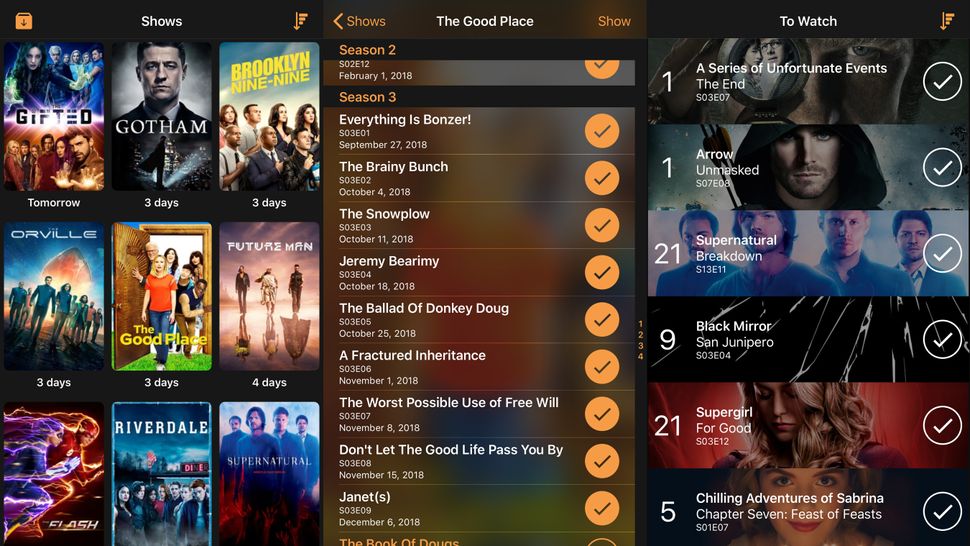 Television Time
Television Time gives you a fighting chance of tracking all the great shows you'd like to see – regardless of where or when they happen to be airing. 
You kick things off by outlining the shows you watch. If you're already part-way through a series, you can indicate the most recent episode you've seen. The Shows tab then lets you know when traditional broadcasts are airing, while To Watch helpfully indicates when you've still got 37 episodes of Supernatural to wade through. 
There are of course free apps that do this kind of thing, but not with Television Time's level of polish, smart design, and handy features (including show calendars for the US, and iCloud sync for all). If you enjoy watching TV but not wasting your time, this app's a superb investment.
EōN by Jean-Michel Jarre
EōN by Jean-Michel Jarre more or less inserts the French synth wizard into your iPhone and commands him to play forever. But unlike, say, putting Oxygène on repeat, no two EōN sessions are quite alike.
This isn't a meditative and ambient river of audio such as you get from Brian Eno's Reflection, though. EōN clearly has distinct tracks (of sorts), some of which can be quite invigorating and head-bobbing fare, but each play is like a new remix – sounds and riffs will be familiar, but always presented in a slightly different manner.
With offline play, EōN is a must-have for the Jarre fan, but also anyone with an interest in generative electronic audio. It functions well for relaxation, screening distractions, or giving your eyes something to do by way of eye-popping synchronized visuals that dance across the screen during each session.
Infuse Pro 6
Infuse Pro 6 is a premium video player. Rather than having you transfer files to your iPhone (although that is an option), it streams from pretty much anywhere, including local PCs, network drives and cloud storage. It can connect with Plex, too, but doesn't require a server to be running for general use.
From a usability and interface standpoint, the app's a winner. Assuming your files are sensibly named, Infuse will helpfully organize them and download cover art. When watching, you can grab subtitles with a tap. Halfway through a movie after a commute? Infuse will sync progress to your Apple TV, so you can see the conclusion.
This isn't a cheap app, and if your demands are simpler, perhaps start with the free version, but if you want the best video player for iPhone, Infuse Pro 6 is it. 
Reeder 4
Reeder 4 is a sleek RSS reader. Through RSS, you can subscribe to your favorite websites, safe in the knowledge you'll never miss an article. Reeder then lets you browse headlines by individual feed, or a combined one that displays all articles in chronological order.
When reading an article, you get plenty of options. There are light and dark modes, and you can adjust the typography and contrast – the latter being a good thing, given that the default setting isn't terribly readable. 
Further handy features are a button that loads entire articles for feeds that initially just supply synopses, and Bionic Reading. The latter aims to encourage in-depth rather than skim-reading, through guiding the eyes via artificial fixation points. Surprisingly, it works. And overall, it adds to what – in its fourth incarnation – remains the best RSS reader on iPhone.
David Bowie is…
David Bowie is… reimagines a famous touring exhibition about a music industry icon as an augmented reality experience. You work your way through Bowie's life story, exploring videos, costumes, handwritten lyrics, and other objects, which sit before you in a pseudo-3D desk-bound view.
Although less directly immersive than Shepard Fairey – Damaged, it's arguably more accessible, simply due to Bowie's infusion into popular culture. And although there are limitations on the smaller screen – the slight awkwardness of a letterbox view; costumes looking a bit like videogame character clothing – this is a fascinating glimpse into one of pop music's most famous and influential artists.
Given the content lurking within, and its price tag being far less than a ticket to the original exhibition, it's a must-buy for fans and the merely curious alike. 
Bloom: 10 Worlds
Bloom: 10 Worlds is the follow-up to 2008's Bloom, in which you tapped the screen to play notes while dots of color emanated from your fingers like ripples in a pond. A decade later, 10 Worlds takes that app's premise and expands out what was effectively a single into a full album.
You get 10 distinct playgrounds to experiment with. Their sounds are varied, as are their visual effects. Some slash lines horizontally and vertically across the screen, while others soak the canvas in watercolor curtains.
Whether you want to interact or just let 10 Worlds play itself (which it starts doing when left alone for a short while), this is an enchanting ambient audio experience that breathes new life into what was already an iOS classic. 
Tweetbot 5
Tweetbot 5 is a premium Twitter client, and in an era when Twitter seems to be doing its level best to grind third-party clients into dust, it might seem an odd recommendation. However, hampered though it may be in some areas, Tweetbot remains highly recommended for people who want to free themselves from Twitter noise.
This is especially apparent when exploring timelines: everything's in blissful reverse-chronological order; the Mentions tab isn't cluttered with like and retweet notifications; and you can swap out a toolbar tab for fast access to user-defined lists.
In other words, despite not having access to all of Twitter's toys, Tweetbot continues to offer the best iPhone Twitter experience for heavy users of the service – and anyone who prefers order over chaos. 
Shepard Fairey AR - Damaged
Shepard Fairey AR - Damaged is essentially an art exhibit crammed into your iPhone – and in a rather more literal sense than you might expect. If the name Shepard Fairey doesn't ring a bell, you'll likely recognize his most famous work – the iconic 'Hope' image of Barack Obama. In Damaged, he tackles the current political climate in a similarly arresting manner.
As a viewer, the AR bit of the app's name is important. This is no slideshow with written notes. Instead, the entire warehouse-sized show has been transformed into a virtual space you can explore with swipes and taps, or even by walking around yourself.
All the while, you can optionally take in Fairey's narration, giving you extra context behind the work in what's easily the best virtual art exhibit on the iPhone.