The best smart displays allow you to see as well as hear the information being issued by a voice assistant, as they combine the best smart speakers with a touchscreen. In fact, the screen on a smart display serves up extra information than the voice assistant issues audible. For example, ask Alexa for the weather on any Echo Show devices, and as well as hearing the daily temperature you'll be given an hour-by-hour breakdown, along with the wind speed and real-feel temperature on the screen.
As well as extra information, the screen on smart displays can also be used to watch streaming services, sing-along to your favorite tracks thanks to on-screen lyrics, or simply as a digital photo frame for family snapshots.
It's not just industry heavyweights Google and Amazon offering up smart displays though; they're joined by the likes of Lenovo and even Facebook, although the Facebook Portal is billed as more of a communication device rather than a smart display.
If you're already set up with a number of Amazon Echo or Google Home speakers, it makes sense to go for a smart display that supports the same voice assistant. However, if you're still not sure which voice assistant is best for you, Alexa vs Google Assistant can help you decide.
In this guide, we've run through the very best smart displays available to buy in 2021, to make sure that, if you're after some screen-enhanced smart features in your home, you're making the best decision for your needs.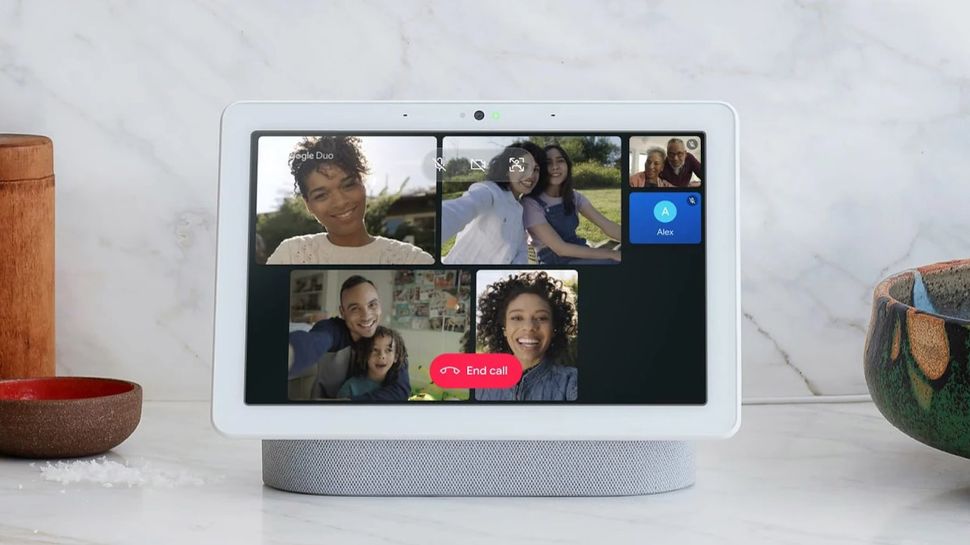 The Amazon Echo Show 5 (2nd generation) isn't the best smart display out there – with low resolution, lack of YouTube support, but it is the most compact.
Boasting a camera that's twice the resolution of the Amazon Echo Show 5 (2019), like its predecessor, it has a physical camera shutter so you can be sure once and for all that you aren't be recorded or watched by accident – something that's increasingly on consumers' minds as various data and privacy scandals rock the tech industry, from social media to hardware gadgets for the home.
There's also a mute button, as with most Alexa devices, to ensure you aren't being listened to when you don't want to be. That said, nothing's quite as private as not having a camera or smart display at all – though those wanting to use a device's features with some safeguards may well be leaning towards the Echo Show 5 or something like it.
Keep in mind that the Lenovo Smart Clock (above) doesn't have a camera, and the Facebook Portal range of smart displays also now features camera shutters, privacy-minded users.
Read our full review: Amazon Echo Show 5 (2nd generation)
Smart displays vs speakers
Finding it hard to choose a smart device for your home? There's now a huge number of gadgets making use of smart and voice functionality, and it can hard figuring out what you actually need or will be useful to you.
Smart speakers hit the market first, with the Amazon Echo rolling out to invited Amazon Prime members in 2014, and slowly building up momentum. By the time the Google Home launched in 2017, there was plenty of appetite for the devices.
If you're largely going to be using a device for music and audio functionality – including chatting to / ordering around a voice assistant – you'll likely be fine with a smart speaker. It's only if the screen functionality is going to be useful that you need to bother with the smart display option.
The display is useful in a number of ways: for cooking tutorials and how-to videos, accessing security camera feeds, watching video lyrics onscreen (as with the Echo Show and Amazon Music) or for easily spotting the time on a clock face. Controlling and connecting to other smart home devices through a centralized portal is also far easier with a screen, and you get far more connectivity features in these kinds of devices.
But if you think you don't want the screen attached, you can check out out best smart speakers guide instead.