Verdict
The Galaxy S10 Plus is Samsung's biggest and best phone at the moment. No, the S10 Plus isn't as different as a foldable phone, but it's also not completely unproven. Its moderate changes are why it's our new favorite – more pixels spread across a smaller body, a triple-lens camera that captures ultra-wide photos, and a bigger battery. Improvements, but no major surprises.
Wireless PowerShare and the in-screen fingerprint sensor are curve balls you may not have seen before, and both worked well enough in our tests. Samsung's reverse wireless charging is easier to set up than Huawei's, and while its ultrasonic behind-the-glass sensor takes getting used to, and isn't flawless, it's better than all of the optical sensors out there.
The sticking point for you, of course, may be that price. While cheaper than the iPhone XS, It's more expensive than the Galaxy S9 Plus, and that was high to begin with. This is why the Galaxy S10 and Galaxy S10e exist, but if you're looking for Samsung's best, this is it – at least for the time being.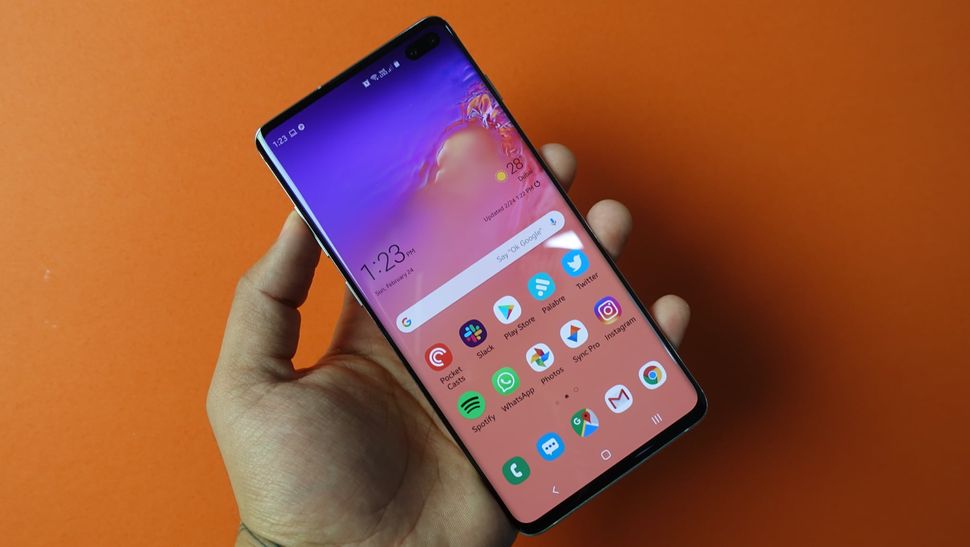 Who's it for?
If you're after the do-it-all-smartphone, one that's as comfortable snapping photos and recording HDR10+ video as it is running PUBG on the highest graphics and making your Netflix subscription look fantastic, the Galaxy S10 Plus is for you.
There's heaps of power, a highly versatile camera, possibly the best smartphone display on the market, and style to make you swoon.
After exclusivity? The Galaxy S10 Plus can offer that too, in the shape of the Ultimate Performance Edition, although that phone is more expensive again; exclusivity does come at a price.
Should I buy it?
If you've got the money, and are after one of the very best smartphones on the market, the Samsung Galaxy S10 Plus won't let you down.
However, if this review has whet your appetite you should definitely consider its siblings before parting with your hard-earned cash.
The Galaxy S10 packs all the great features of the Plus into a smaller form factor – and lower price bracket – with only a couple of minor concessions.
Then there's the Galaxy S10e, which is even cheaper, has fewer cameras front and rear and a smaller screen – but it still has the core S10 DNA if your budget can't stretch to the S10 Plus.
Before you splash out on the Galaxy S10 Plus, it's worth considering your options.
Samsung Galaxy S10
If you want all the flagship features of the Galaxy S10 Plus in a more manageable form factor and slightly cheaper price, the Samsung Galaxy S10 is the answer.
Its smaller 6.1-inch display still packs a QHD+ resolution, although there's just a single punch-hole camera embedded into it.
You still get the same three rear cameras, Wireless PowerShare feature and in-display fingerprint scanner - plus plenty of power and storage under the hood.
Samsung Galaxy S10e
For the first time in a number of years Samsung is offering a more affordable version of its S-Series flagship, and the Galaxy S10e is set to go up against Apple's third wheel - the iPhone XR.
The S10e packs a 5.8-inch Full HD display, two rear cameras and the same powerful chipset at its larger siblings.
There's no curved edges to the display however, and the fingerprint scanner is located on the side, rather than under the screen.
Huawei Mate 20 Pro
If it's a big screen, plenty of power and multiple, high-performing rear cameras you're after, the Huawei Mate 20 Pro should be a serious consideration.
There's a similarly massive 6.39-inch QHD+ display in play here, plus a heap of power under the hood and a trio of versatile cameras on its rear. Plus there's an in-display fingerprint scanner, although its notch is larger than the S10 Plus.
The real kicker here though is the price. As the Mate 20 Pro is now six months old, its price has dropped and it can now be picked up for much less than the Galaxy S10 Plus.