Suddenly, everyone requires a webcam. Whether for professional use or for upcoming streamers, having a high quality webcam has become an absolute necessity. It's no surprise that Razer is leaning towards that trend by expanding its suite of broadcasting components. It previously released the Razer Seiren Mini microphone which garnered favorable reviews for its high-quality audio and affordable price.
Joining the lineup is the Razer Kiyo Pro, a $200 webcam that is designed for office use, as well as for streamers. Reflecting its price, Razer has packaged it with some high-quality components, such a F2.0 lens equipped with an industrial Starvis Technology sensor capable of 1080p with HDR, along with wide-angle support and a built-in microphone. The Razer Synapse software is also fleshed out enough to give the webcam the necessary tools to customize it to personal preference.
After using it for nearly a week, the Razer Kiyo Pro does deliver on some of its promises, though its price might be too steep for office use, or for new streamers looking for a budget-friendly option.
SPECIFICATIONS
Here are the camera specificationsfor the Razer Kiyo Pro :

Connection type: USB-A 3.0
Image resolution: 2.1 Megapixels
Video Resolution: 1080p @ 60/30/24FPS / 720p @ 60FPS / 480p @ 30FPS / 360p @30FPS
Video encoding: H.264 codec
Still Image Resolution: 1920x1080
Image Quality Settings Customization: Yes
Diagonal Field of View (FOV): 103°, 90°, 80°
Focus Type: Auto or manual
Mounting Options: L-shape joint or Tripod
Cable Length: 1.5 meters braided cable
Design
The Razer Kiyo Pro resembles a repurposed camera lens rather than an ordinary webcam. It's closer to the Razer Kiyo camera the company released before, but that one was a lot smaller and had the look of something that would belong to an office environment. The Kiyo Pro is definitely a bold choice, but the design also exudes quality and high-end performance like a camera lens would.
Despite the chunky look, the Kiyo Pro isn't too hefty and sits snugly on top of your screen with the included mounting clip. It also has a standard ¼ size mounting hole so you can attach it to a tripod or any other compatible fixture to suit your needs. The lens also uses Corning Gorilla Glass 3 for added durability.
Image 1 of 5
Image 2 of 5
Image 3 of 5
Image 4 of 5
Image 5 of 5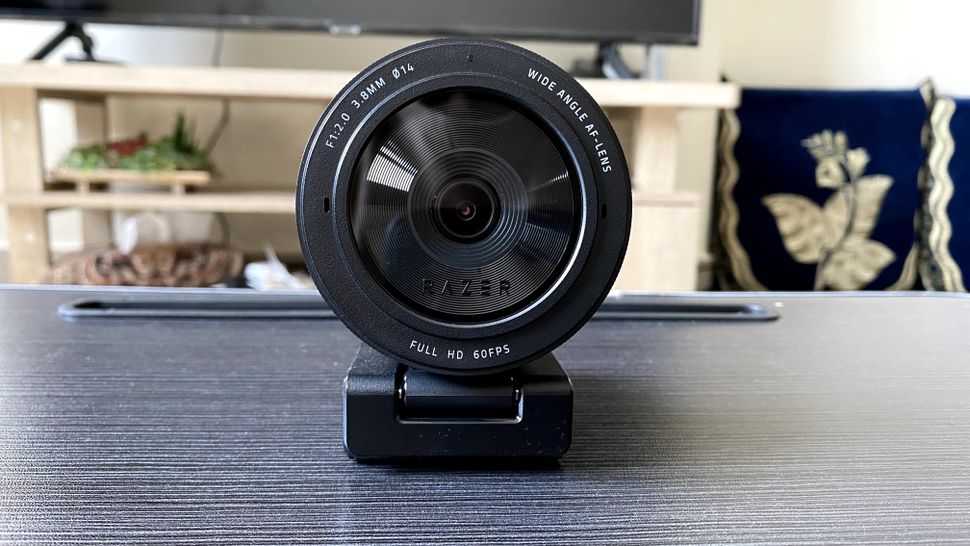 The camera uses a Starvis Technology CMOS sensor, which is a Sony product used in security cameras to deliver brighter pictures in low-light conditions. The sensor is fitted on to a F2.0 lens with a customizable FOV with wide-angle support. However, the FOV is operated via the Razer Synapse software instead of it being a mechanical feature. The sensor can output at uncompressed 1080p/60fps in SDR mode, or at 1080p/30fps in HDR mode. There is no 4K support which could be a glaring issue for a webcam in this price range.
The Kiyo Pro ditches the ring light support from the previous version, which is a disappointment since it could have benefited users looking for an all-in-one solution. One of the reasons for this could be the limited bandwidth available on USB 3.0 to carry both an HDR image and enough juice to power a small ring light. Razer is also hoping that its new Starvis sensor does the heavy lifting in low-light conditions if required.
The webcam connects via a USB-C cable with a non-proprietary port, so you can use any compatible cable if the one included with the box is misplaced. Razer also has its eye on privacy and has included a lens cover for added security. We also wish it had a physical button to switch off the mic for complete privacy.
Software and Performance
The Kiyo Pro is paired up with the Razer Synapse software to provide users with the necessary image customizations. The Razer Synapse is a fine software for gaming peripherals, but might prove to be too bulky and cumbersome for those using it for the first time. However the software does work smoothly and allows you to tinker around with the options without any issues.
Under the Broadcasters tab, you will be able to change the webcam's brightness, contrast, the saturation levels, as well as the white balance. Or you can select from the three color presets, namely Cool, Vibrant and Warm to set the image to your liking.
You also have a live preview with the ability to flick the SDR/HDR mode on the fly, as well as change the FOV from Linear, Medium and Wide. There is also a manual focus feature but the lens just doesn't seem to have enough range to really benefit from it. We tried to do a bokeh effect where to just keep our face in focus while blurring the background, but it simply wasn't able to do that. The webcam would either go completely blurry, or focus on the entire image.
The video quality from the Kiyo Pro is excellent for a webcam, although it certainly isn't a replacement for a DSLR or any other high-end camera used for creating personality-driven YouTube videos. For office purposes, or for streaming on Twitch, the webcam offers a detailed and balanced image quality with excellent color reproduction.
The sensor is capable of 1080p/60fps in SDR mode, however the image quality is far superior when the webcam is outputting in HDR mode. Unfortunately, if you want to use HDR, you'll have to settle with 1080p/30fps. Ultimately, it's a compromise you'll have to make based on your setup and how you want to be viewed, but the Starvis sensor is at its best when the HDR mode is enabled.
As you can see from the comparison below, the image in SDR mode is brighter, but the sunlight streaming in causes the highlights to completely blow out. The Kiyo Pro balances all of that in HDR mode - the colors are rich and vibrant (but not overly so), and you can actually see details through the window in the background.
Image 1 of 2
Image 2 of 2
During night time, the webcam holds up reasonably well but does introduce noise and some artifacts. In our current setup, which has a single light source in the background, the Kiyo Pro captured the room with enough detail without fuzziness or blurring.
In complete darkness, however, the webcam expectedly struggles. As highlighted in the video above, the sensor is barely able to focus unless you have a light source facing you. But even then, it might not be ideal to stream in complete darkness as the sensor is most likely to go out of focus randomly, and the overall picture introduces a lot of noise.
Of course, the performance of the webcam will entirely depend on your setup. The Kiyo Pro should be able to handle most situations, be it your typical office lighting conditions, or a RGB-lit streaming corner.
The only area we found the webcam to be lacking was with the autofocus. It tends to jump around for no particular reason, looking for a clearer shot even when we were barely moving or went out of the focus range. This was especially noticeable under low-lighting conditions, when a simple color change on the screen would trigger the camera to find its focus again. It doesn't happen all the time, but it happens often enough to cause a minor annoyance.
The webcam features omnidirectional microphones, and they are great for its purpose. It picks up your voice with a good amount of bass and clarity, and should be okay during a conference call. The quality will prove to be too quiet and echoey for streaming purposes, so we would recommend switching to a dedicated microphone or a headset while streaming.
Should I buy the Razer Kiyo Pro?
Buy it if…
You want excellent image quality
If you want a webcam that records you at the best quality possible, this is the one to get. It offers a balanced image quality with good detail, and it's even better with HDR mode enabled.
You want 60fps
The Kiyo Pro can output at an uncompressed 1080p/60fps for smooth video recordings, making it great for streaming setups.
Don't buy it if...
You need something cheap
At $200, the Kiyo Pro is a considerable investment to make. There are cheaper options to consider, but they may not offer the same image quality. You really have to be sure you want the best possible image before you buy something at this price.
You stream in low-light environments
While the Starvis sensor on the webcam performs reasonably well in low-light conditions, it is less than ideal. If you are someone who prefers to stream in complete darkness with just your face illuminated, this webcam may not offer the best quality.
You want 4K recording
There's no 4K support on the webcam, which is a surprising omission for this price tag.