The original Fitbit Versa got several things right, and helped get Fitbit back on the map amidst fierce competition. The Versa delivered great fitness tracking, a balanced but limited set of smartwatch features wrapped in a great design, and a price point that wouldn't burn a hole in your wallet.
Fitbit Versa 2: key specs
Display: 300 x 300 pixel touchscreen AMOLED
Materials: Aluminum watch case
Connectivity: Bluetooth 4.0 and 802.11 b/g/n Wi-Fi
Water resistance: Up to 50m
Sensors: 3-axis accelerometer, optical heart rate monitor, altimeter, ambient light sensor, vibration motor, NFC, microphone, and relative SpO2 sensor
Battery life: 5 days of standard usage
So when time came for a follow-up it's easy to understand why Fitbit decided to stick to its winning formula but tweaking it modestly so as not to mess with the device's popularity. The first big change in the new Versa is a brand new OLED screen that looks vibrant and also helps improve battery life.
There's a built-in microphone this time around for speaking to Alexa and replying to messages in certain apps. The design has also been refined and there's a faster processor to speed things up.
Fitbit is also focusing deeply on marketing the Versa 2's standout sleep-tracking abilities, a feature that's still doesn't come out of the box on the Apple Watch. And while that does make the Versa 2 stand out a little bit, it doesn't take from the fact that the device is still missing a built-in GPS and offline support for major third-party apps.
Fitbit Versa 2 price and release date
The Versa 2 is now available to order through Virgin Megastore, Amazon UAE, Noon and Namshi for AED 899, the same launch price as the original Versa. Color options range from black with a carbon case, petal with a copper rose aluminum case, to stone with a mist grey case. And if you want to spruce up the Versa 2, there are a range of accessories available priced between AED 149 to AED 199.
Two exclusive editions – emerald and plum – both with a copper rose case, are available exclusively on Amazon.ae. If you want something that stands out then you might go for the Versa 2 Special Edition which is available for AED 999 in navy and pink with a copper-rose aluminum case, and smoke with a mist grey case.
You also get a 7-day trial to Fitbit Premium, a paid subscription service that gives you access to guided programs and insights (more on that later). Fitbit Versa 2 special edition users get a 90-day trial to the same service. After the trial you can choose to subscribe to the service for AED 40 per month or AED 330 annually.
Design and display
The Versa 2 retains most of the design elements from its predecessor. The 'squircle' body makes a comeback and is as attractive as ever. It's taller and thicker than the Versa but it doesn't feel like it. Fitbit has tempered the edges all around and opted for a single button layout instead of the three on the original, and the overall effect is quite pleasing to the eye.
But it's the fit where the Versa 2 really shines. It weighs just as light as the original, coming in at 38 grams, and sits nicely even on the daintiest of wrists. The default silicone strap that comes with the Versa 2 sports smooth textures and doesn't aggravate the skin too much.
And if the default strap doesn't float your boat, then you have a wide choice of Versa straps available at fairly reasonable prices. Although swapping them with the finicky pin system can be a bit of a pain.
The new AMOLED display on the Versa 2 looks great, is and one of our favorite upgrades on the smartwatch. It's a big move from LCD and as you can expect, everything just looks better. Colors pop more, blacks are deeper and the battery efficiencies that come with an LED display put a cherry on top of a gorgeous display.
There are chunky bezels surrounding the screen, but the deep blacks of the AMOLED display blends in nicely around the edges and negates the bulky effect. The display is quite responsive too, making navigation and swiping through apps an absolute breeze.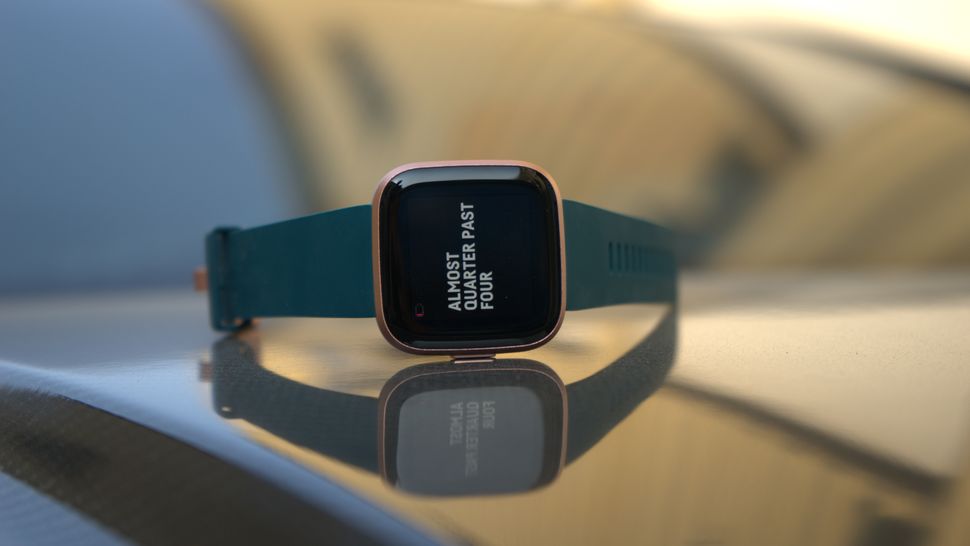 Another perk of an AMOLED screen is the ability to have an Always-On display, alleviating the need to raise your wrist when you need to glance at the time. This is easily enabled through quick settings and will display the time along with battery info, active minutes and steps taken.