The best smartwatch doubles as both a miniature wrist-mounted companion to your smartphone, and a useful health tool for counting your steps or monitoring your workouts - depending on your needs, you might weigh one or the other of those functions as most important.
There are plenty of smartwatches on the market, so finding the absolute top choice for you isn't easy. That's even more true when you remember all the other factors: fitness features, specs, design, smartphone compatibility and price are all things you need to bear in mind.
Fortunately for you, we at TechRadar have tested most of the available options, and we've included the best we've reviewed in this guide, ranked according to our preference.
In particular you should check whether the smartwatch you're looking at even supports your phone – if you're using an Android phone then you can't use an Apple Watch, and while Wear OS and HarmonyOS watches are compatible with iPhone, they're not as good with it as Apple's own wearables.
Some of Samsung and Huawei watches also have extra features that are only available to their respective phone owners. If you're in the market for a new handset, be sure to check out our best smartphones guide.
You should also consider whether a wearable has GPS, an ECG, or other features that you might care about. For each entry though we've included a full specs list, along with an overview from our review and the key good and bad points, so you won't have to do much research to round the choices down.
Our preference might not be your preference though, so it's worth looking into all the options below – or at least reading our reviews so you know which ones to rule out.
If you do want to learn more though, make sure to tap through to our full review of each smartwatch. And make sure to check back soon, because new wearables keep on arriving.
Best smartwatches you can buy right now in the UAE, Saudi Arabia, Qatar, Oman, Bahrain, Kuwait and Egypt
The Apple Watch 7 is a flagship smartwatch that's in some ways more of the same, as this isn't a whole lot different to the Apple Watch 6.
It has essentially the same chipset and little in the way of new features, but what new stuff the Apple Watch 7 does have is useful, especially its larger screen, which is 20% bigger and yet only a tiny bit larger on your wrist, thanks to smaller bezels.
That extra size makes all the difference when interacting with the Apple Watch 7, and the wearable also charges faster than ever. With those things added to the still-excellent Apple Watch 6, the Apple Watch 7 is undeniably a great smartwatch.
Our reviewer noted that better battery life and improved fitness features would have made this wearable even better, but what's here still seriously impresses.
Read our full Apple Watch 7 review
The Samsung Galaxy Watch 4 is a wearable that had a lot of hype around it. This sees Samsung return to Wear OS, having used Tizen for recent models. But this isn't Wear OS as you might know it – it's a new take on the operating system, designed alongside Samsung, and with a very Tizen-like skin on the top.
That means you get the best of both worlds, with the functionality and apps of Wear OS, coupled with the look and feel of Tizen.
Add to that great performance, what we found to be a comfortable fit, a lightweight build, and interesting new body composition measurement tools, and this makes for a top smartwatch, especially for those interested in tracking their health and fitness.
But with some of its features requiring a Samsung phone, and no support for iPhones, the Samsung Galaxy Watch 4 isn't something we can recommend to everyone. It also arguably isn't worth upgrading to if you already own a recent Galaxy Watch.
Read the full Samsung Galaxy Watch 4 review
Huawei's gotten very good at making wearables that look like watches. The Huawei Watch 3 Pro has a titanium body that is certainly eye-catching- spanning all sides of the watch body, including the lugs. It includes a familiar rotating crown, giving you all the scroll-wheel familiarity of an Apple Watch, but none of the WatchOS rectangular vibes.
The 1.43-inch AMOLED display panel screams quality while the 1,000 nits brightness makes for easy outdoor viewability. Huawei is relying on HarmonyOS 2.0 this time around that not only brings third-party app support, but with a battery saver option, helps the Watch 3 Pro last for up to 21 days. The new OS also brings a particular new flair to the Watch 3 Pro, resulting in a clean interface, smooth animations, and an overall pleasant experience to navigate.
A new addition is the eSIM feature, which breaks the Watch 3 Pro away from your smartphone to operate as an independent device. It also comes a whole host of smarts, including temperature tracking, SpO2, stress and sleep monitoring, and much more.
The Huawei Watch 3 Pro isn't meant to be just a standard showpiece – it's meant to integrate tightly into your life (and phone) to help you out on the daily.
Read the full Huawei Watch 3 Pro review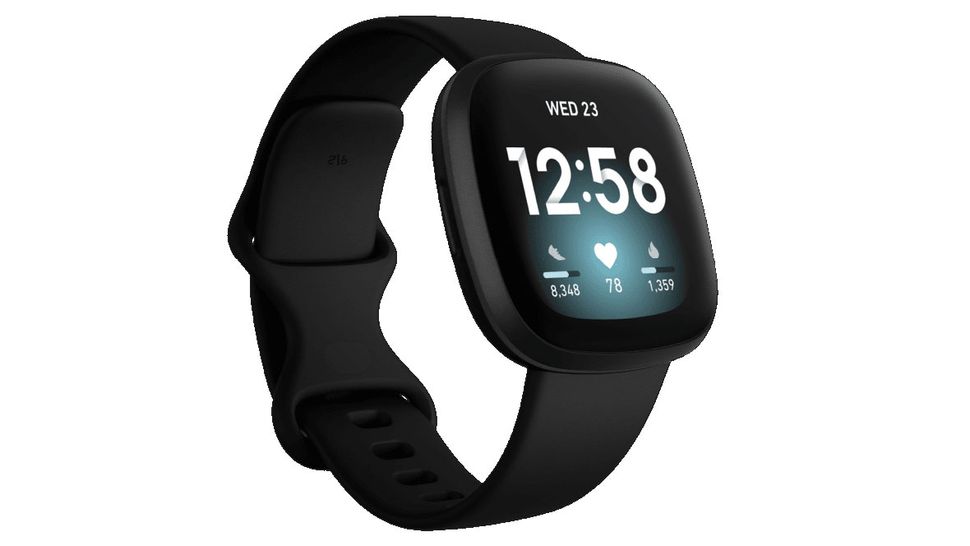 Don't want something from either Samsung or Apple? The Fitbit Versa 3 may be best for your wrist, and this latest smartwatch from the company is one of the best wrist companions for those who want to focus on fitness features.
There's built-in GPS, the design is comfortable to wear and the display is easy to view with a crisp image. Like previous Fitbit smartwatches, this is mostly focused on fitness and won't be for everyone.
But for general wearable fans, the Fitbit Versa 3 is a good option, and it's more affordable than some of the other options on this list too.
Read our full Fitbit Versa 3 review
The Apple Watch SE is the best smartwatch money can buy right now, but it's only the right choice for you if you own an iPhone. Scroll down for our second choice in this list if you've got an Android phone.
If you do have an iPhone, you may wonder why the Apple Watch 6 doesn't take our title of the very best smartwatch? That's because the Apple Watch SE does almost everything that smartwatch can, but for a much lower price.
The Apple Watch SE comes with some top-end specs, a high-end design and a great range of features that you can't get on every other smartwatch right now.
The battery life isn't the best on the market, and there isn't an always-on display, but if you're after a great value for money choice for your next wrist companion you should opt for the Apple Watch SE.
Read the full Apple Watch SE review
The Huawei Watch GT 3 Pro is available in a Titanium edition with a 14 day battery life of a Ceramic edition with 7 day battery life. Either of them can be charged for just 10 minutes and last a full day.
Coming in with a "moon phase collection" interface design, premium materials, ultra-clear large screen and a range of watch faces to choose from, the latest Huawei flagship smartwatch makes it easy to support a healthy lifestyle. With Electrocardiogram (ECG) analysis, and Huawei TruSeen 5.0+ data monitoring technology, you can get heart health measurement and blood oxygen monitoring.
Users of the Huawei Watch GT3 Pro also have access to over 100 workout modes paired with an AI Running Coach and personal running planning feature based on an individual's physical, running history and personal goals.
The Huawei Watch GT 3 Pro Titanium Edition is equipped with a 1.43-inch AMOLED display while the Ceramic Edition comes with a 1.32-inch AMOLED display. The Titanium Edition has a new look and feel with the integrated minimalist design while the Ceramic version incorporates design elements of Eastern and Western aesthetics. Both the watches look stunning.
The best smartwatch money can buy right now if you own an Android phone is the Galaxy Watch 3 from Samsung. It also works with an iPhone though, and this is the company's most accomplished wrist wear yet. It's a sequel to the Galaxy Watch from 2018, and it keeps a lot of that device's design elements but refines them.
The Galaxy Watch 3 features a unique rotating bezel that makes navigating around the smartwatch a joy. We find that a lot easier than trying to use the display, which is something you have to do on a lot of the other best smartwatches in this list.
Apps available on the watch are more limited than Wear OS or watchOS - two rival smartwatch operating systems - but it still offers the core basics and Samsung has provided a watch that's good at fitness as well as sporting a great design and lots more functionality too.
Features are more limited if you're using this with an iPhone, but it's still compatible with those devices. We'd recommend considering the Apple Watch below though if that's your phone of choice. Overall, the Galaxy Watch 3 is the full package if you're looking for a smartwatch to track your fitness, look good on your wrist and a whole lot more.
Read the full Samsung Galaxy Watch 3 review
The Fitbit Sense is both stylish and impressive, packing in advanced health and fitness features like an ECG, stress monitoring, heart rate zones, and skin temperature measurements.
It's an interesting feature set, and it's paired with all the basics you'd expect from a fitness-focused smartwatch, including tracked workouts, GPS, a voice assistant (with the choice of Alexa or Google Assistant), and meditation tools.
With a stainless-steel case and a sharp screen too, the Fitbit Sense really feels like the full package, except that sadly some of its tools are hidden behind the Fitbit Premium paywall. If you're happy to subscribe to that then this is a top option, but if you'd rather just make a one-off purchase then be aware that you won't be able to access everything this watch has to offer.
Read our full Fitbit Sense review
The new Huawei Watch GT 3 46mm offers a gorgeous design with a 3D curved glass and a high-gloss finish. The Moon Phase II collection provides insights into sunrise and sunset timings and tidal changes in real time- all in a beautiful UI. The Huawei Watch GT3 also offers an outstanding battery life of 2 weeks under typical use and it does so while monitoring your heart rate SpO2. It comes with a personal AI based running coach and over a hundred workout modes. It can also track your sleep and form habits with daily reminders. Using the Huawei App Gallery, you can extend the functionality using additional apps.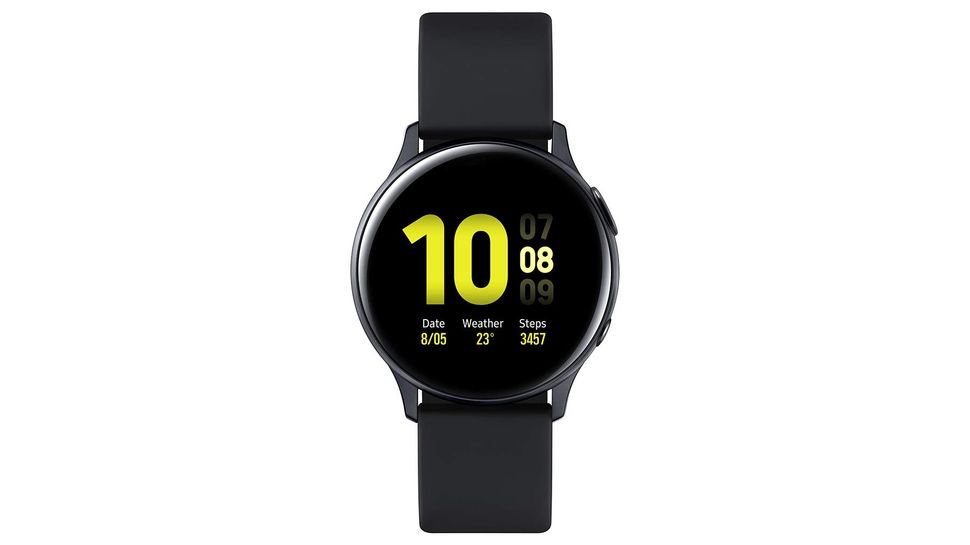 Samsung shrank the best parts of the the Galaxy Watch into this sportier smartwatch that's slimmer, lighter and, arguably, more comfortable - then released a second version months after the first that included a few coveted features, including a rotating digital bezel and LTE version.
Overall, not much has changed - which isn't a bad thing, as it's still a quality smartwatch at a decent price. Galaxy Watch Active 2 features a 1.2-inch 360 x 360 display that is bright and beautiful yet small enough to be strapped around your wrist than a lot of the other devices in this list.
It still comes sporting all of the top-end fitness features you'd expect from Samsung's Tizen watch range, with 39 workout modes, a heart rate and ECG sensor, and health app with stress and sleep monitoring. There's even a way to monitor your blood pressure, but that won't be activated for some time.
While it's still more affordable than the leading Apple Watch, the price was bumped up from the original Watch Active, shrinking its value compared to the competition. It's certainly not a cheap smartwatch, but when compared to the price of the Galaxy Watch 3 you may prefer to opt for this version that's remarkably similar.
Read the full Samsung Galaxy Watch Active 2 review
How we test smartwatches
Every smartwatch on this list has been fully and extensively reviewed by the expert team at TechRadar, so we know exactly what makes them tick.
Our review process involves using the devices as if they were our own personal wearables, ensuring every smartwatch gets fully tested in the real world. A comprehensive sweep of features takes place, and usage is varied over multiple days to give us a clear idea of how battery life performs.
Using that knowledge we've then ranked them, while also factoring in their price, performance, value, and core specs.
What should I look for when buying a smartwatch?
The first thing to check is whether your phone is compatible with it - you can't use an Apple Watch with an Android phone, and you can't use a Samsung Galaxy Watch 4 with an iPhone. Beyond that, consider the battery life and the features - how often will you be happy charging it, and what do you need out of your watch?
Which is the best smartwatch?
The best smartwatch changes all the time, but typically you'll find an Apple or Samsung smartwatch topping the list, as these tend to be packed full of high-end features and polish.