If you're looking for the best 4K TV you can buy in 2022, then you're in the right place. In this guide, we've selected the top 4K TVs that'll suit a range of budgets and preferences. You'll find 4K OLED, 4K QLED and LED displays from brands like LG, Samsung and Sony to help you choose the perfect 4K TV for your home.
Because not all 4K TVs are created equal, we'll walk you through the price, specifications and features that each TV has to offer and put different ones head-to-head, like Dolby Vision and Atmos support, HDR color range and panel technology.
As you might expect, many of these displays are pricey (OLED TVs, in particular), but they still pale in comparison to the super expensive 8K TVs that are available right now. If price is top of mind for you, we've also thrown in some budget 4K TV models, too, like the TCL 6-Series, to give you the broadest choice possible on a budget.
You'll find all of our top 4K TV picks below, but be sure to keep checking back as we'll be adding more new models as they're launched throughout 2022.
Best 4K TVs in 2022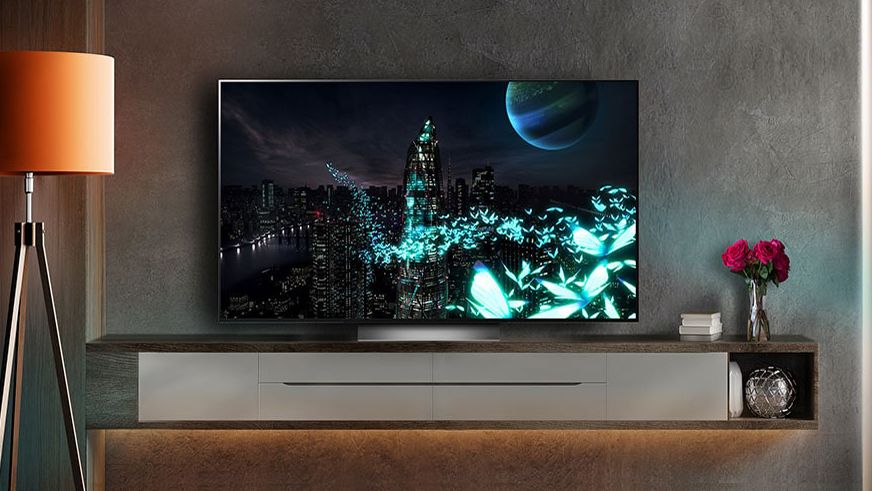 After dropping a few spots in 2021, the LG C2 OLED reclaims the top spot on our list of the best TVs in 2022. That's due to a number of improvements LG has made to this year's model compared to the LG C1 OLED.
Improvements for 2022 include the new Alpha a9 Gen 5 processor, which is designed to offer better object enhancement and dynamic tone mapping than its predecessor. As well as that, you're getting 'virtual surround sound', with the TV upscaling stereo content into 7.1.2-channel sound. While we weren't convinced by the claims of virtual surround sound, the audio performance is good for a flatscreen TV, and a number of different sound modes means you should be able to find an audio profile that suits your needs.
In addition to those improvements, the C2 OLED carries forward the four separate HDMI 2.1 ports that it inherited from the C1 OLED, meaning it's the perfect companion for the PS5, Xbox Series X and Xbox Series S.
The LG C2 isn't flawless, however. Off-axis color saturation does diminish a bit when you move to the left or right of the screen when compared to the new QD-OLED models and LG doesn't support either the IMAX Enhanced or HDR10+ format.
Read the full LG C2 OLED review
---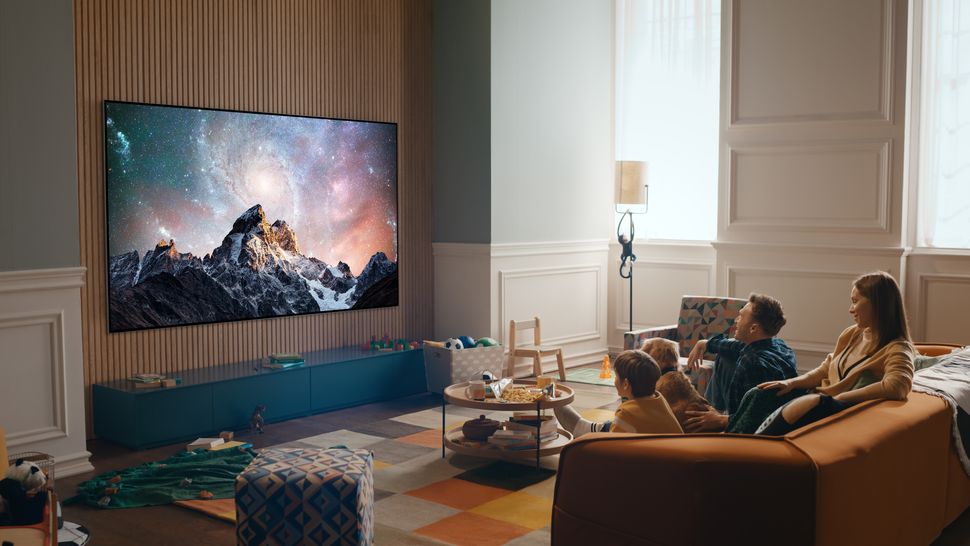 If price isn't a concern for you and you simply want the best TV you can buy at any price point – well, then you want the LG G2 OLED. The OLED65G2 uses its extra brightness to make pretty much every frame of any source you care to mention look even more sublime than it has on any LG OLED before.
Although the G2 OLED shares the same 'Gallery' design name as its GX and G1 predecessors, it actually looks completely different: gone is the dark frame and chamfered edges, in is a nifty two-layer effect where a thin black rear 'slab' sits proud of and slightly narrower than a chunkier front tier housing the screen that's encased in a very fetching and opulent-looking silver metal coat.
The quality of the G2 OLED's connections is beyond reproach. In particular, all four of its HDMI ports are capable of handling the maximum 48Gbps of data supported by the HDMI 2.1 standard. This means that hardcore video gamers could simultaneously attach an Xbox Series X, PS5 and cutting-edge PC graphics rig to enjoy full-fat 4K at 120Hz, variable refresh rates and automatic low latency mode switching from all of them. That, plus you'll still have one HDMI left for adding a 4K Blu-ray player or streaming box.
To anyone familiar with LG's OLED TVs over the years, the impact made by the extra brightness the heat sink unlocks is instantly obvious: the extra brightness gives colors more volume and punch, regardless of whether you're talking about a very vibrant, rich tone, or a subtle, mild one.
The end result is an OLED TV so supreme that it just barely misses the mark of our number one spot – only because its price puts it a bit far out of reach for the average TV watcher. Cinephiles, however, should certainly invest.
Read the full LG G2 OLED TV review
---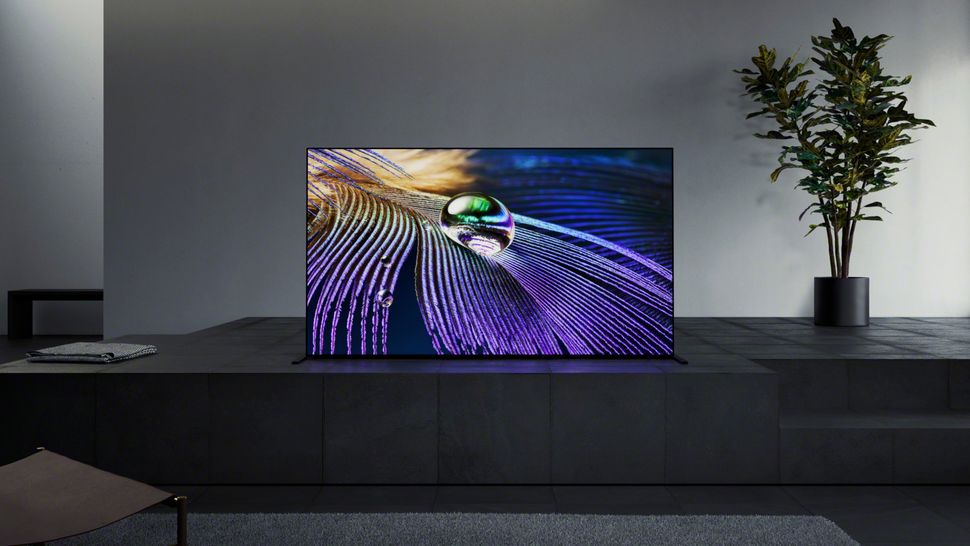 Sony hasn't held back in pricing the new A90J 4K TV with OLED, but we believe the performance does justify the hefty price tag.
Picture quality, from any source, is about as good as it currently gets from any 4K screen, and in every meaningful department – motion control, contrast, edge definition, detail levels, you name it. For those moments when you're reduced to watching sub-4K content, it's great at upscaling, too.
The Sony A90J is more than a few steps ahead when it comes to sound quality. Using the entire surface of the screen as a speaker is still novel and effective, and backing it up with two conventional bass drivers means the A90J sounds fuller, more direct and just, well, better than any alternative that doesn't feature an off-board sound system.
Add in a smart new Google TV interface, the usual Sony standard of build and finish, feet that change position to accommodate a soundbar, an exclusive movie streaming service, and an authentically well-designed remote control, the A90J looks like the complete package. Although complete packages seldom come cheap.
Xbox Series X gamers should watch out, though, as there's no VRR support – though you'll find the 4K/120Hz capability and auto low latency mode to match any PS5 console.
Read the full review: Sony A90J OLED TV review
---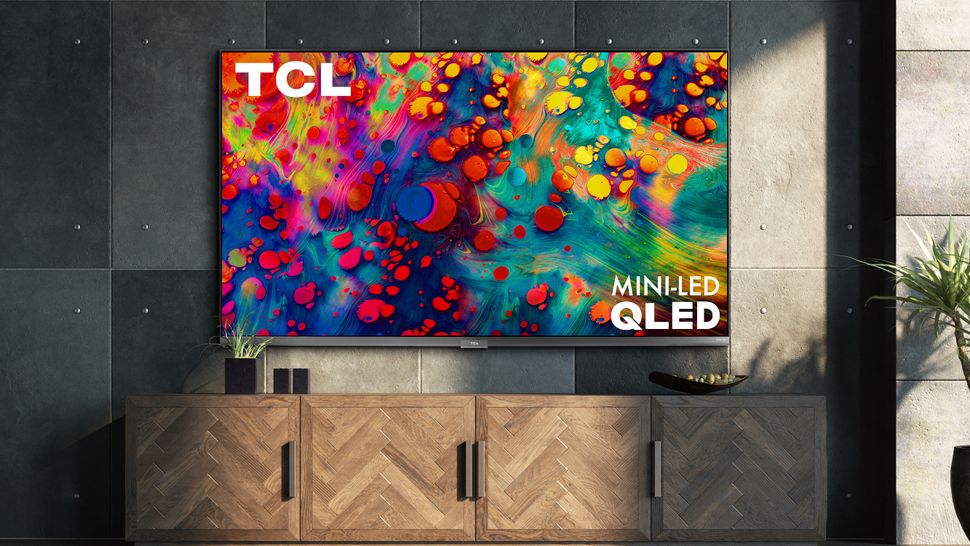 When we discovered that the new TCL 6-Series 2020 QLED (R635) would use MiniLED back at CES, we were shocked. That's because, just last year, that same technology came to the high-end 8-Series and cost hundreds of dollars more than the ultra-affordable 6-Series.
It's not the end-all, be-all LED-LCD we were dreaming it would be due to its limited brightness and poor motion handling, but it truly is an exceptional value and one that we'd recommend to nearly everyone.
The 6-Series is brighter than before, more colorful and doesn't have a single hint of haloing or light bleed. It's designed in a new way to hide your cables and it's the first TV to come with THX Certified Game Mode for 1440p/120Hz gaming.
It's not exactly the TV we'd recommend to next-gen-ready gamers looking for a perfect companion for the Xbox Series X or PS5 that can push 4K at 120 fps, but if you're buying a TV to binge Netflix, stream Hulu or, well, basically just enjoy your viewing experience, this is the 4K UHD TV that we'd recommend for you.
Read the full review: TCL 6-Series 2020 QLED with MiniLED (R635)
---
The Sony X90J could be a good shout for those with a large enough budget who aren't bothered about a high-end OLED screen.
It has excellent image quality, thanks in part to a new Cognitive XR processor rolled out to Sony's top 2021 sets, making for excellent upscaling and contrast control. The X90J also sports the new Google TV smart platform, for easy setup and broad app support as well as the perks of Google Cast from Android devices. There's Dolby Vision HDR and Dolby Atmos audio packed in too.
When it comes to gaming, the X90J has a 120Hz panel with 4K resolution and two full-spec HDMI 2.1 ports for your Xbox Series X and PS5, with VRR (variable refresh rate) and ALLM (auto low latency mode, for sub-10ms lag) to really up your gaming experience. Just be sure to head into the picture settings and switch on 'Enhanced format' for your selected HDMI port, otherwise you won't get the benefit of its 2.1 specification.
There are still a few lingering issues, including middling off-axis viewing and struggles with direct daylight – and the X90J will no doubt be beaten by the capabilities of its step-up X95J model for a small uptick in cost. Still, the Sony X90J succeeds in delivering stellar performance for a reasonable price.
Read the full review: Sony X90J 4K TV
---
Why buy the QN85A? This Neo QLED TV delivers blacks that give OLED a run for its money, and highlights that are free from blooming. A stylish design and comprehensive feature-set make for an impressive 4K TV that's sure to please.
Not only is it adept enough with both black and white tones to allow contrasts to pop from the screen but it can output brilliant colors, draw edges with absolute confidence and it has nice wide viewing angles. It's blessed with one of the very best smart TV interfaces around and it's able to support all the clever features of your next-gen games console (as long as you only own one of them).
That said, the QN85A isn't perfect – its sound is nothing to write home about, it can't upscale properly low-resolution content with much conviction and it will occasionally have 'a moment' when the on-screen motion gets particularly testing. But taken as a package, and with the price/screen-size ratio uppermost in your mind, the QN85A emerges from this test with a lot more in the 'positive' column than in the 'negative'.
Still, we think it's an excellent TV and well-worth considering.
Read the full review: Samsung QN85A Neo QLED TV
---
Hisense's H8 Series has long offered high quality at a very reasonable price, but these days it's getting harder and harder to make waves in the budget TV market – Samsung and LG now offer plenty of great 4K UHD TVs well under the $1,000 mark, while TCL has been making headlines with its $600 TCL 6-Series.
Hisense's latest H8G range of smart televisions have all of the features of the other brands without the high price. You can debate the finer points of OLED versus ULED all day, but in the end, the main decision when considering the Hisense H8G Quantum is whether you want features like 8K, HDMI 2.1 and eARC, or if you can live with a gorgeous screen without next-gen features.
At just $700 for the 65-inch version of the Hisense H8G, it's an outstanding value, the apps are easy to find and use, Google Assistant support is handy, and the technical specs rival much pricier models.
Read the full review: Hisense H8G Quantum
---
FAQ
What is 4K?
4K is, essentially, an ultra-high-definition screen resolution. Also called UHD or 4K UHD, the display technology has become the default screen resolution across all of the TVs that you're likely to see in stores today – as well as many PC monitors, too.
The very best UHD TVs pack over eight million pixels in their high-res displays – that's four times the amount you'll find on the Full HD panels in today's small TVs.
You don't necessarily need access to 4K entertainment content to enjoy the benefits of 4K resolution, either, since many of the best 4K TVs (and most of those on this list) boast impressive upscaling technologies that enhance content filmed in HD.
The other reason 4K TVs have taken off in recent years is the 4K support offered by games consoles like the PS4 Pro, Xbox One X, PS5 and Xbox Series X, as well as 4K Blu-ray players and streaming devices.
Should I buy a 4K TV in 2022?
The short answer: yes! As much as 8K TVs are beginning to carve out a space in the home display market, they're still not widely available – most brands only offer a handful of 8K models – and, of course, they're much, much more expensive.
What's more, 4K TVs are more affordable than they've ever been with plenty of TV deals available. The advent of 8K technology and ever-increasing TV screen sizes means some of the best regular-sized 4K TVs are no longer the inaccessible, wallet-hungry products they once were.
Sure, some (like the Sony A90J OLED) still demand the big bucks, but there's such a great range of 4K displays nowadays that you'd be hard pressed not to find a 4K TV within your budget that can deliver an amazing viewing experience.
What types of 4K TV are there?
There are plenty of different screen types out there, all working in different ways to produce the same results. Each technology has its own unique strengths and weaknesses, so here are some basics to consider when looking for the right 4K TV for your needs:
LED TV: Direct LED
These displays are backlit by an array of LEDs (light emitting diodes) directly behind the screen. This enables localised dimming – meaning immediately adjacent areas of brightness and darkness can be displayed more effectively – and greatly improves contrast. LED TVs are also more power efficient and capable of a wider colour gamut than CCFL sets. Because of the extreme cost of mounting these arrays of LEDs, cheaper TVs usually use Edge-Lit LED screens over Direct or Full-Array LED screens.
LED TV: Edge LED
With these TVs, LEDs of the backlight are mounted along the edges of the panel. This arrangement enables radically slender displays and offers superior contrast levels to CCFL, but can't achieve the same picture quality as directly lit LED sets. However, they do come in far cheaper which is why most LED TVs out there now use this technology.
OLED TV
The backlighting on OLED (organic light emitting diode) sets is achieved by passing an electric current through an emissive, electroluminescent film. This technique produces far better colours and higher contrast and also enables screens to be extremely thin and flexible. This is the holy grail display technology and LG, Sony, Philips and Panasonic have all adopted it in their flagship sets.
Quantum Dot
Quantum Dot is Samsung's big play in the LED TV space. With it, the brand claims that it's able to produce more colorful pictures than LG and Sony while offering even brighter panels. LG's Super UHD TVs all use a variation of Quantum Dot called Nano Cell, and Hisense makes a number of Quantum Dot TVs for the US and China.
Today's best 4K TV deals