What does the LG OLED TV 2021 line-up look like? We've recently reviewed the LG C1 OLED TV, and we know it's got a fantastic OLED in its midst. But big changes are also on the way, in the form of expanded TV panel sizes, like the recently released 83-inch displays from LG.
LG ended 2020 in a strong position, with the runaway success of its popular LG CX OLED. Now the TV maker is clearly taking pains to stress that it's tackling any remaining areas for improvement, with across-the-board improvements for the LG C1 OLED, and upped brightness in the LG G1 Gallery OLED through a new 'OLED evo' technology.
There's also increased support for gaming functionality, with four HDMI 2.1 ports for each new OLED set, as well as VRR (variable refresh rate.)
It's not just the new LG TVs we're excited about in 2021, but accessories, like the LG Magic Remote, which comes with LG OLED TVs. This remote really stands out because you can use it as a regular point and click remote, but it also comes with motion technology built-in, which responds to gestures and significantly upgrades your viewing experience once you get used to it.
Read on for the full lowdown on what's coming this year, the new technologies LG is making use of, and the 2020 LG TVs that we think need to be improved upon.
OLED 2021 TVs
LG 2021 OLED TVs
Why you can trust TechRadar Our expert reviewers spend hours testing and comparing products and services so you can choose the best for you. Find out more about how we test.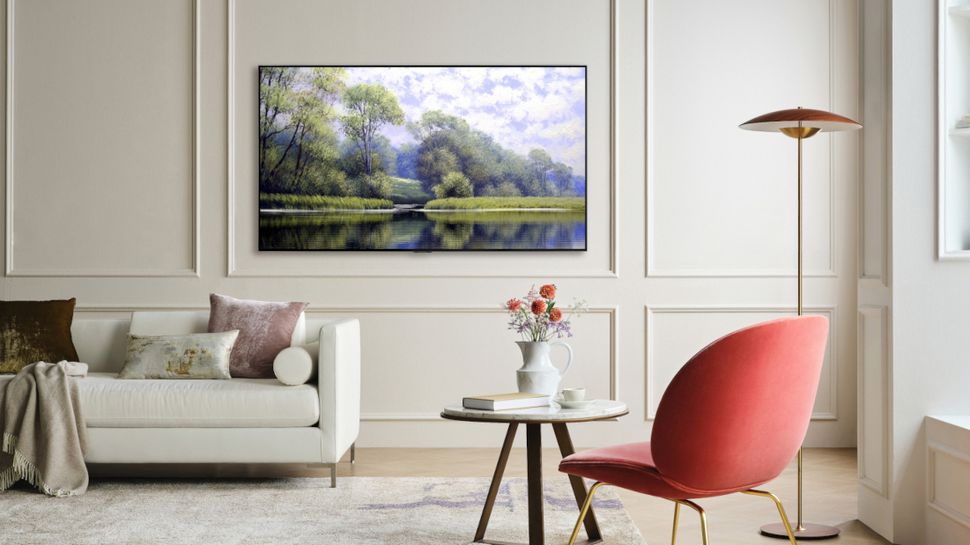 LG G1 4K OLED (65, 77-inch): The Gallery Series OLED has a successor, with a slimmed-down form factor and an 'OLED evo' upgrade to the picture's brightness that even the LG CX won't be benefitting from. It's set to be brighter than last year's GX too, and come with the option of a paired Gallery Stand for those not wanting to drill this stunner into a wall. Featuring 4K HDR, Dolby Vision, and Atmos too.
Read our hands on LG G1 OLED review
UAE pricing and release date
65-inch model is available this month for AED 9,999
77-inch model is available this month for AED 18,999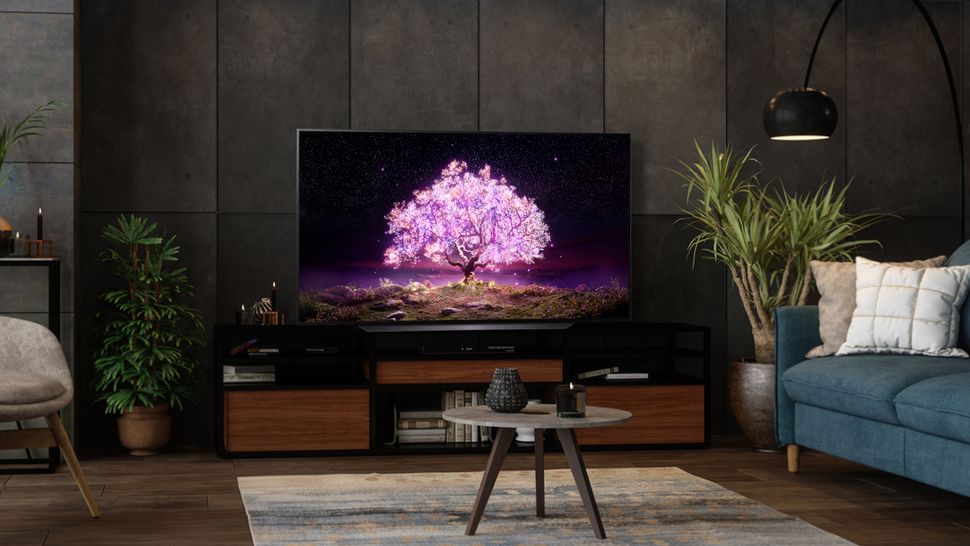 LG C1 4K OLED (48, 55, 65, 77, 83-inch): The successor to last year's popular CX OLED is the C1, with a new 83-inch size, an a9 Gen 4 AI processor, and support for Dolby Vision / Atmos. You'll get the most sizing options with the C Series, going as small as 48 inches and including a new 83-inch size.
In our review, we called the C1 one of the best TVs at any price. It's missing the new OLED evo panels going into the G1 OLED, but even in their absence the C1 produces colorful, bright and rich pictures with support for most types of HDR. There might be one or two areas for improvement, but otherwise the LG C1 OLED is still the gold standard for 2021 OLED TVs.
Read our full LG C1 OLED review
UAE pricing and release date
48-inch model is available this month for AED 5,299
55-inch model is available this month for AED 5,699
65-inch model is available this month for AED 9,499
77-inch model is available this month for AED 17,999
83-inch model is available this month for AED 27,999
New LG TV 2021 technology
LG TV 2021 technology: what's new?
So, what's new with LG TVs in 2021? We're getting a new round of processors, as ever, with the a9 getting a Gen 4 AI iteration, as well as a step-down a7 Gen 3 model for the new A Series. (The A Series will cleave close to the B Series of previous years, for those wondering.)
It's that 'AI' part of the new a9 chip that piques our interest, though. LG claims its new chip will use deep learning to better analyze discrete objects onscreen, meaning people, backgrounds, and sections of text are all properly distinguished from each other.
LG's webOS smart TV platform has changed sizeably, with the usual horizontal icon bar now becoming a screen-filling interface, packed with recommended titles based on your viewing history.
The LG Magic Remote has undergone something of an overhaul, too, with a new ergonomic shape as well as the introduction of NFC Magic Tap technology to enable fast screen mirroring from a smartphone. I
Gaming is a big concern this year – understandably, given the recent launch of the PS5 and Xbox Series X consoles. And LG's 2021 TVs are set to feature VRR (variable refresh rate), Nvidia G-Sync for reduced screen tearing from connected PCs, and four HDMI 2.1 ports (for the OLEDs, at least). There's also
LG's AI Sound Pro feature will also upmix audio to 5.1.2 channel sound, for a surround sound-esque effect, though we don't expect it will ever quite feel like the real thing.
2020
LG OLED 2020 TVs: what's left over from last year?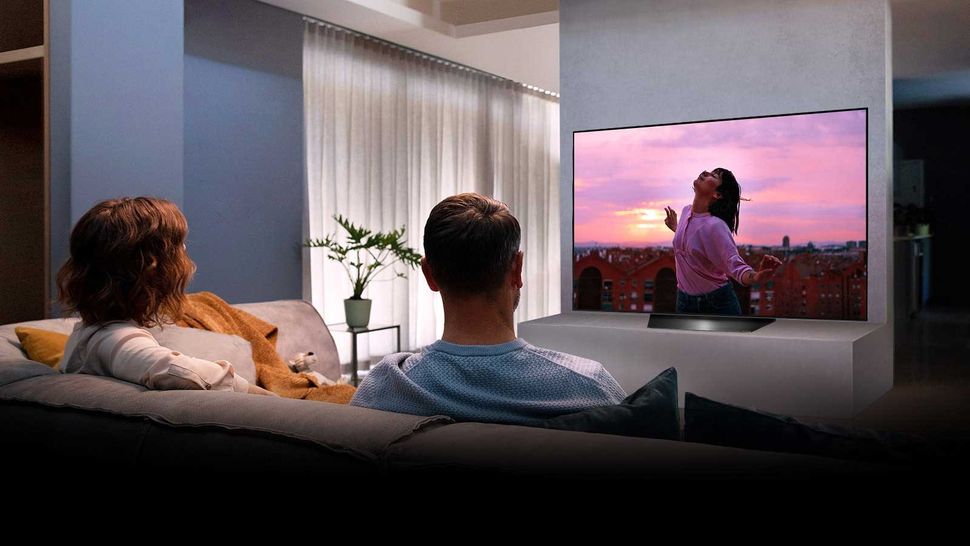 LG BX Series OLED
Model Numbers: LG 55OLEDBX, 65OLEDBX
The most affordable LG OLED is the one that, unfortunately, comes out the latest – though it finally launched in early September. The LG BX OLED is available in two sizes so far (55- and 65-inch), with a 77-inch model likely coming down the line.
As the cheapest member of the OLED family, the BX will use the slightly less powerful a7 Gen 3 Processor instead of the a9, which means it doesn't benefit from AI upscaling, a pretty essential feature if you're thinking about buying at a larger size.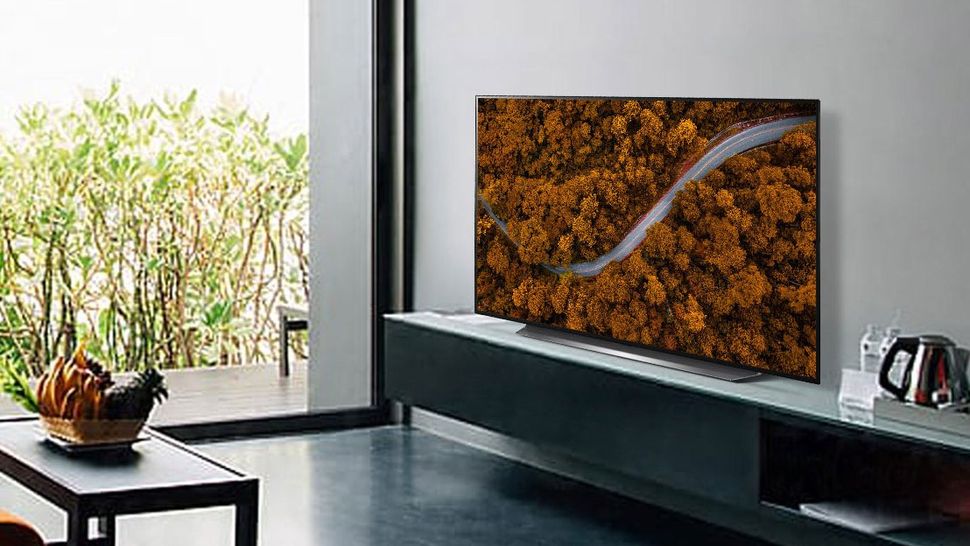 LG CX Series OLED
Model Numbers: LG 48OLEDCX, 55OLEDCX, 65OLEDCX, 77OLEDCX
One step above the entry-level BX series is the 2020 CX OLED, a successor to last year's award-winning LG C9 OLED, and the first TV in the OLED lineup to use the alpha 9 Gen 3 Processor. As we mentioned earlier this is the first time LG is offering a 48-inch version of the TV, so if you've wanted a slightly smaller OLED for your bedroom, the new CX OLED is one to forward to. It sits on a unibody stand or can be wall-mounted.
Read our full LG CX OLED review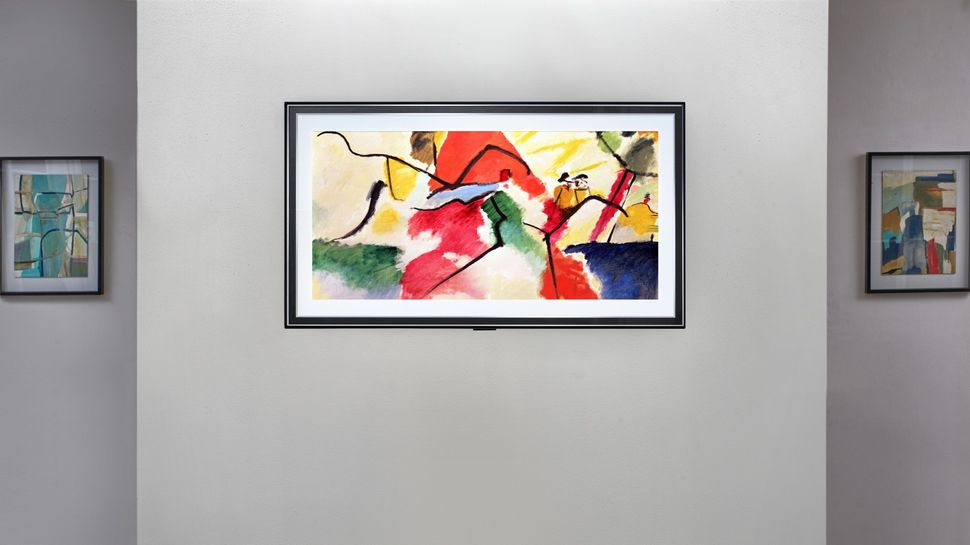 LG GX 'Gallery' Series OLED
Model Numbers: LG 55OLEDGX, LG 65OLEDGX, LG 77OLEDGX
So, slight change in the lineup this year – there's no E Series OLED in 2020. Instead what we get is the new GX 'Gallery' Series OLED that mounts on the wall and has ports located right on the back. It's a similar design to the W-Series 'Wallpaper' design you might have seen in past years, but by integrating the ports right into the TV instead of an attached soundbar, you're able to hook the TV up to whichever sound system you'd like. It's also worth noting that this is the first TV in the range to support ATSC 3.0.
Prices start at $2,699 / £2,299 (around AU$4,500) for the 55-inch model, with a 65-inch (April) and 77-inch (May) model available too.
Read our hands-on LG GX OLED review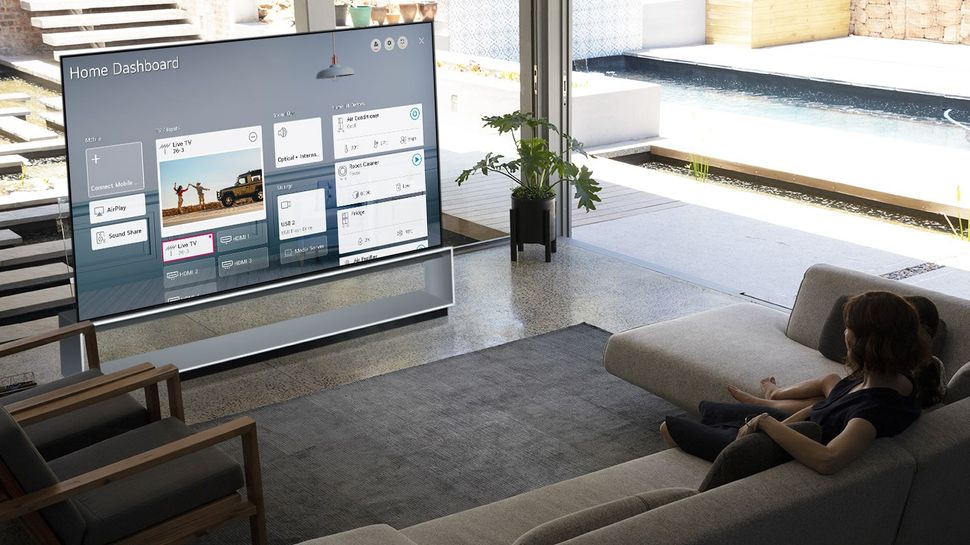 LG Signature ZX 8K OLED
Model Number: LG 77OLEDZX, LG 88OLEDZX
The penultimate OLED from 2020 is the LG Signature ZX - LG's only 8K OLED TV. Because it's 8K, it uses the higher-end Alpha 9 Gen. 3 8K AI chip with deep learning to offer better upscaling to fill all those pixels and hands-free voice control thanks to a built-in microphone that responds to 'Hi LG'. It was easily one of the best TVs we saw at CES 2020 this year, and we can't wait to try it out in our own home later this year.
LG Signature RX 'Rollable' OLED
Model Number: LG 65OLEDRX
OK, so the Rollable OLED TV missed its debut in 2019 but LG has said repeatedly that this will be the year that you'll be able to buy the Rollable OLED with the new Alpha A9 Processor in it. That's the good news.
The bad news is that it only comes in a single screen size – 65-inch – that costs upward or AED 300,000. It also won't be ATSC 3.0-ready, which could be a real disadvantage once stations start broadcasting in 4K HDR. Still, if you're absolutely loaded and want the coolest TV in town, the Rollable OLED fits the bill.
Read our hands on LG RX Rollable OLED review