With the world cup around the corner, there was no doubt that Samsung would give a big push to it's 2018 QLED line-up and today, we got to see the new range of QLED models Samsung is releasing in the UAE. 
In total, there are four new series of QLED TVs- the Q9F, Q8C, Q7F and the entry-level Q6F QLED that will be released later this year. Further down the line will be Samsung's new UHD models that will be prefaced with the new NU- distinction. 
These new QLED ranges are expected to be in stores by end of May. Let's find out what's new with these models and what separates the higher-end models from the lower end ones.
Samsung 2018 TV technology
The star of the show for Samsung in 2018 is still the QLED TV screen – essentially a variation on traditional Quantum Dot LED-LCD panels that feature a peak brightness between 1,500 and 2,000 nits. For a reference point, that's about twice as bright as the competition from 2017 and four to five times as bright as the HD/SDR TV you're used to watching. 
For 2018, Samsung says it will be improving the black level performance of its QLED TVs – ideally bringing them down without trading any of its signature brightness. If it can pull this off, you'll see a much better contrast ratio and better visual fidelity for 4K/HDR content. (Remember, Samsung TVs support two kinds of HDR right now, HDR10 and HDR10+.) 
The other new feature Samsung announced is its new Ambient Mode. When the TV is turned off, Ambient Mode will help the TV mimic the color and pattern of the wall on which the TV is displayed, so that it blends seamlessly into home décor.
Also updated for 2018 is the Invisible Connection that now combines power and AV data in one fiber optic cable.
Samsung QLED 2018 Models
Samsung Q9F QLED TV (available in 65 and 75-inches)
On the higher-end of Samsung's QLED line-up is the Q9F. This year you can expect Ambient Mode and better black levels alongside the screen's insanely iridescent peak brightness. Also new this year is the switch from an edge-lit design to a Direct Full Array panel which Samsung claims offers improved contrast ratio.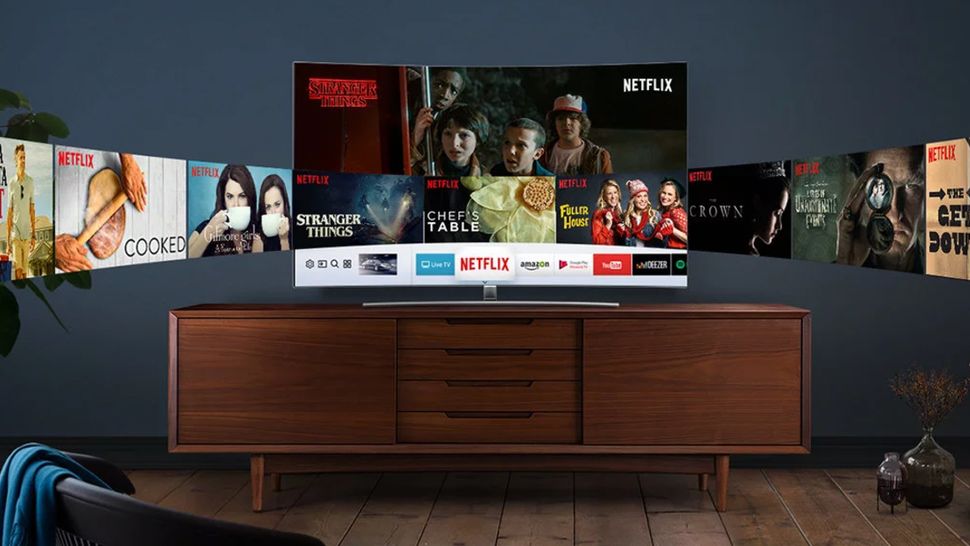 Samsung Q8C QLED TV (available in 65-inches)
Moving down the line is Samsung's Q8C QLED TV in a divisive curved form factor. Like the Q9FN, you'll see a switch from last year's edge-lit design to a Direct Full Array panel and Ambient Mode. The Q8C has a slightly lower peak brightness than the Q9F.

Samsung Q7F QLED TV (available in 55-, 65- and 75-inches)
The Samsung Q7F was the golden ticket to last year's QLED line-up. Offering one of the best price-to-performance ratios in the entire line-up, it was the Q7F that roped AV enthusiasts into buying a QLED TV. The 2018 Q7F will have most of the same features as last year, but will include Ambient Mode. 

Samsung Q6F QLED TV (available later this year in 55-, 65- and 75-inches)
Last up in the QLED line-up is the Samsung Q6FN QLED TV that will be released later this year. The Q6F is a bit less bright overall than the rest of its Quantum Dot-equipped brethren but will likely be priced lower than the above models when its released later this year.