UAE-based telecom operator Etisalat reported a flat year-on-year net profit in the first quarter of this year to AED 2.2b amid lockdown due to Covid-19.
The operator's revenues increased by 0.76% to AED 13.1b compared to AED13b a year ago.
However, Etisalat board of Directors has approved an interim dividend payout of 25 fils per share.
Obaid Humaid Al Tayer, Chairman of Etisalat Group, said that Etisalat's performance in the first quarter reflects its agility in dealing with unprecedented market challenges and pressures facing the telecom sector globally.
"Today as we navigate through these challenging times, Etisalat has shown resilience and remained committed towards the communities it serves, ensuring business continuity and readiness, minimising the impact on our operations and uninterrupted services to our customers," he said.
The report did not give more in-depth details into the markets it operators in the Middle East, Africa and Asia.
Al Tayer said that the lockdown has empowered Etisalat to address the current challenges and meet digital requirements facilitating businesses to work remotely and over a million students enjoying distance learning across the UAE.
"Through our dedicated teams, we were geared to fully support and serve the community showcasing infrastructure preparedness to deliver access to vital telecom services during today's extraordinary times," he said.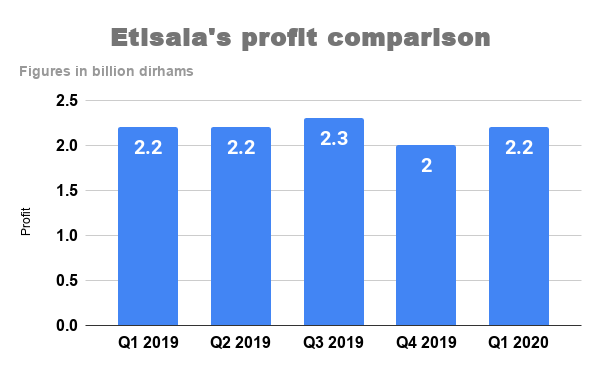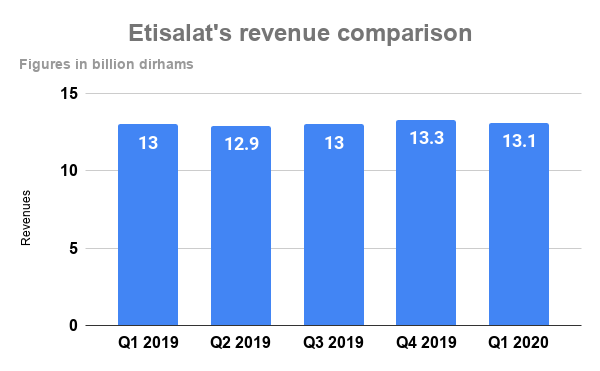 Mobile revenue feels heat
The operator's earnings before interest, taxes, depreciation, and amortization (EBITDA) increased by 1.5% in the first quarter to AED 6.7b while EBITDA margin remained stable year on year at 51%.
Karim Yaici, Senior Analyst at Analysys Mason, said that the demand for telecoms services will be stronger as a result of the current Covid-19 crisis as voice and data traffic has shifted from businesses to residential lines and from outdoor to indoor usage, so it is undeniable that it will have an impact on mobile revenue with no clear compensation from the fixed business.
"Operators have potentially an opportunity to drive the awareness and take-up of new services such as gaming and encourage the upgrade of broadband services to higher speeds," he said.
The potential impact of the Covid-19 crisis could be important without significant fiscal and monetary measures because key sectors of the local economy, such as oil, airlines, retail and hospitality, have already been hit hard in the UAE.
"Many businesses will struggle to keep operations afloat and many people will be at risk of losing their jobs and that will have a direct impact on demand for telecoms services," he said.
In the UAE, the subscriber base grew to 12.7m in the first quarter while the aggregate subscriber base reached 150m, representing a year over year increase of 5%.