E3 2020 didn't happen this year, as the gaming expo was cancelled due to coronavirus concerns. But, with the PS5 and Xbox Series X due to release later this year, where will we see the biggest gaming announcements of the year now?
While E3 generally means the biggest gaming announcements of the year are confined to one week, with the show cancelled, we've seen publishers and developers hosting their own conferences and streams in lieu of the convention (with many being part of Summer Game Fest). So instead of a week jam-packed with announcements, we've been drip-fed juicy details over weeks and months - with more to come .
This means there's a bit more time to digest all the latest gaming news but, without one big event to focus on, it can be hard to keep track of all the gaming showcases happening in the near future.
So we've rounded up all the biggest gaming showcases coming in the next few months along with their dates and times, and what you can expect to see at them.
Xbox Games Showcase (Xbox 20/20) - July 23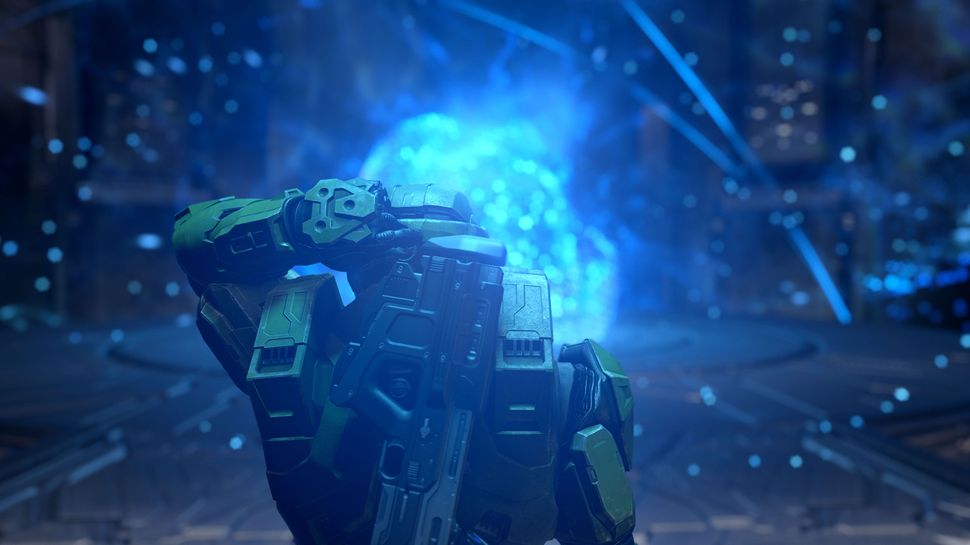 The Xbox Games Showcase will take place on July 23 at 5pm BST / 10pm EDT / 9am PDT (or July 24 at 2am AEST) and will give us our first, proper look at first-party Xbox Series X games, including the premiere of Halo Infinite gameplay.
This event is the second of Microsoft's monthly Xbox 20/20 streams, which will take place each month throughout the rest of the year in the lead up to the launch of the next-gen console.
Xbox 20/20 kicked off on May 7 with the Xbox Series X gameplay reveal, which focused on third-party Xbox Series X games. However, according to Microsoft, the stream on July 23 will focus on Xbox Game Studio titles so expect to see Hellblade 2, new Forza game and maybe even a new Fable.
What is Summer Games Fest?
Many of these conferences and streams are part of Summer Game Fest. But what is Summer Game Fest?
Summer Game Fest was set up by The Game Awards host Geoff Keighley and is an online season of events bringing together 16 of the industry's largest publishers, including Microsoft, Sony, Activision, Valve, Bethesda and Blizzard in a four-month cavalcade of news, trailers and game demos.
From May until August, the Summer Game Fest has partnered with these publishers to release updates on current game projects and announce new titles across social media platforms.
According to the organizers, programming that is a part of Summer Game Fest will be distributed across all major streaming platforms, including Facebook, Mixer, Twitch, Twitter, YouTube and more. Corresponding game demos (some in alpha or beta stages of development) will be made available on major game distribution services like Steam, the PlayStation Store and Xbox Marketplace.
What is E3 and why was it cancelled?
The E3 name stands for 'Electronic Entertainment Expo', and it's been running in some form since 1995. Hosted by the Entertainment Software Association, E3 is a three-day convention to celebrate and showcase all things gaming, usually to publicize upcoming games and consoles – with a smattering of panel discussions and keynotes alongside the excitement of the show floor. E3 2020 was due to be 26th time the event has happened and it was supposed to take place from June 9 to June 11 at the Los Angeles Convention Center (E3's home since 2009).
While traditionally only an industry-only event, the ESA has been more willing to allow members of the public into the event, and is increasing the number of available of public tickets from 15,000 (in 2019) to 25,000. There's also been chatter about an extra day exclusive to industry members, to minimise disruption and queuing times, but unfortunately that won't happen this year.
After plenty of speculation and rumors, the show's organizer - the ESA (Entertainment Software Association) - officially pulled the plug on E3 2020 on March 11, 2020, three months ahead of the scheduled event.
In a statement, the ESA said "After careful consultation with our member companies regarding the health and safety of everyone in our industry – our fans, our employees, our exhibitors and our longtime E3 partners – we have made the difficult decision to cancel E3 2020.
"Following increased and overwhelming concerns about the COVID-19 virus, we felt this was the best way to proceed during such an unprecedented global situation. We are very disappointed that we are unable to hold this event for our fans and supporters. But we know it's the right decision based on the information we have today."
The chatter around the year's biggest gaming show was already in full swing when the cancellation notice came through, even though Sony had already ducked out for the second year running (unrelated to coronavirus).
Since then, the ESA confirmed in a statement to PC Gamer that it won't be running a virtual event in its stead as some had predicted, and will instead "will be working with exhibitors to promote and showcase individual company announcements," an ESA representative said.
With two next-gen consoles in the form of the PS5 and Xbox Series X set to launch not long after, there's plenty of change afoot in the gaming world – and E3 2020 was set to be at the heart of it.
Why is E3 so important? As a place where the likes of Microsoft and Nintendo – both of whom were set to attend this year – tend to announce new hardware and titles, alongside countless third-party publishers showing off their wares to fans, players, and media, E3 tends to hold some massive announcements that shape the conversation around the year's games for many months after.
What's the problem with E3 2020?
That said, even before its cancellation, E3 2020 was set to be the most controversial convention yet - with a number of big-name developers, publishers and personalities deciding not to attend this year's event. Sony was the first to say it wouldn't attend back in February, and around the same time big industry names like Geoff Keighley – who hosted the E3 Coliseum showcase for the previous few years – said he too would step away from the event.
That's not to mention the dropout of iam8bit, a creative merchandising company that had apparently been acting as a creative director for this year's show – though the ESA confirmed that "Endeavor's creative agency 160over90, event innovators Mat+Lo and longtime E3 partners, GES, Dolaher Events and Double Forte" were all still involved in the direction and creation of the show (via GameSpot).
The argument the show's critics made is that, in the age of streaming, these types of opulent showings weren't really necessary - they don't reach as big of an audience as, say, a direct-to-consumer video, and are much more expensive to put on.
There has also been concern over security as the ESA leaked the private information of over 2,000 journalists who attended E3 2019.
That said, having a single week that was agreed upon by the entire industry to show new games made it a showcase event, one that was covered around the world by both industry publications and international mainstream media. It's pros and cons will be debated long after the news of its cancellation has faded, but now at least you have some context for both sides of the argument.
E3 2019: what went down last year?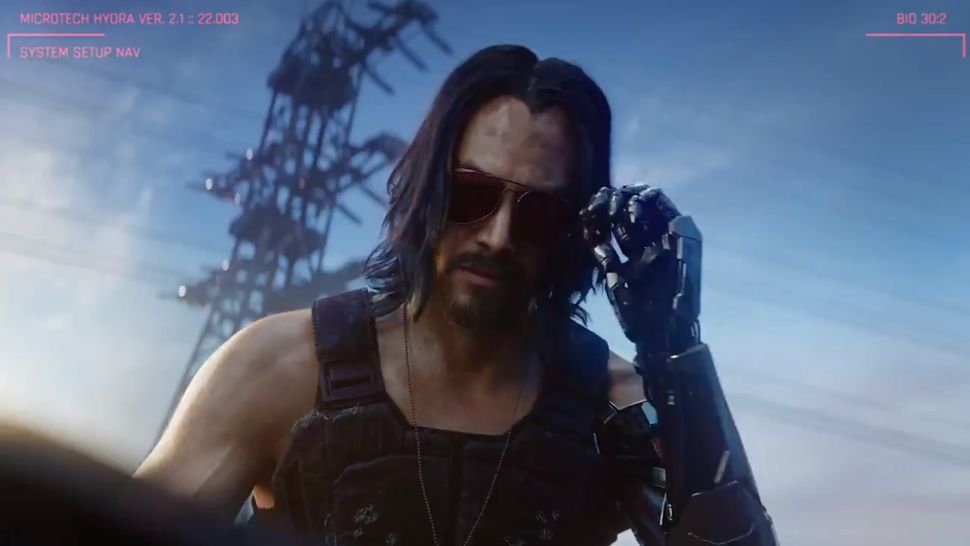 Even without Sony on show, there was still plenty to make 2019 a great year for E3. We had that wonderful Keanu Reeves appearance, and the news he was appearing in Cyberpunk 2077 (as seen above), new specs for the Xbox Series X, and that brilliant BOTW 2 teaser. We also got a full unveiling of Star Wars Jedi: Fallen Order and updates on Apex Legends Season 2 from EA, and the announcement that Dark Souls dev From Software and Game of Throne's George R R Martin were collaborating on the upcoming game Elden Ring.
Square Enix had one of the better press events we've yet to see at E3 2019, packing in tons of new information on Marvel's Avengers, Final Fantasy VII Remake and the remastered version of Final Fantasy 8.
it wasn't all good news, though, with Animal Crossing: Horizons getting delayed, and the long-awaited Dragon Age 4 not getting so much as a mention. Ubisoft also didn't show off a new Splinter Cell game (cowards!) or its much-delayed Beyond Good and Evil 2 – though it did find time for Just Dance 2020, and the announcement trailer for Gods and Monsters.
Here's a full list of everything that was announced at E3 2019:
Nintendo
Microsoft
Halo Infinite (release window, coming to Xbox Project Scarlett)
Lego Star Wars: The Skywalker Saga (Xbox One and PC)
Bleeding Edge
Battletoads
Age of Empire II: Definitive Edition (PC)
Wasteland 3
Microsoft Flight Simulator (PC first, Xbox One later)
Minecraft Dungeons
Spiritfarer (coming to Xbox Game Pass)
12 Minutes (Xbox One and PC)
Forza Horizon 4: Lego Speed Champions Expansion
Crossfire X
Gears Pop!
Take-Two Interactive/2K Games
Electronic Arts and EA Sports
CD Projekt Red
The Witcher 3: Wild Hunt - Complete Edition
Konami
Contra Rogue Corps (Xbox One PS4, PC and Switch)
Contra Anniversary Collection
Bethesda
Deathloop (Platforms unknown) (Trailer)
Doom Eternal (Xbox One PlayStation 4, PC and Nintendo Switch)
The Elder Scrolls: Blades (debuting on Nintendo Switch; iOS, Android updates)
Fallout 76: Nuclear Winter (Xbox One, PlayStation 4 and PC sneak peek)
Ghostwire: Tokyo (Platforms unknown)
Wolfenstein: Youngblood (PS4, Xbox One and PC)
Wolfenstein: Cyberpilot (VR)
Commander Keen (iOS and Android)
Square Enix
Final Fantasy 7 Remake (PS4)
Final Fantasy Crystal Chronicles (PS4, Nintendo Switch and mobile)
Final Fantasy 14: Shadowbringers (PC)
Circuit Superstars (Square Enix Collective, developer Original Fire)
War of the Visions: Final Fantasy Brave Exvius
Romancing Saga 3
Scarlett Grace
Dragon Quest Builders 2
The Last Remnant Remastered (coming to Nintendo Switch)
Trials of Mana: Collection of Mana (coming to Switch)
Ubisoft
Ghost Recon Breakpoint (Xbox One, PlayStation 4 and PC)
The Division 2 (Xbox One, PlayStation 4 and PC)
For Honor (Xbox One, PlayStation 4 and PC)
Watch Dogs Legion (Xbox One, PlayStation 4, PC, Stadia) (game play available)
Assassin's Creed Odyssey (game update)
Roller Champions (PC download available now, other platforms unknown)
Gods & Monsters (Xbox One,PlayStation 4, PC, Stadia and Switch)
Sega
Panzer Dragoon: Remake (Nintendo Switch)
Phantasy Star Online 2 (Xbox One)
SEGA Genesis mini console coming September 2019 with mini games like Mega Man:The Wily Wars, Earthworm Jim, Sonic the Hedgehog 1 & 2, Ecco the Dolphin and 35 more classic games.
Bandai Namco
Tales of Arise
Dragonball Z: Kakarot
Code Vein
The Dark Pictures Anthology: Man of Medan
RAD
Various
Elden Ring (via FromSoftware)
Dying Light 2 (from Techland)
Way to the Woods (Team 17)
Dauntless (coming to Nintendo Switch via Phoenix Labs)
The Dark Crystal: Age of Resistance Tactics (En Masse Entertainment)
Dead by Daylight (coming to Nintendo Switch via Koch Media)
New Super Lucky's Tale (coming to Nintendo Switch via Playful Corp.)
Empire of Sin (John Romero multi-console game)
Yooka-Laylee and the Impossible Lair (Playtonic)
Sakuna: Of Rice and Ruin (via Edelweiss and XSEED Games)