The best gaming phones can rival tablets and arguably even portable consoles like the Nintendo Switch when it comes to gaming potential, so if you're into games, then it's worth having a phone that can do them justice.
Picking such a phone typically means picking one with a big, high resolution screen, a high refresh rate, and lots of power, plus ideally decent battery life so your games aren't interrupted by the need to charge.
Phones like the Samsung Galaxy S21 Ultra tick those boxes, so you'll find those in the list below. But there are other phones that go even further and are designed specifically with games in mind.
We're talking phones like the Asus ROG Phone 5, Lenovo Legion Phone Duel, and Nubia Red Magic 5G, which have things like shoulder triggers, customizable gaming modes, better vibration, and enhanced cooling.
We've highlighted the best phones specifically designed for gaming at the start of this list, then below that there's a separate section for general smartphones that happen to excel for gaming too. And we're regularly updating this article, so check back soon for new additions.
Once you've picked your phone we've got you covered when it comes to picking games as well, with our best iPhone games, best free iPhone games, best Android games and best free Android games lists – all of which are regularly updated.
Best gaming phones 2021
The Asus ROG Phone 5 is a remarkable gaming phone – one which improves on the already-impressive Asus ROG Phone 3.
Its highlights include class-leading power from the pairing of a Snapdragon 888 chipset and up to 16GB of RAM, plus a screen that has a refresh rate of 144Hz and a touch sampling rate of 300Hz – both of which are higher than most phones and beneficial to games.
That screen is big too, and it's backed up by dual front-facing speakers, which are among the best you'll find on a phone.
The Asus ROG Phone 5 also has a huge 6,000mAh battery, so you can game for longer, and with 65W charging you won't be out of action for long when it runs dry.
Add to that responsive shoulder buttons, programmable RGB lights, and compatibility with a range of gaming-focused accessories, and the Asus ROG Phone 5 really is the complete package for gamers.
It's not quite an all-round flagship (its cameras don't excel as much as the rest of the hardware for a start) but if gaming is your priority then this phone should be at or near the top of your list.
Read our review: Asus ROG Phone 5
The first gaming phone from Lenovo, the Legion Phone Duel, matches great gaming-dedicated features with some other top specs and features.
The phone supports 90W fast charging, and has a pop-up camera so the screen remains unbroken. It's also got a top processor and software optimized for use in landscape mode. All of these contribute to make it great for gaming.
Our issues with the phone don't touch its gaming prowess, though its high price, software issues and mediocre camera might affect some.
If you're looking for one of the best gaming phones right now, this is up there; if you're looking for a great smartphone that is also good for playing games, this is a good choice, though you should check the others on this list before buying.
Read our review: Lenovo Legion Phone Duel
The Nubia Red Magic 5G has the world's first 144Hz smartphone screen, which makes it ideal for gaming, as that's a silky smooth refresh rate.
But that's not the only thing that makes this ideal for gaming. In fact, it's designed specifically for this pastime, with shoulder triggers to give you increased control, a fan and a liquid cooling system to keep the handset cool under pressure, a dedicated 'Game Space' to let you customize your gaming experience, and a '4D Shock' feature that adds vibration to games.
That last feature isn't supported by many titles at the time of writing, and nor is the 144Hz display, but if game developers embrace them then this could be one seriously future-proofed phone.
It also supports 5G of course, and has plenty of power. It's only let down slightly by a 1080 x 2340 screen, which isn't among the sharpest around, along with some software bugs and a design that will prove divisive.
Read our review: Nubia Red Magic 5G
The Black Shark 3 is the best gaming phone from the Xiaomi sub-brand, although it doesn't quite beat its contemporary gaming phones from a few other brands.
The phone is big, bold in design and has LED lights, and its specs are all what you'd expect from a gaming phone - in that, they're top-end. The cameras were surprisingly effective too, especially in low-light settings, though sometimes the optimization could be overzealous.
The reason this phone isn't higher is thanks to its 90Hz refresh rate, which is lower than the other phones higher on this list, and that it doesn't have as many dedicated gaming features as the others either.
Read our review: Black Shark 3

The best non-gaming phones for gaming
We've suggested the best phones designed for gaming, but if you'd rather have a more mainstream device, here are all the phones we recommend that, among the rest of their strengths, are also very good phones to play games on.
You'll find a lot of overlap with our best phones list, for good reason: these handsets have top-end specs and screens to give the best gaming experience possible outside of gaming-focused phones.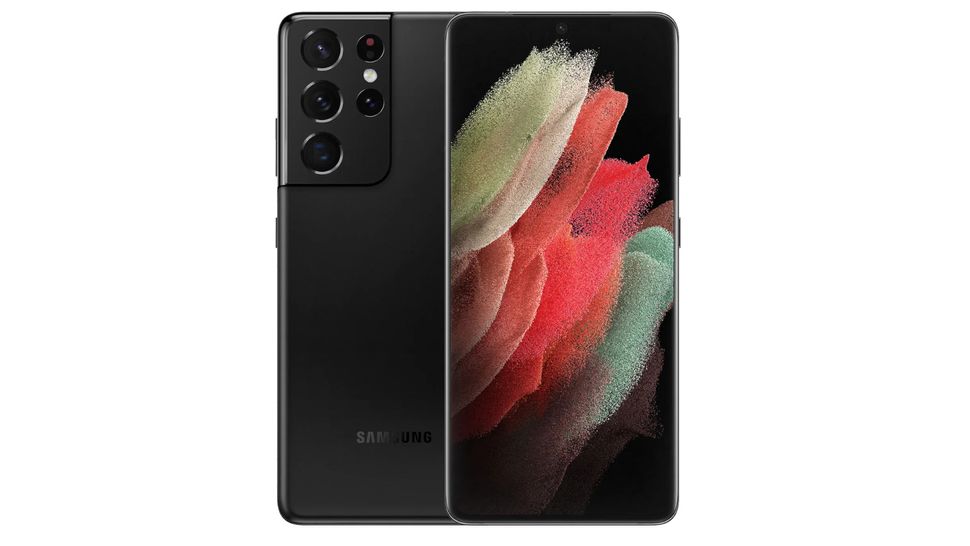 If you're looking for a phone that's great for gaming, and many other things besides, the Samsung Galaxy S21 Ultra is a good choice. It may not be a dedicated Samsung gaming phone, but it is Samsung's latest top-tier flagship phone with specs taken up to 11 across the board.
Our main issue with this phone is the reason many people won't buy it - the price. It's an incredibly expensive smartphone and few people will even be able to consider buying it.
If the Galaxy S21 Ultra fits in your budget, though, you'll find it great for gaming with top processing power, and a large, good-looking screen. The top camera smarts are just an extra.
Read our review: Samsung Galaxy S21 Ultra
Not quite the newest andbest iPhone Pro model out there, but highly respectable, the iPhone 12 Pro is one of the best of the Apple bunch right now. Its 6.1-inch display looks fantastic and is just the right size to get the most out of your gaming experience. Backed up by a powerful processor and plenty of storage space, you won't be disappointed by how speedily games run.
There's also no shortage of game options thanks to the App Store having a huge wealth of games available to it, plus the benefits that come from using Apple Arcade for a Netflix-style library of options.
The iPhone 12 Pro is expensive for what you get and 5G isn't really relevant to a lot of users just yet (but will be a huge help gaming in future), but such a purchase will mean that you're future-proofed for a while to come yet.
Read our review: iPhone 12 Pro
The Motorola Edge Plus is the first top-tier flagship Motorola has released in years, and in many ways, it was worth the wait: the waterfall display is big and gorgeous, the phone packs great specs, and there's even a new gaming feature thrown in: digital trigger buttons that hang over the screen's edge, just under your fingers.
The phone packs an impressive specs array: a Snapdragon 865 chipset, 12GB of RAM, and 256GB of storage (sadly not expandable). The 6.7-inch display has a 90Hz refresh rate and HDR10+ support, giving a far sharper image than we'd expect from its Full HD Plus (2340 x 1080) screen. And its triple rear camera is headed by a staggering 108MP shooter.
And best of all, it comes with 3.5mm headphone jack.
Read our reviews: Motorola Edge Plus review