The best wireless earbuds of 2022 pack high-quality audio, excellent connectivity via Bluetooth and a comfortable fit into a tiny – and often super stylish – package.
Audiophiles might still prefer a pair of the best wired earbuds or a pair of over-ear headphones since neither compresses or reduces the quality of audio files like even the best wireless headphones do, owing to their wire-free Bluetooth connectivity, but there's a lot to be said for the convenience and fun of true wireless earbuds.
We've tested hundreds of the best wireless earphones, looking at comfort, battery life, audio quality and added features such as noise cancellation, thus ensuring that all of the best Bluetooth earbuds in this guide deliver solid performance to suit a range of budgets and preferences.
We've included the best wireless earbuds designed to stay put while you run, as well as our pick of the best noise-cancelling earphones, which can block out ambient noise allowing you to focus on your music and nothing else.
How to choose the best wireless earbuds for you
With so many wireless earbuds to pick from, how do you know which are right for you?
Obviously, price is a huge factor. You can get a good pair of wireless earbuds for under £100/$100. But often you do get what you pay for in terms of connectivity, build and noise cancellation.
Next up is form. Do you intend to hit the gym/bike/pavement with your earbuds? You'll need a design that'll stay put. Or maybe small and minimal is what you're after, so opt for a pair of discrete true wireless buds.
But the biggest consideration is whether you should go wireless, which means there isn't a cable from your phone to your buds. You'll find both types of wireless earbuds on offer here – the best true wireless earbuds with no cables whatsoever, plus neckband-style Bluetooth earphones, which have a single cable that connects each earbud for extra security.
The best sounding earbuds are exactly that – our pick of the wireless earbuds that sound fantastic. These are far from the best cheapest earbuds out there, but if you're passionate about hearing music with clarity, richness and powerful bass, these are the ones you need to consider.
It's still important to pick earbuds that feel good in your ears, but the models below have been picked for sound quality above all else, rather than noise-cancellation or additional features, like waterproofing or workout-friendly designs.
We've divided our guide up into a few key categories to make it easier to find the right wireless earbuds for you. You'll discover earbuds we've tested that sound fantastic (and often come with a high price tag to match) as well as those with a great battery life above all else, and even some of the best budget wireless earbuds for you to consider, too.
So whether you're looking for a pair of cheap wireless earphones, earbuds you can take to the gym or buds that offer best-in-class, immersive sound, there's a pair for you in the guide below.
Looking for something a bit different but with similarly great sound quality? The best headphones may be exactly what you need.
The best-sounding wireless earbuds you can buy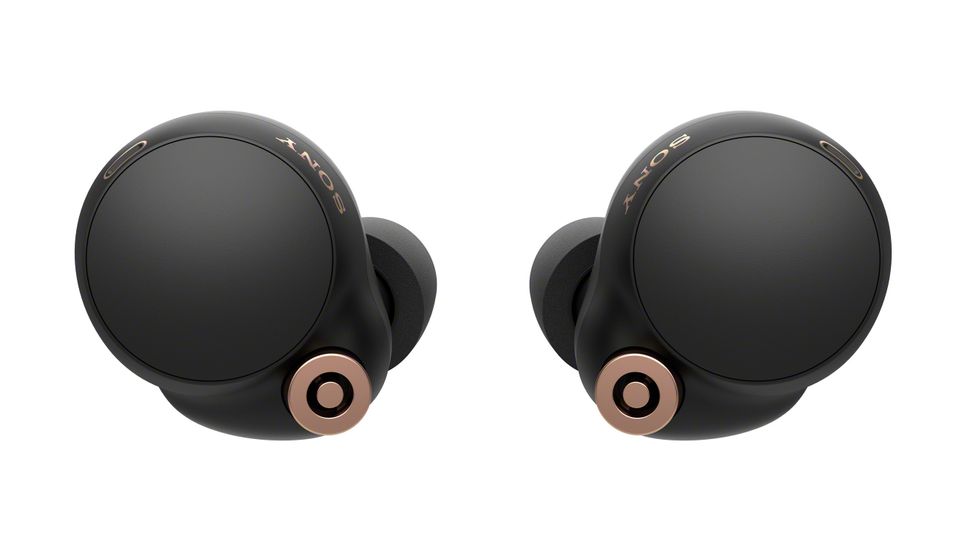 Sony is a leader in the audio tech space and offers some of the best noise-cancelling wireless earbuds on the market today. That's why it's no surprise that the brand's latest Sony WF-1000XM4 wireless earbuds are our top choice and outshine the other earbuds on this list when it comes to ticking the most boxes.
These wireless earbuds sound fantastic, offering full-bodied audio at every turn. That's partly thanks to their specially designed 6mm drivers, which reproduce a dynamic sound despite being so small.
Listening to Burner by Ross From Friends, and the WF-1000XM4 immediately impressed, with tons of detail an excellent rhythmic handling.
Granted, noise cancellation could be better, but will suit most people looking to drown out a little background noise. Then again, when the WF-1000XM4 earbuds sound as good as they do, we can overlook their B+ grade noise-cancelling.
As well as the excellent sound on offer here, Sony's buds offer great call quality, too, which makes them a solid choice for all kinds of scenarios, from commuting to work calls and everything in-between. Design-wise, these earbuds are smaller and lighter than previous models from Sony, like the Sony WF-1000XM3, which means they're comfy to wear for long periods.
The Sony WF-1000XM4 buds don't offer a single stand out feature that sets them above the rest. Instead, it's their excellent quality across the board that make them our top choice of wireless earbuds in 2022.
Read our full Sony WF-1000XM4 review
If you want an Apple-style earbuds experience but don't want to swap from your Android phone, these are the earbuds for you. Where many other earbuds mimic the look of Apple's best-sellers, Honor has gone further and replicated many of the features that make them so good. The promised health monitoring tech didn't make it into this version but there's plenty to like here.
There's also something to love: the sound. Honor has implemented the world's first coaxial dual-driver design with 11mm dynamic driver and piezoelectric ceramic tweeter. In our Honor Earbuds 3 Pro review we said the result is "a triumph", making them among the very best wireless headphones you can buy today. And that's before you get into the features that include first-class noise cancelling, a supremely well designed Android app and excellent comfort. There are also Honor-specific features such as extremely fast pairing if your Android phone is an honor one.
The biggest downside here is the battery life. While you can get 16 hours of noise cancelling when you use the charging case, the earbuds themselves are only good for four hours of listening with ANC on. But everything else about these earbuds is excellent, and the price is good too.
Read more: Honor Earbuds 3 Pro review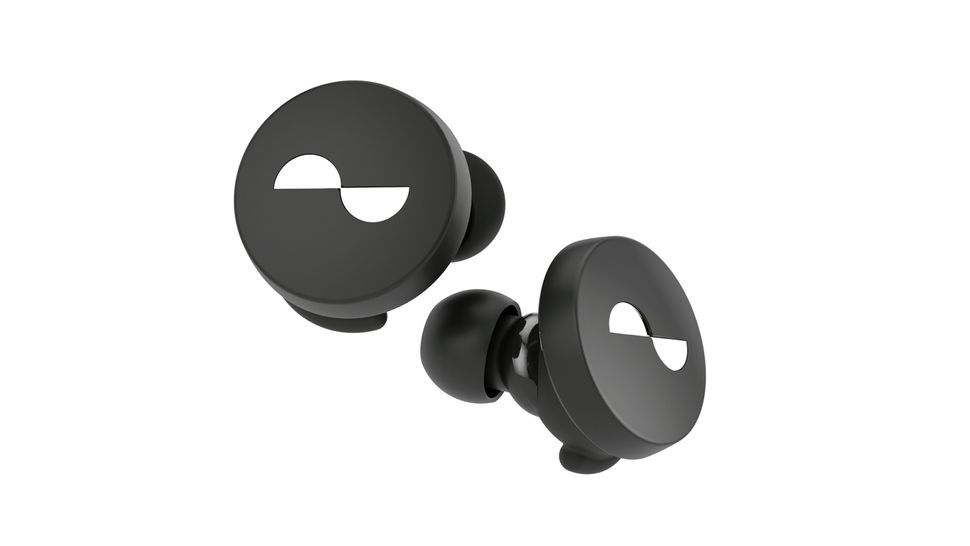 If you've dreamed of owning a pair of earbuds that you can customize to your ears and your listening preferences, then the NuraTrue earbuds are an excellent choice. The accompanying Nura app can analyze how well your buds fit, then precisely tune them to your ears. What this impressive level of customization means for you is that they deliver outstanding audio performance, which we found reveals superb levels of detail in the tracks we listened to during our testing.
You'll want to buy the NuraTrue earbuds for their exceptional sound, they're powered by 10mm low distortion dynamic drivers. But, on top of that, there's plenty to love about these buds that we think makes them stand out against their competitors. There's decent noise cancellation on offer here, which helps you enjoy your precise and personalized music, as well as IPX4 water resistance (this makes them sweat-proof and rain-proof), fast charging and support for hi-res audio, too.
If you prefer a neckband to keep your buds connected, check out the Nura Nuraloop Headphones in the list below, which offer similar quality and customization, just in a slightly different form factor.
Read our full NuraTrue review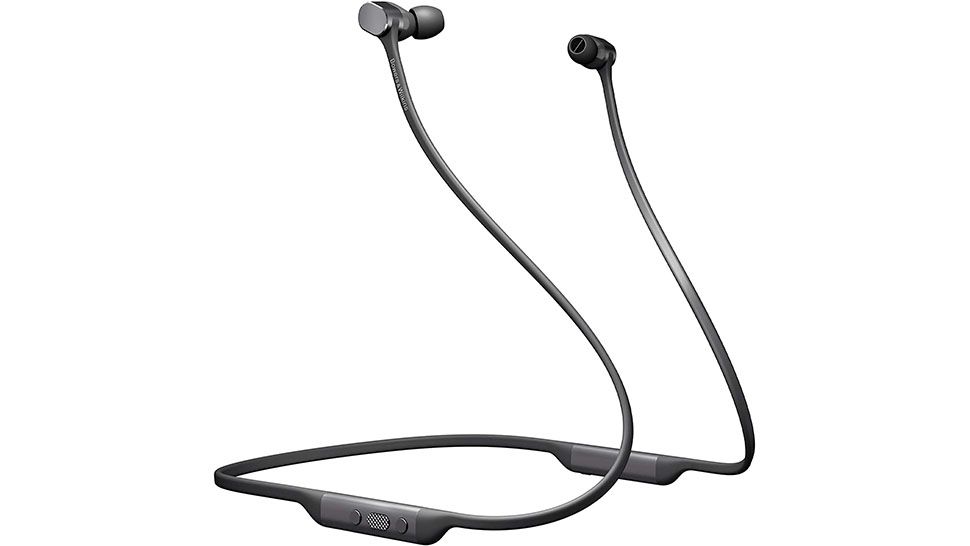 If you don't mind a cable attaching your earbuds together, then the Bowers & Wilkins PI3 neckband earbuds sound great for their price. These earbuds are well-designed and comfortable. What's more, their design means they're ideal if you're prone to losing an earbud. The neckband that attaches them won't get in your way either. We found it to be thin and flexible, which made it easy to hide away when we were wearing them.
Sound-wise, we enjoyed testing these earbuds and found they delivered crisp highs, lively mids, and plenty of powerful bass. Bowers & Wilkins frequently uses a Dual Driver technology, whereby one 9.2mm driver is used for lows and mids, while another is used for bass, with each is given its own dedicated amplifier. That's the case with the Bowers & Wilkins PI3, which goes some way to explaining why they sound so good.
However, these buds aren't perfect. But you'll forgive their lack of waterproofing and fairly average battery life (about seven to eight hours) when they sound this impressive.
Read our full Bowers & Wilkins PI3 review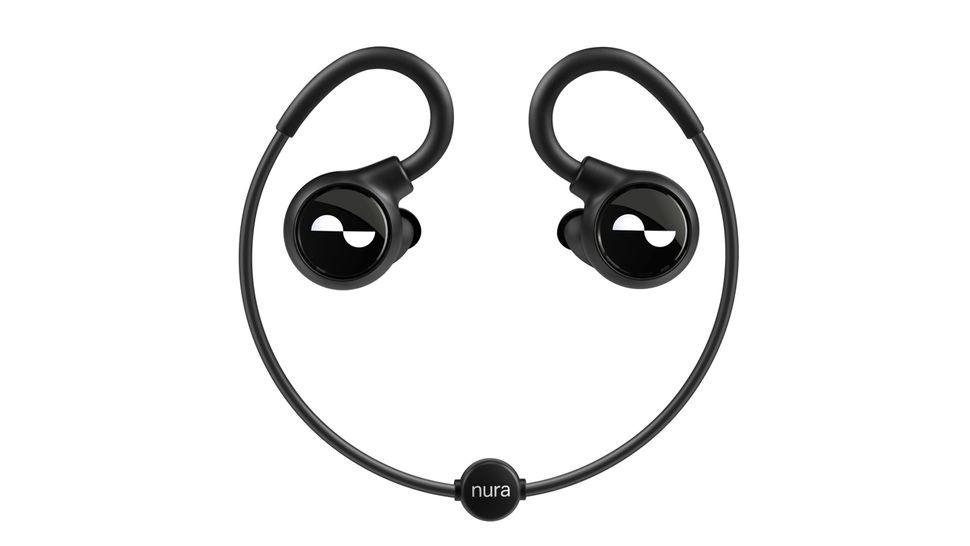 Another entry from personalized sound brand Nura, these are the NuraLoop Headphones, which differ from the NuraTrue in that they're not true wireless but have a neckband keeping the buds connected – a better choice if you're worried about losing one of them.
Like the NuraTrue, the NuraLoop offers adaptive audio technology, which automatically determines a listening profile for each and every user, giving them well-balanced and delightful sounds.
But it's not only customized sound on offer here. We found these to be a solid pair of wireless buds in their own right during our testing. They offer active noise-cancelling and a social mode for when you need to hear ambient sounds, an IPX3 rating for sweat proofing, and excellent battery life that lasted around 16 hours when we reviewed them. These buds feature highly on our list because they're rugged, have all the features of other best-in-class wireless buds, and they're great all-rounders.
Read our full NuraLoop Headphones review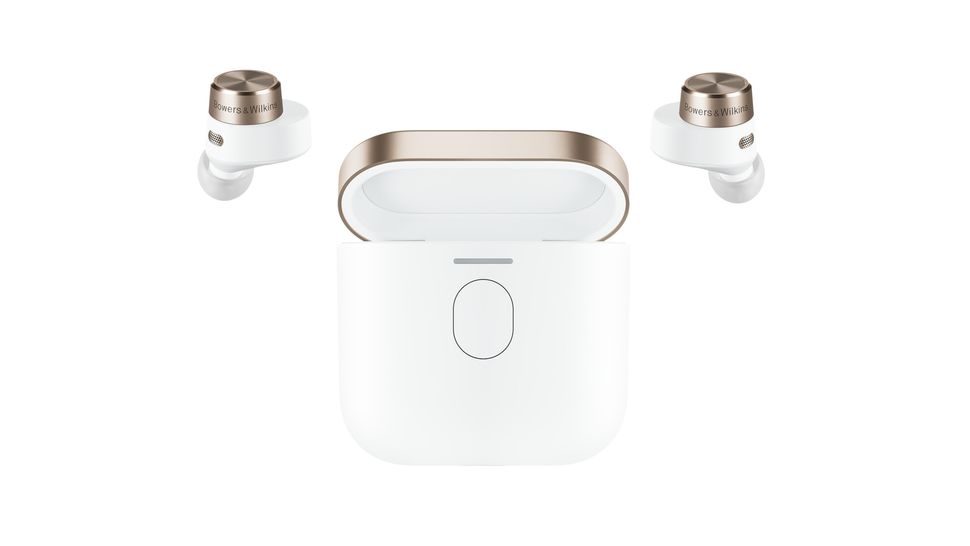 The Bowers & Wilkins PI7 are expensive, especially compared to some of the other wireless earbuds in this guide that offer excellent value for money. But does that mean you should look elsewhere? Well, even though these buds are pricey, we believe it's hard to describe just how good they sound – which might justify the sky-high price tag.
The audio quality on offer here is truly outstanding with a near flawless presentation. Each earbud features a dual-driver arrangement, with a balanced armature taking care of high-frequency reproduction, while everything below is handled by a 9.2mm dynamic driver. Each has its own individual amplifier. That's mostly what you're paying for, although the charging case can work as a repeater, meaning you can use these buds with a number of previously inaccessible devices, such as in-flight entertainment systems.
However, if you're looking for excellent noise cancellation or great battery life, these fall short. For example, you'll find better options for ANC from the Bose QuietComfort Earbuds at a slightly cheaper price and top battery life from the Lypertek PurePlay Z3 2.0 for more than half the price.

Still, we've included them in this guide because if you want excellent sound and nothing else (and have the budget to match), they're well worth considering.
Read our full Bowers & Wilkins PI7 review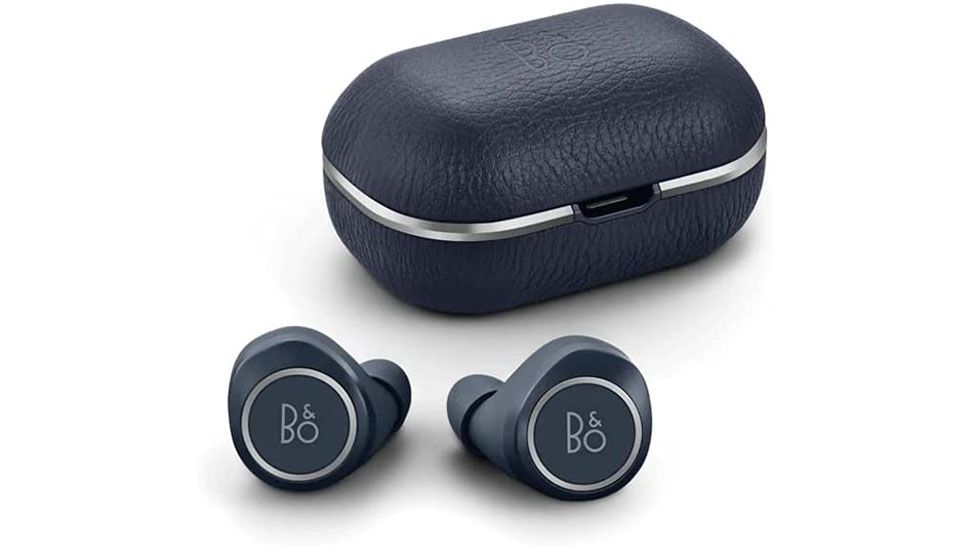 Many of the top wireless earbuds look minimal and sleek, but the Bang & Olufsen Beoplay E8 2.0 are a genuinely beautiful pair of buds – and we don't say that often – with a charging case that looks like it's been made to transport jewellery.
However, this isn't just about looks, as these B&O buds offer excellent audio performance. We found tonal balance is suitably neutral with everything sounding just how we like. The bass is just right with loud tracks sounding punchy, with more delicate music still sounding a delight.
Before they were revised, we were fans of their predecessors, the B&O Beoplay E8 true wireless earbuds. But although they're now more expensive, they're more appealing with wireless charging and a few additional features that make them a solid choice if you're looking for great-looking and great-sounding buds.
The only major issue here is that there's no active noise cancellation, despite rivals like the Bowers & Wilkins PI7 and Sony WF-1000XM4 above, offering such features for less.
Read our full Bang & Olufsen E8 2.0 review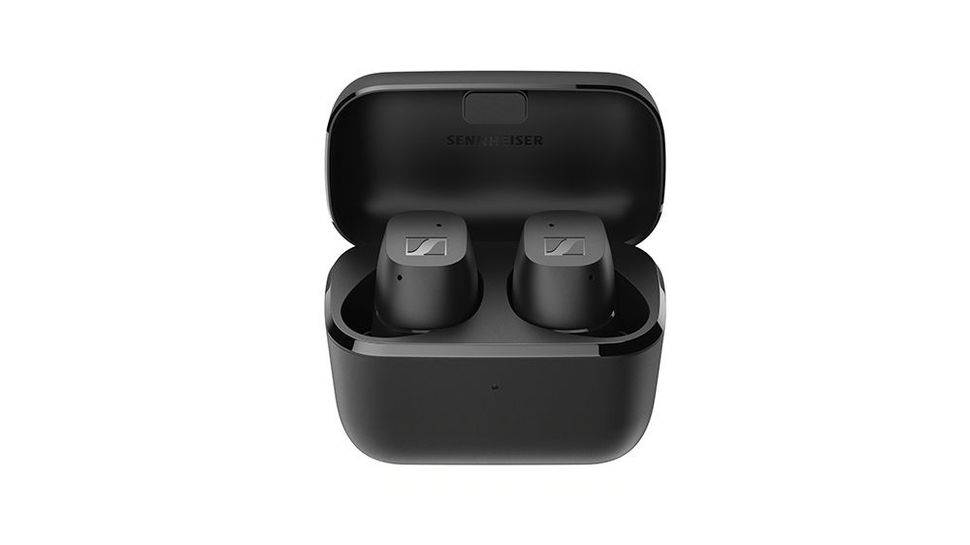 The Sennheiser CX True Wireless are the latest wireless earbuds from the German audio tech company. They pick up where the CX 400BT left off, but they're cheaper than their predecessors, despite including a host of upgraded features, which includes a longer battery life at nine hours and better connectivity.
Audio quality is exactly what you'd expect from Sennheiser. Thanks to the brand's TrueResponse Transducer 7mm dynamic driver, there's a wide soundstage, clear mids, detailed trebles, and powerful bass frequencies. There's no denying that the Sennheiser CX delivers a very enjoyable listening experience. Unfortunately, there's no noise cancellation on offer here. You'll need to check out the buds in our noise-cancelling recommendations below or the Sony WF-1000XM4s if you want to block the world out.
The other problem we had when testing these buds is they're a little uncomfortable. But we don't want to judge Sennheiser too harshly here as we think the fit could depend on the size and shape of your ears. Otherwise, these are a great pair of buds if you want great sound and no-frills on a budget.
Read our full Sennheiser CX True Wireless review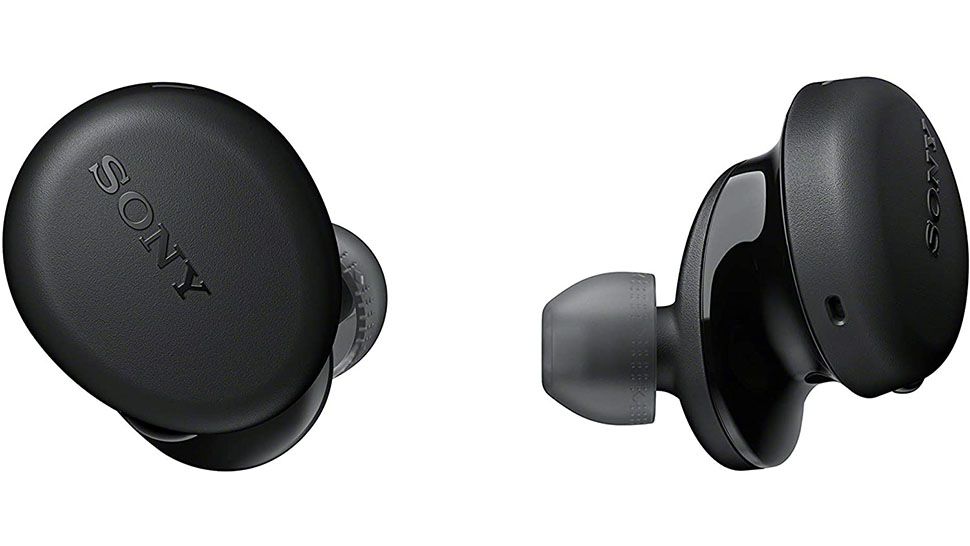 The Sony WF-XB700 wireless headphones prove it's possible to find a good pair of Sony earbuds on a lower budget. There's a lot to love about the Sony WF-XB700, with 12mm dynamic drivers, they offer a punchy, bass-heavy sound as well as a comfortable fit that we think works for all ears.
There are a few niggling factors about these buds, however, including an unusual design, which we found takes a little getting used to. There's also no noise cancellation on offer here, which is a little disappointing but hardly surprising for the price.
But flaws aside, these are solid competitors to some of the best wireless earbuds on the list, including the Apple AirPods. Not only are they much more affordable, but they have an even better battery life than many of their rivals at an impressive 18 hours.
Read our full Sony WF-XB700 review
The Apple AirPods (3rd generation) represent a major step up from their predecessors, the AirPods 2, in almost every way, with improved audio performance, better connectivity and a lighter and more comfortable design, thanks to shorter stems and contoured housing.
They sound good, with 11mm dynamic drivers powered by a custom amplifier. Features like Spatial Audio support and Adaptive EQ set these buds apart from the competition, and we found the sound to be well-balanced and spacious in our tests. As you might expect, they do come with a price increase, but we think they're a worthy upgrade if you have the older AirPods.
Although we rate these wireless earbuds, they're not for everyone. You'll find better value for money elsewhere, especially if you're on a budget or want best-in-class noise-cancellation, which you won't find in the regular AirPods – you'll have to check out the AirPods Pro for truly immersive sound.
What's more, if you're an Android user, you'll be disappointed. The AirPods 3 are unsurprisingly optimized for use within the wider Apple ecosystem, so anyone with an Android phone will miss out on a lot of the extra features that set them apart from other true wireless earbuds on the market.
Read our full Apple AirPods (3rd generation) review
The best noise-cancelling wireless earbuds
The best noise-cancelling wireless earbuds create a barrier that blocks out unwanted sounds, like people talking on the train or traffic noises nearby.
If you regularly commute or live somewhere noisy, they're a great way to dial down distracting noises so you can focus on music and podcasts instead.
While wireless earbuds aren't generally as effective as over-ear noise-cancelling headphones, the technology has come a long way over a short amount of time, so you can still enjoy your music in relative peace and quiet with the models below.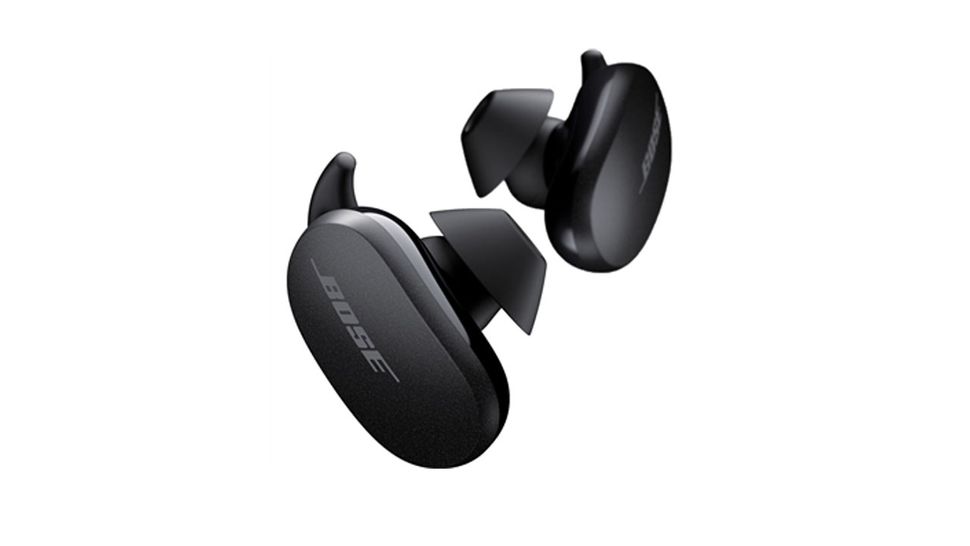 The Bose QuietComfort Earbuds are perfect if you want to block out the world, offering the best ANC you can imagine. Although plenty of the other wireless earbuds in this list bring you good noise cancellation, none come close to what the QuietComfort Earbuds deliver in terms of fully immersive sound – and that's really saying something.
In our tests we found vocals sounded crisp and every instrument in the background could be heard beautifully, with enough thrum in the low end to make bass lines really enjoyable.
The only thing we're not keen on here is the bulky charging case, which doesn't offer the best battery life either. You'll get a fairly standard six hours of playback from the buds and only two extra top-ups from the case. Other than that, these are brilliant earbuds, with great sound quality and a really comfortable fit. If you're looking to get lost in your music or need totally uninterrupted tunes to focus, these are the best wireless earbuds for you.
Read our full Bose QuietComfort Earbuds review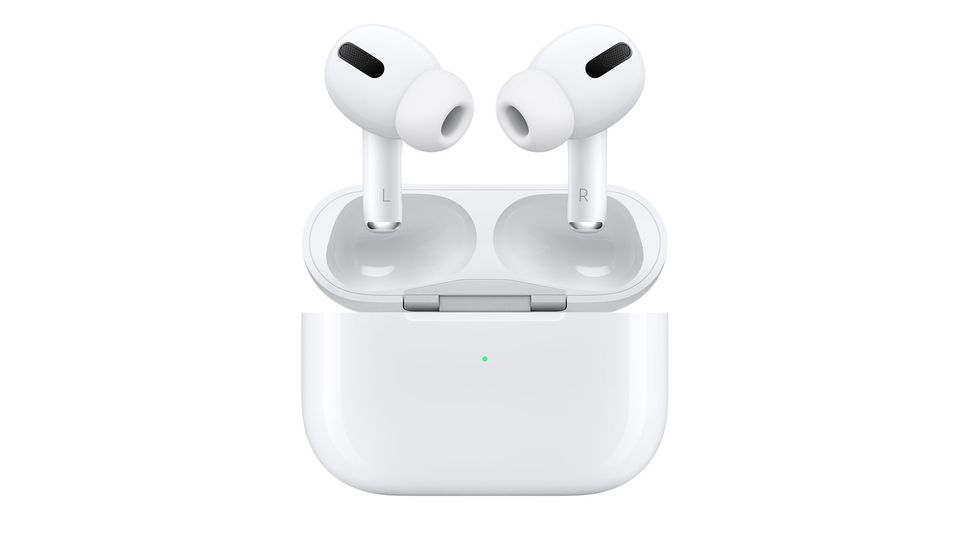 If you're looking for a great pair of noise cancelling headphones and you're a fan of Apple products, you can't go wrong with the Apple AirPods Pro. They have Apple's clean, minimal styling and super intuitive set-up process.
Reliable noise cancellation features work well to hide from the world and adaptive EQ means that music sounds powerful and detailed as and when needed, tweaking to accommodate your ear shape.
We found that they're a step up from the regular AirPods, not only in that they have better sound and noise-cancelling features, but the design has improved too. Expect a lighter, more comfortable fit and although you'll still find the AirPods-esque stems here, they're shorter and more streamlined.
The downside here is that the Apple AirPods Pro are more expensive than their rivals, but they have that Apple 'just works' factor that does make them attractive and, if your budget allows, worth the price. Of course, if you don't care about ANC, try the AirPods 3 instead and if Apple's design isn't to your tastes, a cheaper alternative like the Lypertek PurePlay Z3 2.0 could be your best bet.
Read our full Apple AirPods Pro review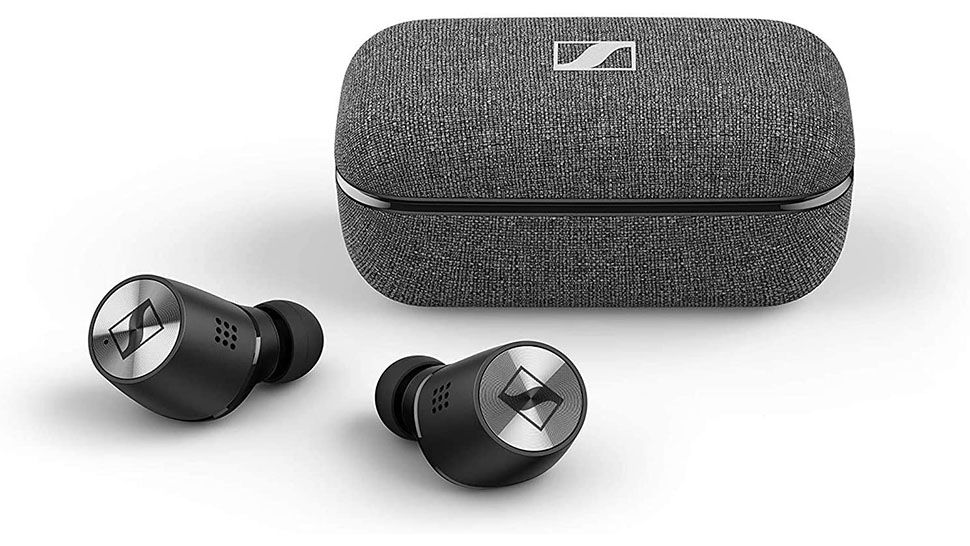 The Sennheiser Momentum True Wireless 2 earbuds are fantastic all-rounders that also offer incredible sound and reliable noise cancellation.
Like the Sennheiser CX True Wireless Earbuds higher up in our guide, these were a little uncomfortable during our testing. But that could be down to personal preference and smaller ears rather than the design more generally. In any case, make sure the vendor you choose allows for returns where the product is not faulty. (Sennheiser, for example, does not allow this if you deal with the company directly.)
If you're looking for a pair of wireless earbuds that look good and tick all the boxes, including good battery life and solid sound quality, we would wholeheartedly recommend the Sennheiser Momentum True Wireless 2 earbuds to anyone looking for an alternative to the Sony WF-1000XM4.
Those with smaller ears may find them a little uncomfortable, however, and their high price stops them from bagging a higher spot in our wireless earbuds rankings.
Read our full Sennheiser Momentum True Wireless 2 review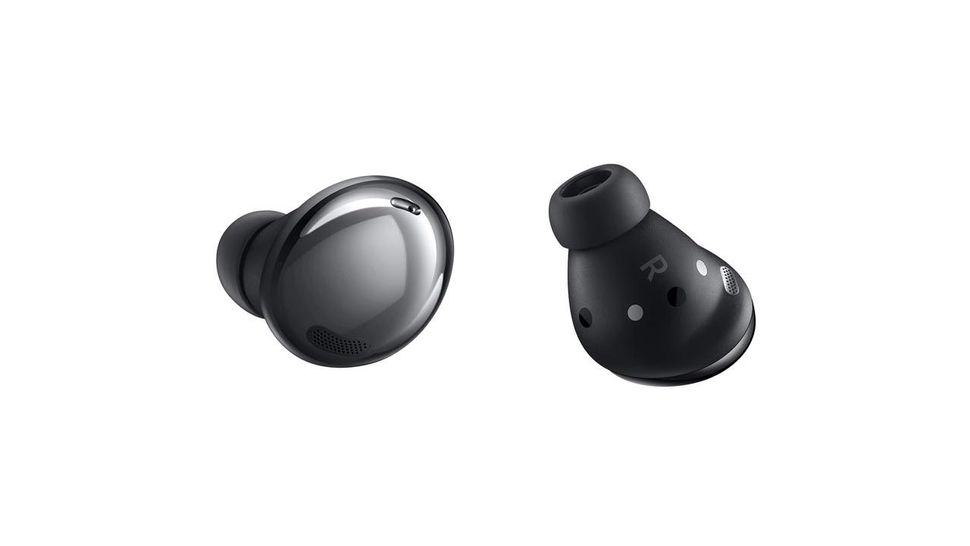 The Samsung Galaxy Buds Pro don't offer the same level of noise cancellation as more expensive models. So if fully immersive sound is the most important factor for you, then look elsewhere.
But we've included these buds in our guide because the noise cancellation is decent and the Galaxy Buds Pro are competitively priced with several useful features, including IPX7 waterproofing and simple-to-use touch controls.
Like a few other buds in this list, we found the Galaxy Buds Pro to be little awkward in our ears, and the sound quality can be a tad flat - but they block out environmental noise fairly well nonetheless.
These newer buds are a huge step up from the Samsung Galaxy Buds Live, offering better sound and microphone quality with multipoint pairing and spatial audio support. They don't offer the same level of noise cancellation as over-ear headphones or the sound quality of high-end earbuds, but for their price they offer just enough of both to be competitive.
Read our full Samsung Galaxy Buds Pro review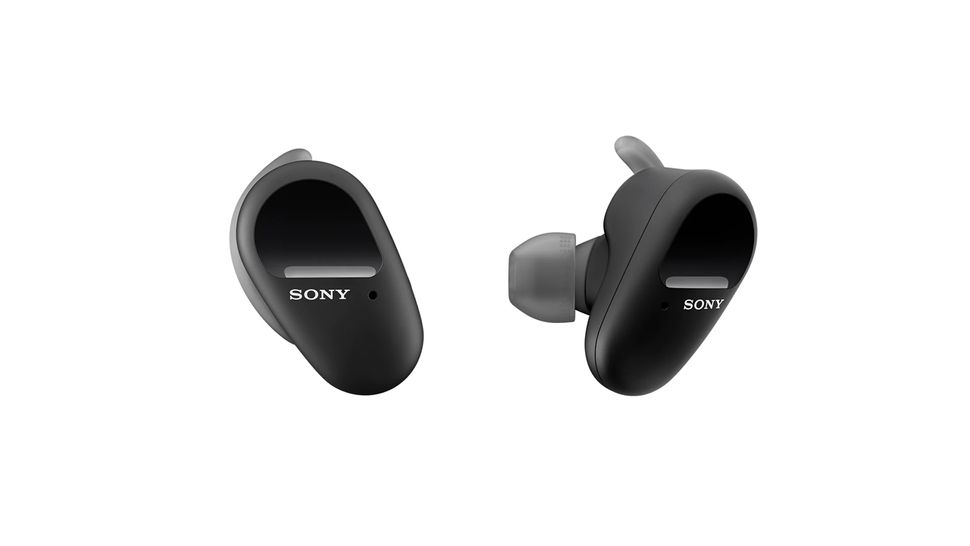 The remarkably well-priced Sony WF-SP800N earbuds aren't the best buds on this list, but they're solid all-rounders. Their decent sound and features make them a good option for commuting, focusing at work, and exercising – we could easily have included them in the wireless earbuds for the working out section of this list.
They offer reliable noise cancellation, water resistance, and sweat proofing, making them ideal for a trip to the gym. Even buds like these, which are considerably cheaper than Sony's high-end Sony WF-1000XM4s, offer great sound, and here you'll find support for Sony's spatial audio format, 360 Reality Audio.
We found they can be a bit bass-heavy to listen to and aren't the comfiest pair of buds we've tried, but if you're on a budget, these will do the job while still providing you with some respectable enough noise cancellation.
Read our full Sony WF-SP800N review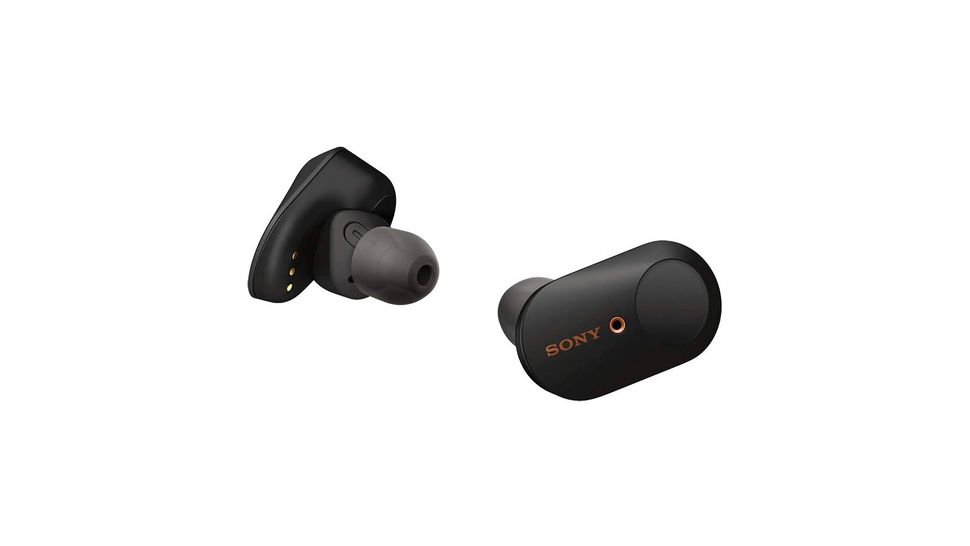 If you need any more proof that Sony is one of the best brands out there for wireless buds, here's another entry: the Sony WF-100XM3. These are the predecessors to the buds right at the top of our list, the Sony WF-100XM4. But even though they've been usurped, these are still a fantastic pair of noise-cancelling wireless earbuds – especially if you find them for a reduced price in the sales.
They offer class-leading noise cancellation and sound fantastic while still giving newer rivals a run for their money in terms of other valuable features, too, including app support and a Quick Attention mode for when you do need to listen out for something. To quote our review, "these superb little music makers miraculously conjure a wide, expansive soundstage, with believable spatial detail".
It's a shame about the lack of aptX HD support, and they're also no good on planes. But they're small concessions to make for a solid pair of buds that are still performing well, despite being released nearly four years ago.
Read our full Sony WF-1000XM3 review
The best wireless earbuds for battery life
If you often forget to recharge your devices, a long battery life is going to be important to you. Typically, true wireless earbuds offer two different battery lives; that's how long the earbuds themselves last, and how much extra battery life you get from the charging case.
The latter is usually much longer as you can recharge the earbuds multiple times from the charging case. Neckbud-style wireless earbuds don't require charging case to keep them safe or top up their battery, so you'll only see one figure when we talk about the playback time of these models.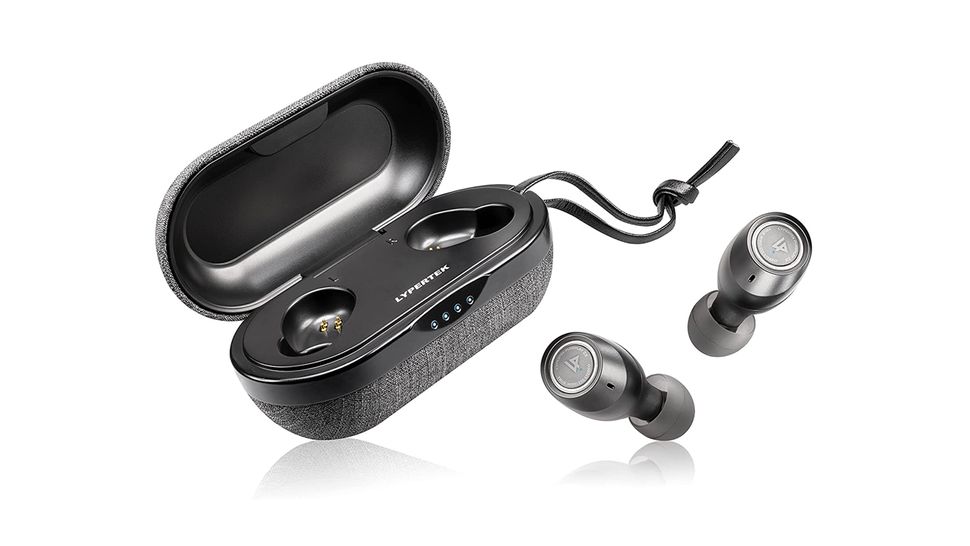 If battery life is your number one priority, then the Lypertek PurePlay Z3 2.0 might be the top wireless earbuds for you. They offer 10 hours of playback on a single charge and a whopping 80 hours of total battery life with the charging case – a great choice if you're prone to forgetting to recharge your tech or simply need to use them for long periods.
Excellent battery life isn't all these relatively affordable earbuds have to offer either. They also provide well-balanced sound for their price and a comfortable fit that feels good in your ear for all-day wear and provides physical buttons, too.
The PurePlay Z3 2.0 are an updated version of the PurePlay Z3 packing in everything we loved about the originals but adds wireless charging, a powerful new LDX Audio mode, improved app functionality and a hear through ambient mode.
Switching on LDX Audio in the app is a bit like hitting an overdrive button – raising the volume of less-present frequencies (particularly bass tones), widening the soundstage. We found ourselves switching between the two depending on the listening situation, favouring LDX Audio when out and about, while going for the stock tuning when indoors and intently listening to songs and albums.
Sometimes, buying a lesser-known brand really pays off. On that note, the Lypertek PurePlay Z5 are the most recent release from the brand. These buds are similar to the Z3 2.0 but also boast built-in noise-cancelling.
Read our full Lypertek PurePlay Z3 2.0 review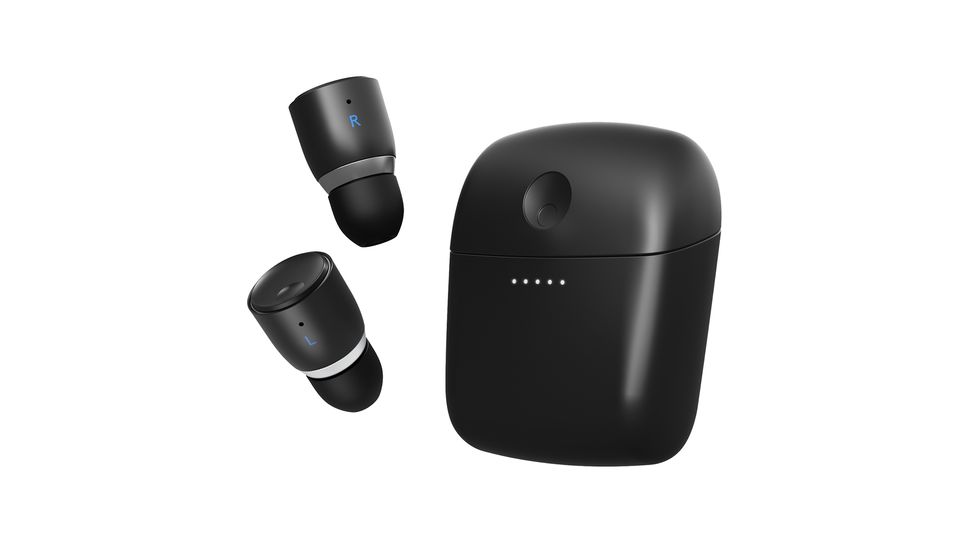 The Cambridge Audio Melomania 1 Plus earbuds bring you a total of 45 hours of battery life with the charging case and nine hours within the earbuds on their own. But there's a lot more to love about the Melomania 1 Plus, including outstanding audio performance and an app that we found genuinely useful and easy to control.
These buds are an upgrade on the Melomania 1 from Cambridge Audio. While the Melomania 1 Plus design may look similar to its predecessor, there's a clear step up in terms of audio performance here, with levels of detail and clarity that could even rival some of the best over-ear headphones.
Listening to Daði Freyr's 10 Years, the pulsing synths and romantic strings complemented the baritone vocal melody, with excellent balance across the different frequencies. As the chorus kicked in, the meandering bass guitar and drums sounded punchy and controlled, while harmonized vocals were clear and rich.
You won't find noise-cancelling tech built-in here. Still, if you're looking for excellent battery life, solid audio performance and reliable connectivity, you can't go wrong with this pair of minimal, top-performing buds.
Read our full Cambridge Audio Melomania 1 Plus review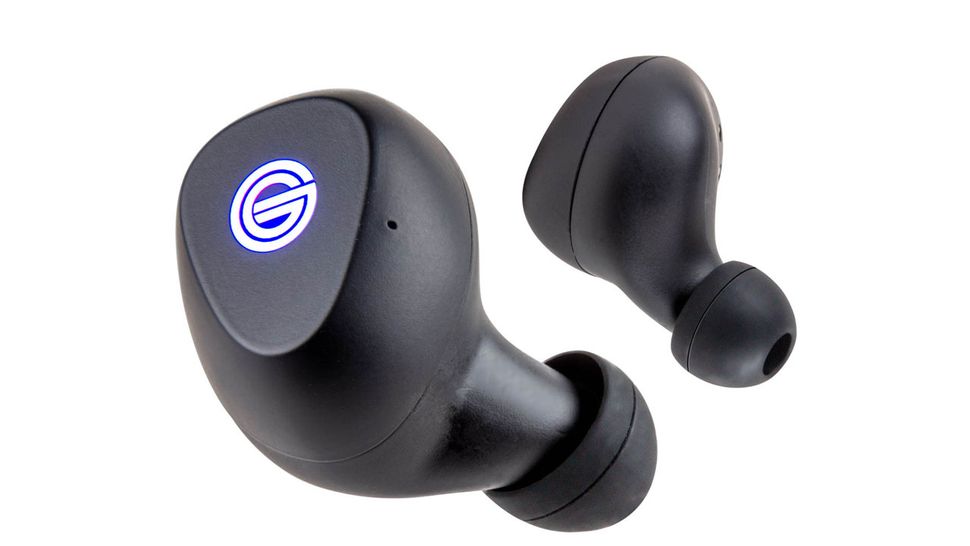 The battery life built-in to the Grado GT220 earbuds might only be a mere six hours, but with their handy charging case, you can easily extend that to 36 hours in all, which is an impressive amount of time if you need your music with you on-the-go for hours at a time.
The sound quality aboard these buds is also exceptional. We were so impressed when we tested these buds we felt that they could peer deep into a song's mix and extract every last scrap of information.
The Grado GT220 wireless earbuds have a very understated design. This might appeal to those who like the minimal look but lacking if you want flashy, sleek or AirPods-style buds. What's more, there's no noise cancellation here. We found that the GT220 fit offers a degree of passive isolation, but Bose's QuietComfort Earbuds are your best option where active noise-cancelling is concerned.
Read our full Grado GT220 review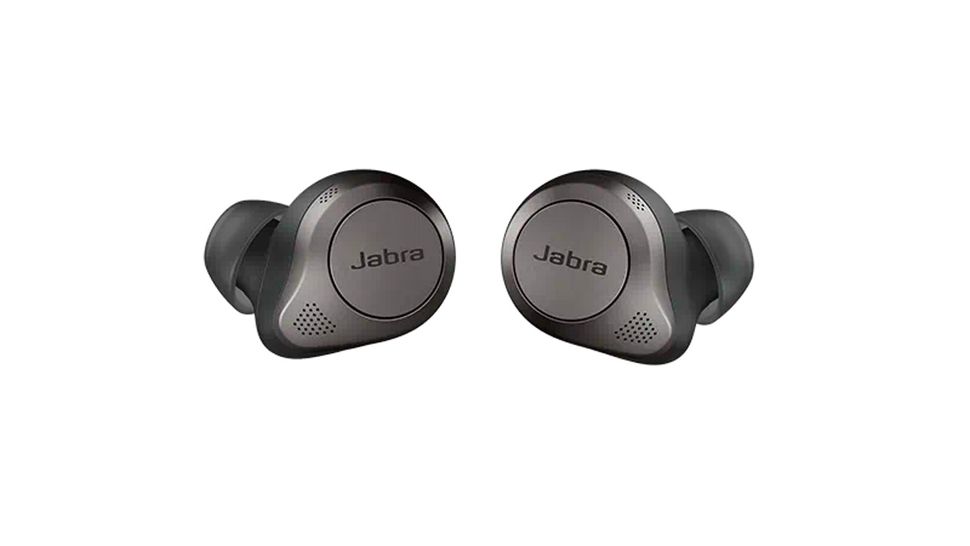 The Jabra Elite 85t bring you only five hours of battery life when you're using noise cancelling, but that increases to seven hours without ANC and the charging case can keep the buds going for up to 25 hours, which is pretty decent compared to rivals. There's also a handy 15-minute charging function, which is bound to be helpful for a quick juice-up when you're on the move.
The sound on offer here is excellent. We found it clear and natural during our testing, with impressive, deep and booming bass. There's noise-cancelling tech built-in to the buds, too, which you can adjust to suit you. We also like the design, which looks sleek and stylish when you've got the buds in your ears.
However, these buds have a bit of extra bulk (that's thanks to the ANC)–especially compared to their predecessors, the 75t. This means they're less light and compact but still comfortable to wear for the most part. Having said that, if ANC isn't your top priority and you find a good bargain on the Jabra Elite 75t, they might be older, but they're still a solid pair of buds.
Read our full Jabra Elite 85t review
The latest buds from Audio-Technica tick many of the boxes when you're hunting for a new pair of the best wireless earbuds. They boast some of the top specs on this list and have quickly become one of our favorite pairs of true wireless earbuds.
Most notably, battery life here is fantastic. These Audio-Technica buds have an enormous 20 hours of battery life on their own, which bumps up to 30 hours with the case.
During our testing, we were also very impressed by their sound. They're ideal if you like insightful, full-range sound. We found detail levels to be high, and the entire frequency range is properly represented.
Design-wise, we found them comfortable to wear, compact and light. Their unassuming look might be a little boring for some, but ideal if you don't like flashy or obvious earbuds (we're looking at you, Apple AirPods).
It's hard to fault these buds, but the biggest omission is there's no voice assistant here and ANC is good but could be better. However, if you're on the hunt for a minimal-looking pair of excellent-sounding buds that you don't need to charge often, it's hard to beat the Audio-Technica ATH-CKS50TW.
Read our full Audio-Technica ATH-CKS50TW review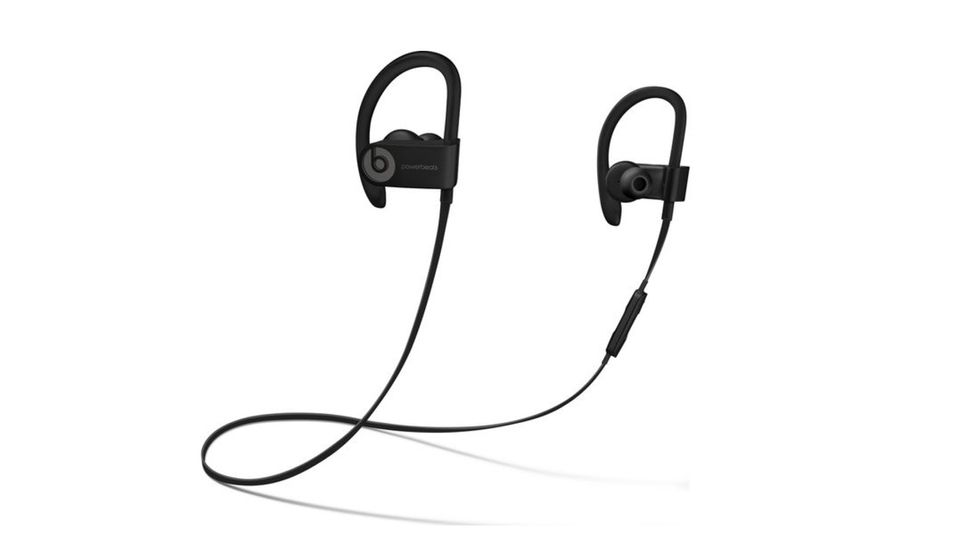 If you're looking for a pair of earbuds that offer great battery life and are built for sports, the Beats Powerbeats are a solid choice. They last a whole 15 hours per charge – that's six more hours than the Powerbeats Pro and three more than the Powerbeats 3. This is excellent news if you want to use them all day and not have to worry about charging them up or even pausing your music to put them in a charging case, like many of the other options in this list.
They sound pretty similar to the Powerbeats Pro – one of our daily driver earbuds that constantly float around in our gym bag; you can expect a gentle v-shape tonality that boosts the highs and lows with a slight recess on the mids.
They represent a significant upgrade over the previous iteration of the PowerBeats and bring you sound quality that's lifted straight from Apple's high-end alternative, the PowerBeats Pro. They also have an IPX4 rating and Apple's H1 Wireless Chip that can summon Siri with the sound of your voice.
Admittedly, they don't fit as well as the Beats Powerbeats Pro or Apple AirPods Pro, especially in terms of how they sit in your ears, but they have a lot of the same technology and specs that make them a decent cheap alternative.
Read our full Beats Powerbeats review
The best wireless earbuds for working out
If you're looking for a pair of the best wireless earbuds for working out, you need to make sure they fit well so there's no chance of them slipping out of your ears while you're lifting or running. In some cases, ear fins can help, but they're not essential if you find a really snug fit with customizable eartips.
Alongside that, a high IP water resistance rating means you can worry less about sweat, rain, and even dipping your head in the pool in some cases. Overall, you need to find a robust pair of wireless earbuds that can keep up with your active lifestyle.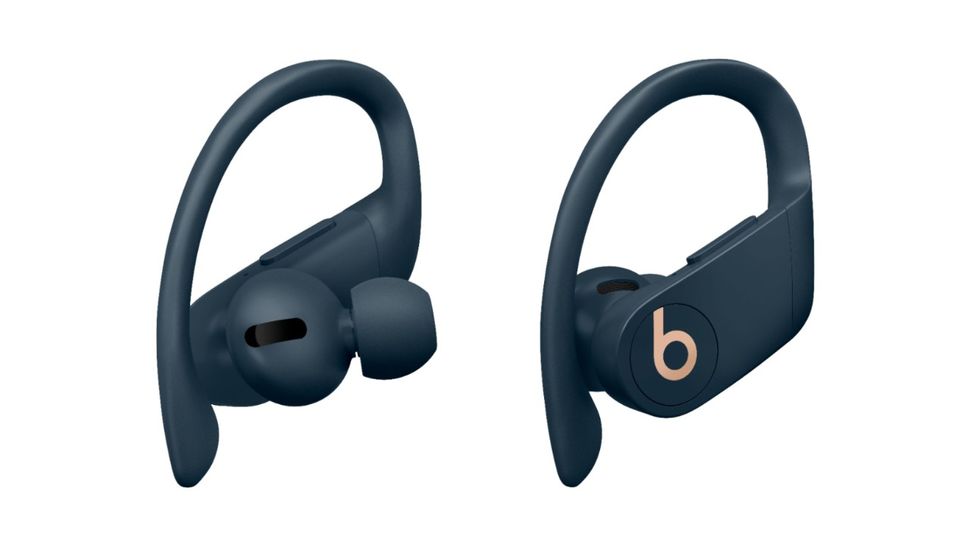 The Powerbeats Pro promise an incredibly snug fit, which is essential if you're going to wear them when you're working out. We found them to be extremely comfortable, and (at least during our testing) they never, ever fell out thanks to their ear hook design.
They also sound genuinely fun no matter what you're listening to, which should help motivate you, and have a long battery life, which means you don't need to worry about charging them up when you're trying to hit a new personal best.
There are several downsides, though, including the fact they're only IPX4-rated, which means they should handle sweat, but we'd prefer full waterproofing from a pair of workout buds, like the Jaybird X4 further down the list. They're also not noise-cancelling, like the AirPods Pro.
However, if you're an Apple-loving gym-goer who can appreciate better-sounding music and features like hands-free Hey Siri, they're a great option to accompany you to your next workout session.
Read our full Beats Powerbeats Pro review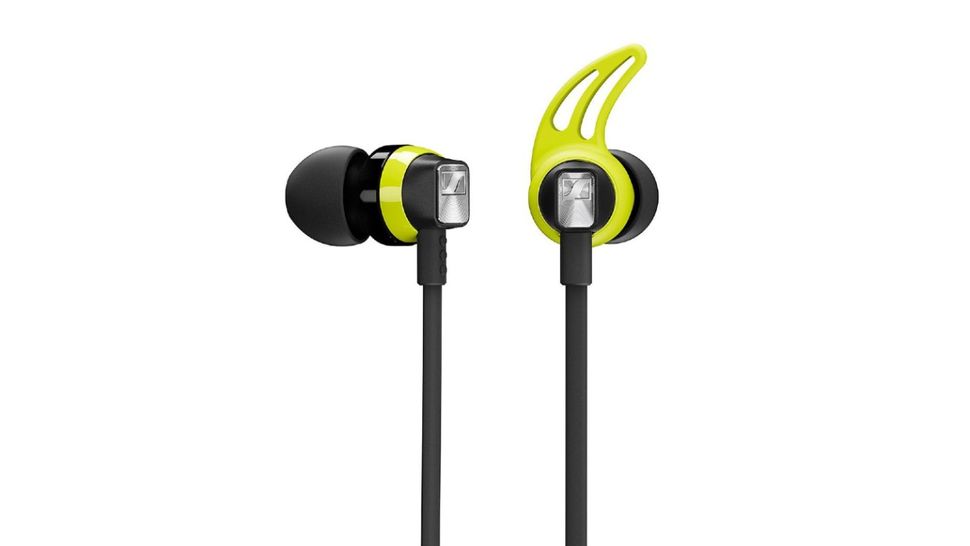 The Sennheiser CX Sport wireless buds are designed specially for working out. During our testing, we found they offered bass-heavy audio, but for most people that's probably ideal for keeping you motivated at the gym or while you hit the running track.
We listened to bury a friend by Billie Eilish, and we were blown away by the powerful sub-bass synths, wavering pads, and vigorous percussion.
These buds connect up thanks to a neckband-style design, which means you don't need to worry about losing one of them. Not that you're likely to, thanks to the suitably snug fit in your ears.
The bright design makes them a good choice for dim conditions, like evening and early morning runs outside, and a splash-proof rating keeps them protected from the sweatiest of workout sessions. They've got six hours of battery life on-board, which isn't the best out there, but isn't terrible either, and will power you through most of the day.
Read our full Sennheiser CX Sport review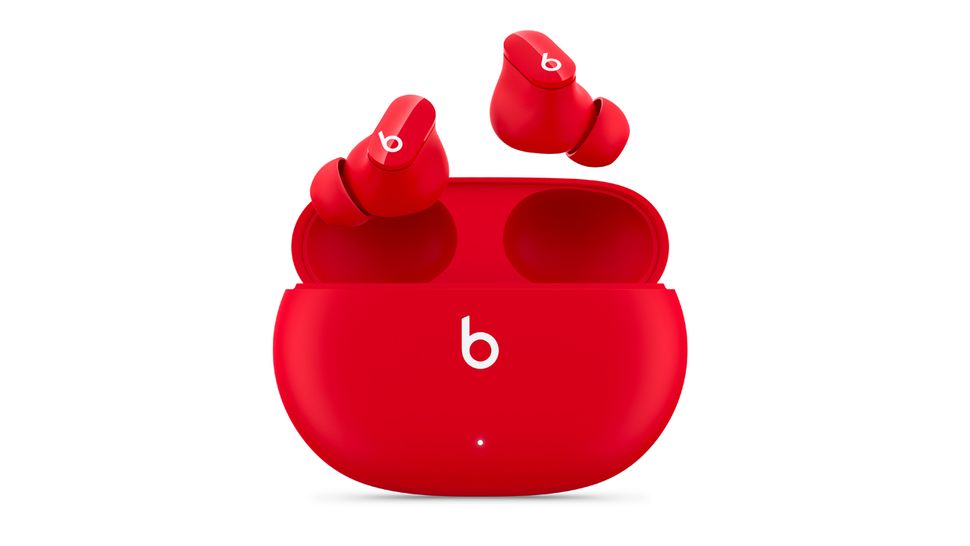 The Beats Studio Buds are extremely comfortable to wear for long periods of time and they have an IPX4 rating, which means they're sweatproof (but not waterproof) and a solid option for working out.
They also sound fantastic. We enjoyed the lively sound quality, which elevates the highs and lows of your music. There's also support for Apple's Spatial Audio with Dolby Atmos format.
These buds offer decent (but not best-in-class) noise cancellation. Good news if you like to block out the world and focus on your motivational playlist – not so great if you want to hear some ambient sounds when running outdoors.
Unfortunately, they're missing Apple's H1 chip, which makes for quick and easy pairing with Apple devices. But this does mean they work just as well for Android owners. They're not the best buds in this list, but they're a solid alternative to pricier models, like the Sony WF-1000XM4.
Read our full Beats Studio Buds review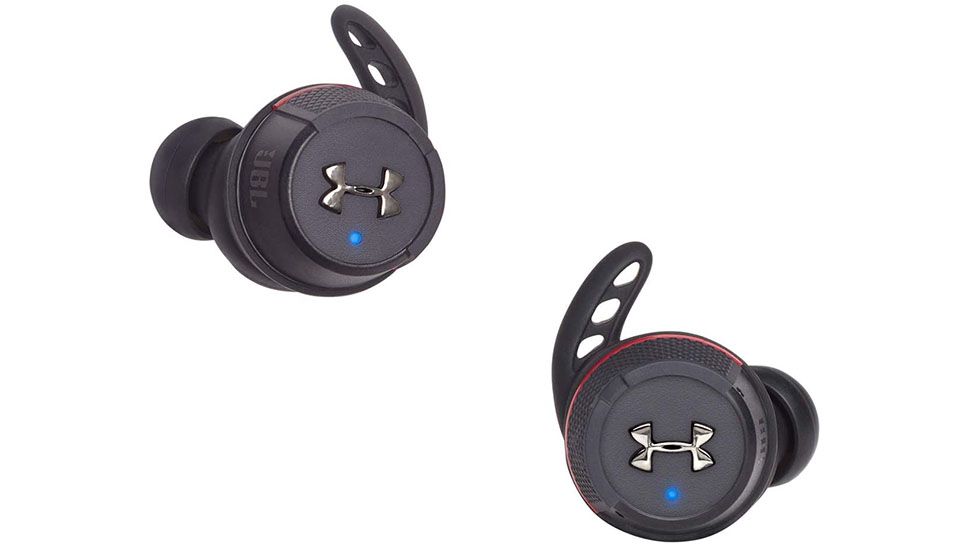 These buds have plenty of features that make them a solid choice for fitness, including a comfortable fit with a choice of different eartips. There's also IPX7 water resistance, which means they can survive immersion in water (up to 1m) for thirty minutes, making them great for running in the rain and suited to handle even the sweatiest of gym sessions.
Courtesy of audio brand JBL, each earbud has a 5.8mm driver that packs a punch. In our tests, we found the bass was strong without being overpowering, with a wide soundstage and a full range of 20Hz-22KHZ frequencies to boot.
The Under Armour True Wireless Flash buds last for five hours, with four additional full charges through the case. That's a huge 25 hours total on the go, more than you'd need for a full day's use or a week's worth of workouts. However, for the case to pack that much power it's a little on the large side and there's no quick charging feature, which is a shame.
Read our full Under Armour True Wireless Flash review
Thanks to a unique open-ring design, the Sony LinkBuds leave your ear canals totally free. They also have ingenious controls that work by tapping your face to skip tracks, change the volume, and take calls.
These earbuds are designed for all day wear because they can easily transition between calls, conversations and focused work. But we're including them as a solid choice for working out because we found that they enable you to stay aware of your surroundings whilst also listening to great music – particularly useful if you enjoy exercising outdoors.
Despite this unusual design, audio quality is excellent, but the bass response isn't particularly powerful.

If you're on the hunt for something a little different, the Sony LinkBuds are worth taking a chance on. But if you want chest-thumping bass and the sensation of pure isolation when you listen to music, look for a pair of noise-cancelling earbuds built for fitness instead, like the Beats Studio Buds.
Read our full Sony LinkBuds Review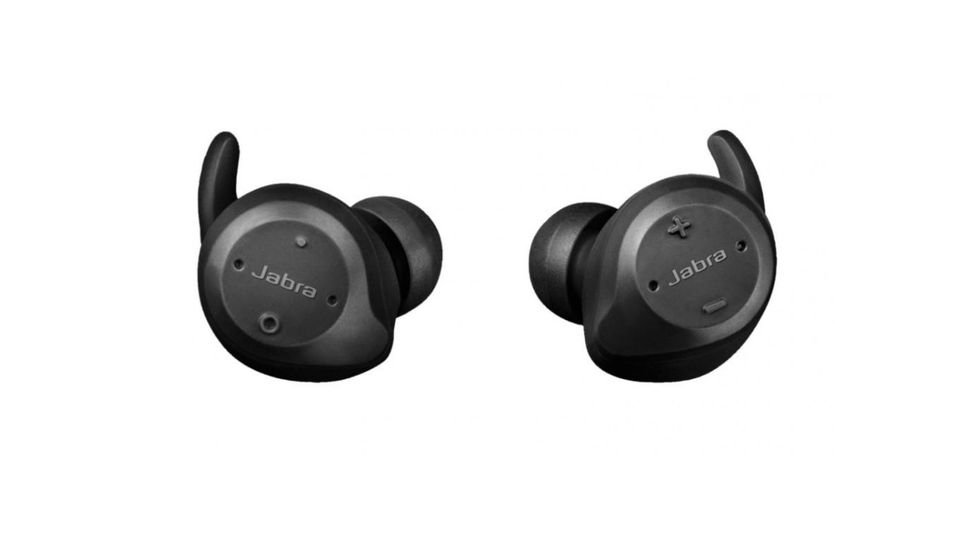 The Jabra Elite Sport buds are packed with workout-friendly features, like built-in heart rate sensors to track a range of different activities, including running, cross training and spinning. They also offer verbal cues about your performance, which is handy and could really help if you need extra motivation.
However, during our testing we found heart rate data isn't always the most accurate. Although unless you take training incredibly seriously, that's probably not going to matter too much as they'll still track your activity.
They offer a solid 13.5 hours of battery life with the charging case, good audio and a fit that we found to be mostly comfortable, if a little loose at times. However, they're pricey. So unless you're convinced you need all of the added fitness features, you might prefer the cheaper JayBird X4 if you're on a budget, which are next up on our list.
Read our full Jabra Elite Sport review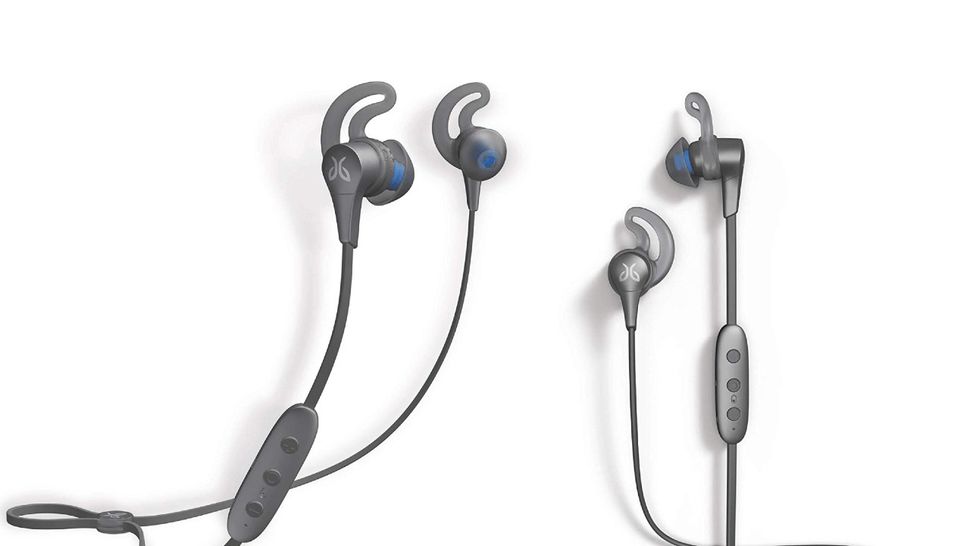 With a cable snugly keeping the Jaybird X4 earbuds attached, these won't fall out your ears no matter how hard you push yourself. Hooks further help that too, and there's IPX7 water resistance so yoIf you're looking for an affordable pair of workout earbuds, then the Jaybird X4 are a good option, bringing you fitness-friendly listening for under $50/£50. Thanks to a cable that attaches the buds together, and small earhooks attached to them, they're flexible but stay snugly in place as you workout. However, you do have the option of removing the silicone fin if you just don't like it.
Sound-wise, we were impressed by the good mix of an exercise-friendly tone without going overboard. What's more, the companion app lets you thoroughly customise the character of what you're hearing.
An IPX7 rating means they'll be fine with sweaty workouts, rain and even a quick shower at the gym. During our testing we did find the accompanying remote to be a bit laggy, but other than that these are a solid choice of earbuds that work well, have a minimal, comfy design and don't cost a fortune. u can shower in them after the gym. The accompanying remote control is a bit laggy but other than that, these are a solid choice.
Read our full Jaybird X4 review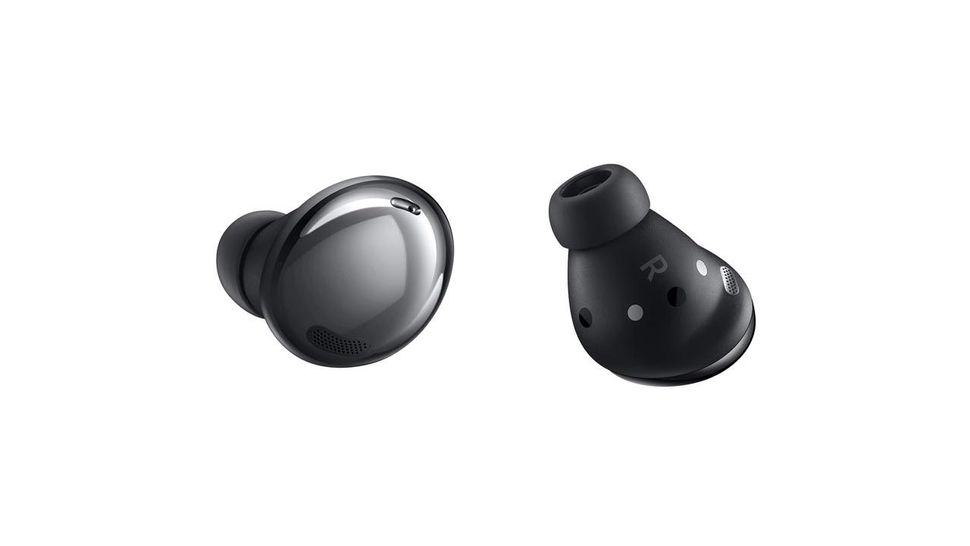 The Jaybird Vista 2 are good for working out thanks to an IP68 water and dust resistance rating, which means a sweaty workout won't break them, and a secure fit.
The buds come with a range of eartips and wings and there's also a Find My Fit feature within the app, which means anyone should be able to find the perfect fit for them. Thanks to an EQ built into the app you can also adjust the Jaybird Vista 2 as much as you please.
The original Vista earbuds sounded pretty good during indoor and outdoor workouts, though we felt like they could do with a kick in the power and loudness department, particularly if you like listening to bassier, more uptempo music for runs and workouts.
The Jaybird Vista 2 sound better than the original Vista buds, and now give you active noise cancellation, too. The ANC isn't as good as that offered by models like the Sony WF-1000XM3. But the combination of fit, low profile design, sound quality, and a solid eight hours of battery life (24 hours from the charging case) make the Vista 2 some of the best wireless earbuds for working out as well as listening at home or in the office.
Read our full Jaybird Vista 2 review
The best cheap wireless earbuds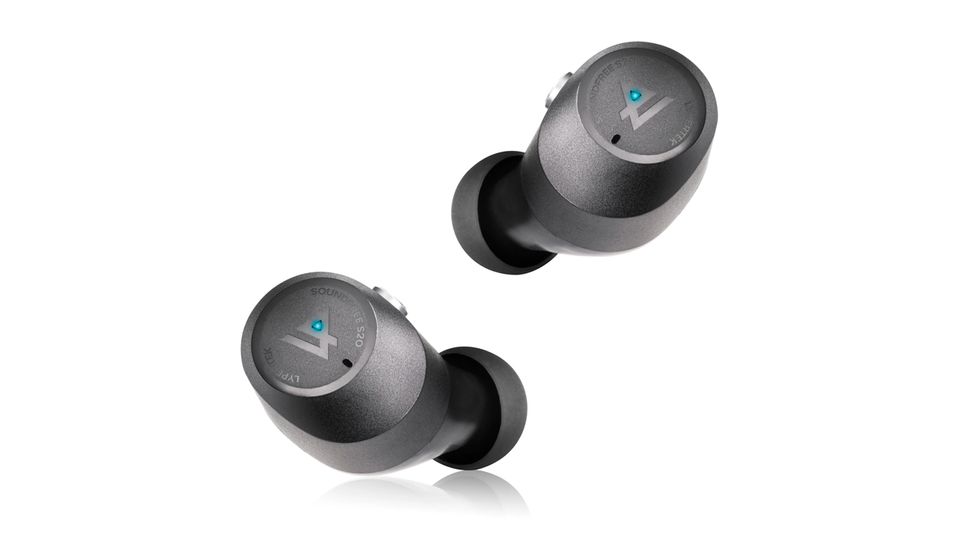 The Lypertek SoundFree S20 buds are great value for money. They offer good sound quality that's strong and heavy on the bass. There's no active noise cancellation, but there is an ambient sound mode that lets you hear your surroundings. Ultimately, the lack of ANC is a worthy sacrifice at this price.
Thanks to intuitive controls and solid connectivity, we found using them to be a breeze. Sometimes with cheaper buds the experience isn't so slick, but that's not the case here.
They also boast an impressive battery life, which is thanks to a charging case that offers an extra 40 hours on top of the standard eight hours from the earbuds.
The design of the buds is fairly minimal, ideal if you want simple buds that blend in. If you're looking for style, you'll need to pay more for an option like the Sennheiser Momentum True Wireless 2 or Apple AirPods Pro.
Read our full Lypertek SoundFree S20 review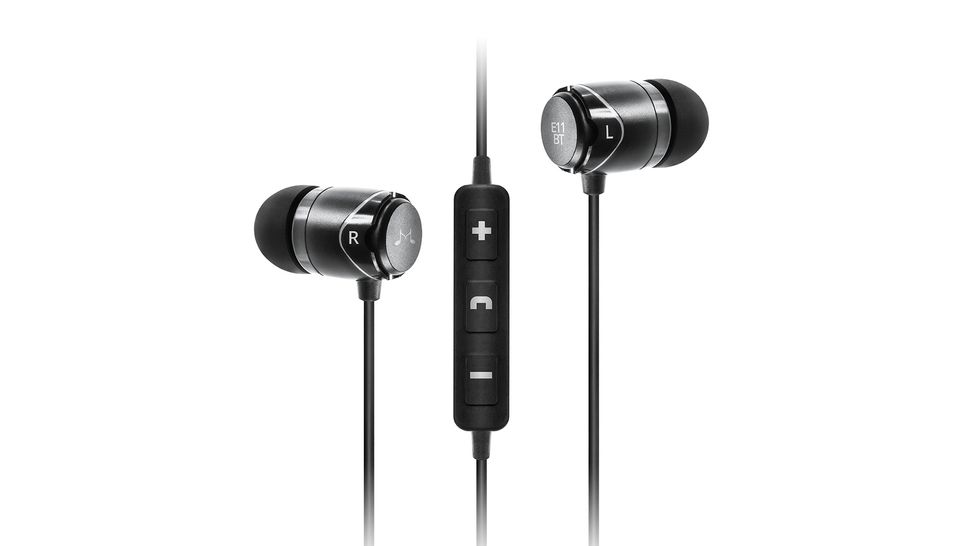 SoundMagic cut the cord on its popular E11 series of in-ear headphones to bring us the E11BT. These buds have a similar shape and feel to their predecessors, but only have a wire connecting them to one another and Bluetooth for syncing them up to your phone. These are a fantastic-sounding pair of buds if you're on a budget.
Audio quality is great and the design is minimal and elegant. In our test we found they're comfortable to wear thanks to ergonomically designed eartips, and the flat neckband won't irritate you throughout the day. With an IPX4 rating, they're a solid choice for sweaty workouts, too.
The E11BT buds have a good battery life at 20 hours, and they take just two hours to charge fully via the micro-USB cable included in the box. At their low price, it's difficult to fault them.
Read our full